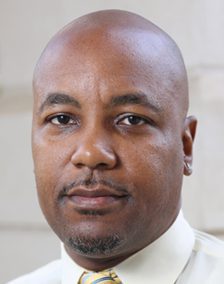 Bryman Williams​, Ph.D
Associate Director of Clinical Training,
Clinical Psychology PhD Program
Email: bryman.e.williams@jsums.edu
Phone: 601-979-3380
Degree: Clinical Psychology, Jackson State University
Research Interests: HIV/AIDS prevention, treatment, and care, Violence among children/Bullying, Adult psychopathology, Program evaluation and assessment, Multicultural issues, Cultural differences in bullying
Courses Taught: Social Psychology, Externships, Dissertation, Research Practicum
Professional Memberships: Council of University Directors of Clinical Psychology (CUDCP), American Psychological Association (APA), Mississippi Psychological Association (MPA), American Society of Addiction Medicine, Diversity Chair of the MPA Executive Council
Recent Publications and/or Creative Works:
Pamela McCoy, P., Leggett, S., Bhuiyan, A., Brown, D., Frye, P., & Williams, B. (2017). Text Messaging: An Intervention to Increase Physical Activity among African American Participants in a Faith-Based, Competitive Weight Loss Program. International Journal of Environmental Research and Public Health. International Journal of Environment Research Public Health, 14(4). (PMCID: PMC5409538)
Nevels, R., Gontkovsky, S. T., & Williams, B. (2016). Paroxetine—The Antidepressant from Hell? Probably Not, But Caution Required. Psychopharmacology Bulletin, Volume 46, Number 1.
Williams, B., Davis, M., Shaffer, J., Mozee, S., Camel, D., & McIntyre, J. (August, 2015). Clinical & Policy Implications of Bullying: A National Sample. Online Journal of Rural and Urban Research.