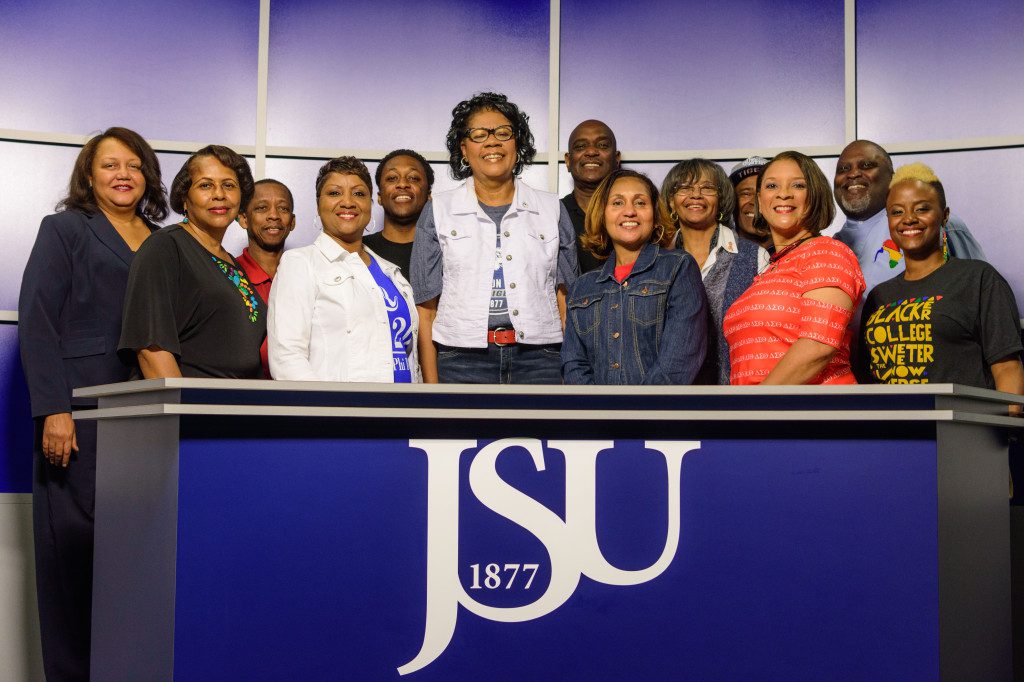 Alumni who attended the 2015 Alumni Homecoming Brunch with Dean Elayne H. Anthony on the set of Tiger TV. 
________________________________________________________________________________________________
The Department of Journalism and Media Studies has alumni presence all over the United States and abroad. Name it in the media industry and it's likely that a JSU alum is excelling in it …  television anchors, radio specialists, business communication professionals, technology managers for multimedia news outlets, magazine and print publications owners and storytellers that use multiple platforms.
Every year the department hosts its annual Alumni Homecoming Brunch. If you are alumni, please be sure to contact the department to learn all of the ways we keep you up-to-date on current alumni events and let us know what you are doing to be added to this list.
Alumni and where they are making a difference      
Jimmy Gates, '81, is an award winning journalist at the Jackson, MS Clarion-Ledger newspaper
Don Spann, '87, is a respected and accomplished video producer and is currently a full-time faculty member for the Department of Journalism and Media Studies.
Shannon Tatum, '88, is the Media Manager for Student Publications at Jackson State University, where she also serves as an adjunct professor.
Wisdom Martin, '88, is a News Anchor at Fox 5
Henry Anderson, '96, is Website Administrator at Mississippi Institutions of Higher Learning in Jackson.
Fon James, '99, Book Author
Andrea Hatter, '00, is the Digital Media Services Electronic Media Coordinator for the Atlanta Journal-Constitution.
Shannon Williams, '00, is now Vice President of Editorial/ Production for The Indianapolis Recorder.
DeMarco Morgan, '01, is National Correspondent for CBS News, New York.
Lauren-Alicia Morris, '08, is Community Development & Outreach Coordinator for United Cerebral Palsy of North Texas.