Department of Journalism and Media Studies

College of Liberal Arts
---
The mission of the Jackson State University Department of Journalism and Media Studies is to educate and train students interested in multimedia journalism, media production, and integrated marketing communications. The department is dedicated to the development of journalists and media professionals who demonstrate accuracy, fairness and technological competence.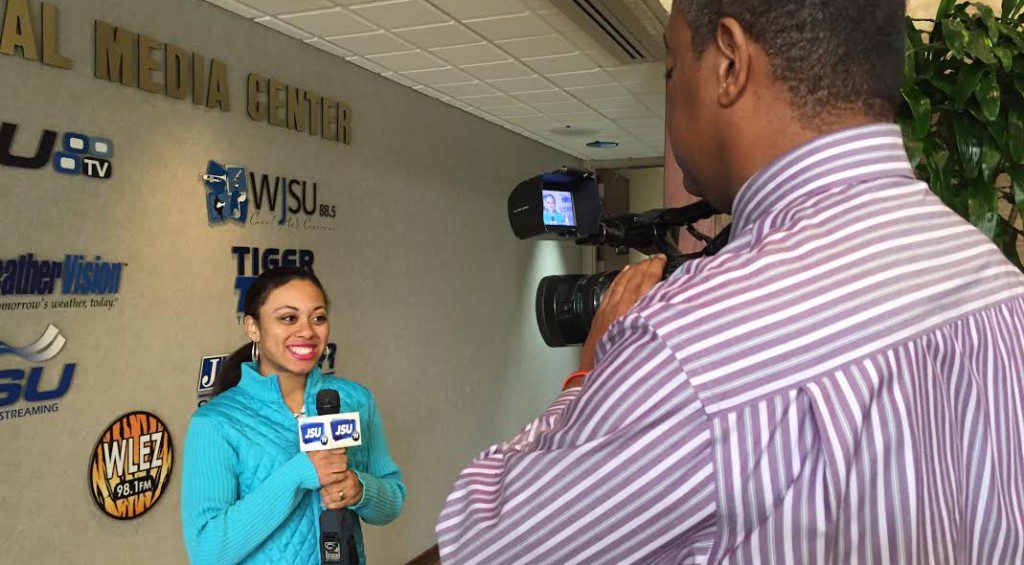 The Department of Journalism and Media Studies at Jackson State University has on-campus media outlets that are available to help students gain practical experience in their concentration area.
JSUTV, on Comcast Cable Channel 14, offers local programming including Metro Morning Live, JSU events and programs, sports highlights shows, music performances, arts and humanities, community updates, news, public affairs and weather.  JSUTV is an affiliate of the America One Network and operates 24 hours a day, seven days a week.  The station is broadcast throughout the Jackson Metropolitan area including Hinds, Madison, Rankin, Warren, and Copiah counties.  JSUTV reaches approximately 80,000 households.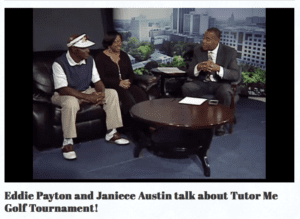 A community resource since June 1, 1976, "Cool and Current" WJSU (88.5 FM) began as a 10-watt station broadcasting from the JSU campus.  Now a 24,500-watt entity, the station broadcasts 24 hours daily from the Mississippi e-Center at JSU, reaching Hinds, Simpson, Madison, Rankin and Copiah counties.  With membership in National Public Radio, Public Radio International and American Public Media, WJSU offers an intelligent mix of in-depth news, informative talk, jazz and blues.  In addition to timely news and timeless music, the station supports community activities and provides practical experience for students majoring in mass communication.

Tiger Report
Tiger Report is a student-led tv news report that provides students with hands-on practical experience in television broadcast production, as well as the autonomy of gathering, creating, and distributing their own content.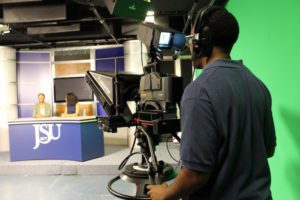 The award-winning Blue & White Flash is the official student newspaper for Jackson State University.  The print and online publications offer a variety of news, features, sports and other information designed to meet the needs of the Jackson State community – including a student population of nearly 10,000, in addition to faculty, staff and subscribers.  The paper is an associate member of the Mississippi Press Association. With the help of advisers, Jackson State students of all majors and classifications participate in the editorial process from the beginning story idea phase to the printing and online posting of the newspaper.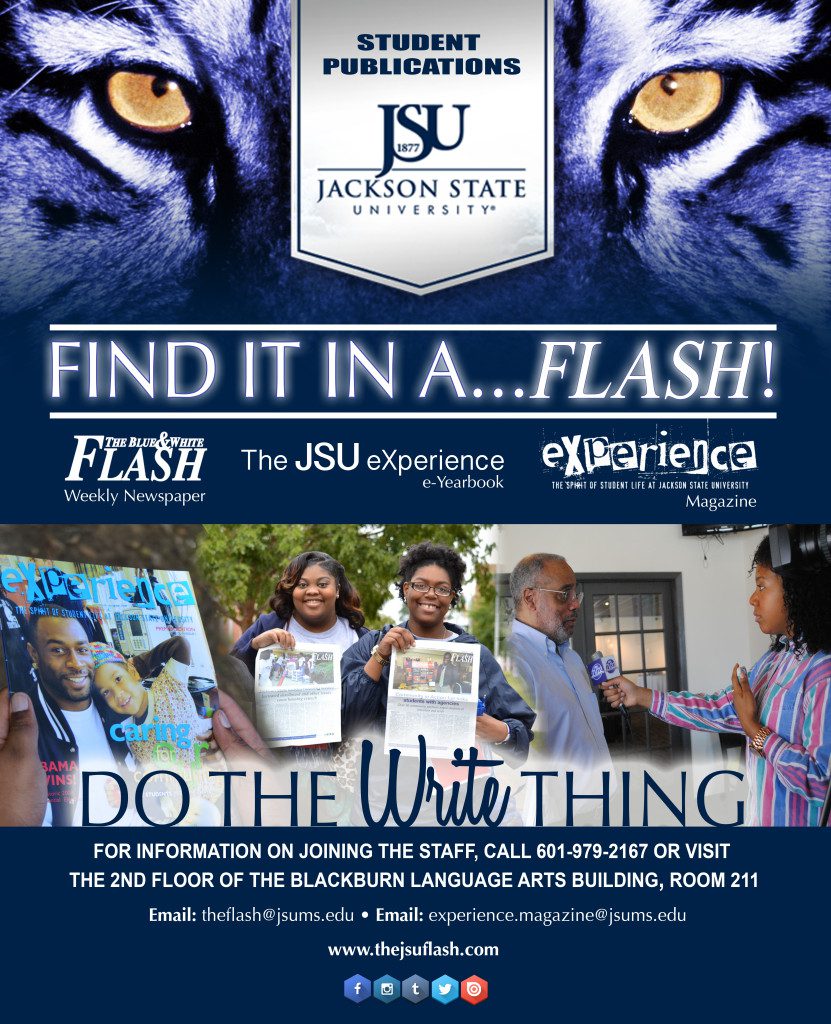 Student Publications is responsible for the coordination, production, and printing of publications developed and designed primarily for consumption by and for the benefit of students. Since its launching in 2007, the eXperience Magazine has detailed the spirit of student life at Jackson State University. Students gain practical experience in feature writing, photography and graphic design by covering current topics and issues presented in feature and photo stories. Designed and managed by students with the counsel of an advisor, students majoring in Mass Communication in the School of Journalism and Media Studies have priority access to work with the magazine.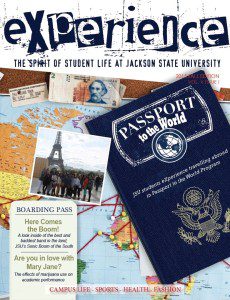 At the Department of Journalism and Media Studies at Jackson State University, students learn both the theoretical and pragmatic approaches to producing high-quality media artifacts. For more information on how to get involved with telling the stories that matter, please contact 601-979-2151 or email journalism.mediastudies@jsums.edu.
More About Us
The Department of Journalism and Media Studies is committed to excellence in teaching, bringing industry-based applications to the classroom, and providing practical experience that will assist students with attaining employment in media. With the option of choosing one of the three concentrations offered within the department, students are exposed to theoretical and hands-on experiences.
All students are required to take the requisite core Mass Communication courses, the requisite 24 hours in their concentration, and 18-21 hours in electives or their minor of choice. *Integrated Marketing Communications has a built-in Marketing Minor.
Multimedia Journalism
Multimedia Journalism combines multimedia elements, e.g., sound, videos, text, images, and graphics to tell a story.
MC 303 Radio-Tv Newswriting
MC 315 Digital Editing
MC 307 Photojournalism
MC 310 Media Production I
MC 320 Online Journalism
MC 409 Multimedia Reporting
MC 404 Feature Writing
MC 426 Broadcast Documentary
"Challenging Minds, Changing Lives."
APPLY YOUR KNOWLEDGE
Media Production
Media Production is the process of producing visual media creations, e.g., video editing and production, multimedia authoring, and the creation of media artifacts for television delivery.
MC 303 Radio-Tv Newswriting
MC 307 Photojournalism
MC 310 Media Production I
MC 315 Digital Editing
MC 323 Media Production II
MC 426 Broadcast Documentary
MC 440 Media Programming
MC Elective
CAREER OPPORTUNITIES
Journalism and Media Studies majors have a plethora of career options:
| | | | |
| --- | --- | --- | --- |
| Reporter | Editor | Photojournalist | Web content manager |
| Moderator, host, and anchor | Freelancing journalist | Proofreader | Editor-in-chief |