The Staff Senate is the official governance group representing all staff of the University, and is responsible for eliciting and expressing opinions, suggestions, and recommendations of the staff in all matters of concern to the staff as a whole.
The Staff Senate has the responsibility for continuing review of University policies and documents affecting the staff, and making recommendations concerning these matters, whenever appropriate, to the University Administration and the Director of Human Resources.
The Staff Senate is established to create a stronger bond within the support staff; to promote cooperation among the administration, faculty, students, and support staff of the University; and to responsibly and faithfully administer the policies and objectives which best fulfill the needs, concerns, and interests of the support staff in helping the University achieve its educational goals.
The Staff Senate operates under a written constitution and by-laws which have been adopted by the Staff Senate. (Senator Resources)
The membership of the Staff Senate consists of non-instructional personnel-skilled, unskilled professional and technical – who perform the myriad tasks necessary for the efficient conduct of the teaching, research and public service programs of the University who have been employed at least one year of continuous University service according to the formula determined in the by-laws of the Staff Senate. Senators are elected for a term of two years.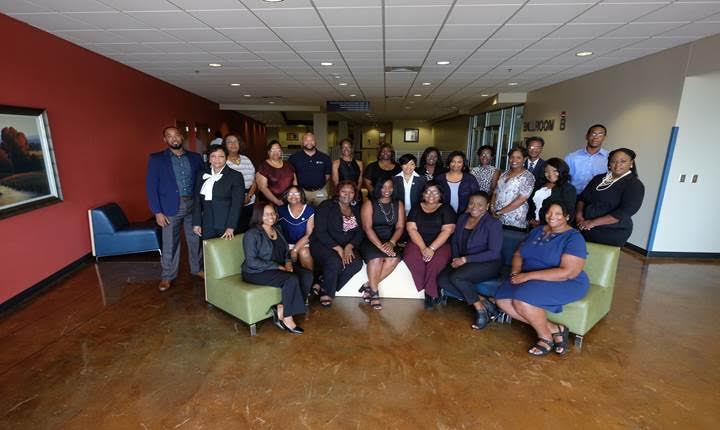 2017-2018 Staff Senators
Glory Moses, Frankie Adams, Dr. Latonia Harper (Vice President), Dr. Rosella Houston (President), Anissa Hampton (Treasurer), Marquita Davis (Secretary), Jerrica Frierson-Davis  (Parliamentarian), Kendrick Spencer, Constance Lawson, Edna Caston, Glenda Myles, Christopher Lane, Pamela Flowers, Latanya Moore, Shonda Deverteuil, Martisha Morgan, Tina Coller, Sam Mozee, Latoya Reed, Jarrett Simmons, Demetrice Dixon, Shyandrea Glass, Michael Ivy, Evis McGee, Paul Scott, and Shanice White.