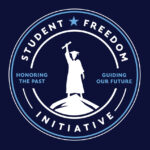 Student Freedom Initiative is working to help create a world where Minority Serving institutions' (MSI) college graduates are free of the constraints caused by the ever increasing burden of student loan debt. Jackson State University's (JSU) 144-year legacy of southern excellence is an ideal place for Student Freedom Initiative programs. At JSU as well as other participating HBCUs and MSIs, students have access to tools to help them succeed academically and professionally. The programs and resources Student Freedom Initiative has created on campuses across the country can provide the resources to help equip students with the knowledge to create pathways to better lives following graduation.  
The programs offered by Student Freedom Initiative have been developed to be student-centric, evidence-based, holistic and collaborative. Using available data on student success, Student Freedom Initiative provides essential student supports both academically and professionally, so they can reach their career and personal goals.    
The Student Freedom Initiative offers the following services to all eligible students, subject to availability: 
Tutoring, mentoring and other support services  

Juniors and seniors in select majors may also be eligible to apply for an income-contingent funding alternative to the Parent PLUS Loan and other private education loans called the Student Freedom Agreement. 
Additionally, JSU is participating in the Targeted Capacity-Building component, a cyber security upgrade provided by AVC Technologies and Cisco, which will benefit the university community.  
The Student Freedom Agreement is an income-contingent funding alternative to Parent PLUS and other private education loans. Jackson State University does not endorse Student Freedom Initiative's Income Contingent Alternative to Parent Plus and other private education loans product. Jackson State University is not affiliated with Student Freedom Initiative. Students and families can think of it as one part of a total financial aid package which could help them with unmet cost in aid during their junior and senior years. The Student Freedom Agreement is available at JSU and other participating colleges and universities for third and fourth year students in specified STEM majors, as determined by credit hour. 
JSU administration have determined that students in the following STEM majors are eligible to apply for the Student Freedom Agreement: 
Biology

 

Chemistry

 

Civil Engineering

 

Computer Engineering

 

Computer Science

 

Earth System Science

 

Electrical Engineering

 

Mathematics

 

Meteorology

 

Physics

 

Statistics

 
Eligibility Requirements: 
Note: Students at JSU, who meet the above named requirements, must also meet the following eligibility criteria (as determined and confirmed by student's school) to receive funding under the Student Freedom Agreement:  
Completed a

Free Application for Federal Student Aid (FAFSA)

or acceptable alternative state aid application that is accepted and approved by student's school;

 

A valid Social Security Number;

 

Not an international student or foreign exchange student authorized to enter the United States on a non-immigrant visa;

 

Majority age or older;

 

Junior or senior for the school year being funded;

 

Enrolled full-time for the coming academic term (unless we grant an exception because student requires less than full-time enrollment to complete his/her bachelor's degree in her/his final year of study);

 

Working towards a degree in an approved STEM major; and

 

Meeting satisfactory academic progress as defined by student's school.

 
Only students can apply for and sign a Student Freedom Agreement. It is not for parents or guardians, though they can and should, of course, advise students. 
Students who meet all of the aforementioned criteria in the section above may apply for financial assistance through Student Freedom Initiative. Students who are offered funding and sign the Student Freedom Agreement are agreeing to make monthly payments following graduation.  
Payments: 
The monthly payment is based entirely on earnings and will begin on the 1st of January after the student graduates and has a job earning more than 225% of the Federal Poverty Level for individuals. Additional details on the Federal Poverty Level can be found on the Student Freedom Initiative

website

.

 

 
The percentage of student's future income used to calculate payments is based on how much funding student receives; it goes up with more funding but would not be more than 5%.

 
Payments are capped so as not to penalize high earners'

 
Payments are set for a maximum of 20 years, unless terminated earlier or the payment period is adjusted. 

 

There are no fees or penalties for late payments.

 

Payment deferrals are allowed for 12 monthly payments, without cause. After paying the deferrals, recipients may take 12 more. 

 
Students and families should note that by paying the funding provided by Student Freedom Initiative, they are paying for the future educational uplift for other students. The Student Freedom Agreement is intended to be a self-sustaining program. Funding recipients paying into the fund to help those who follow them into colleges and universities is part of the design. 
Student Freedom Agreement Funding Limit

 
Eligible students can receive up to $20,000 per year and $40,000 total.

 
Funding under the Student Freedom Agreement is available to all qualifying applicants. Interested applicants should visit the Student Freedom Initiative website to learn more details about the Student Freedom Agreement and the application process.  
The consequences of student debt in the African American community are compounding and have been projected to get worse over the next decades. A recent Black graduate might owe about $7,000, but in only four years after earning a degree, they will have approximately $25,000 more student loan debt than white graduates. The wealth imbalance spirals and places undue burden on Black students because of a lack of generational wealth and lower wages following graduation. 
How can these students be liberated to fulfill their dreams — the American dream? That is the problem philanthropist and innovator Robert F. Smith set out to solve. Smith is the Founder, Chairman and CEO of Vista Equity Partners. An engineer, Smith took on the broader issue of Black debt after resolving over $34 million in student loan debt. Smith liberated the Morehouse Colleges Class of 2019 of their obligations. Smith gathered a team of experts from leading HBCUs and the finance industry to analyze the issue. The result was the launch of Student Freedom Initiative in the fall of 2020. Smith now serves as Chairman of the organization.  
To launch Student Freedom Initiative, the nonprofit granting institution Fund II Foundation provided a gift of $50 million. Smith, who is Fund II Foundation's founding director and President, personally matched that with $50 million. 
Student Freedom Initiative contributing partners in services and philanthropy have grown to include: the Steve and Marjorie Harvey Foundation, Cisco, Jane Street, the Walmart Foundation's The Walmart.org Center for Racial Equity and the United Negro College Fund. The Business Roundtable, where Smith is an at-large board member, has a Racial Equity & Justice Subcommittee on Education that has also initiated a partnership with Student Freedom Initiative.