The Alice Varnado Harden Center for Service and Community Engaged Learning at Jackson State University, (the Harden Center), promotes all students toward improving the human condition through civic engagement. Through the Alice Varnado Harden Center for Service and Community Engaged Learning, the university is able to continue to expand its role in cultivating and sustaining stronger communities. Your service in the community of a few hours a week will make a difference to people and the society.  The immersion in another culture deepens your understanding of our society in a way that goes beyond your preconceived orientation. Serving in the community helps students learn what challenges communities face and see how their work furthers the community's goals. It also helps build valuable relationships with the people whom you serve.  You can make a difference by supporting and contributing to meet a need in the community that affects the lives of the elderly, homeless, people with disabilities, schools, childcare centers and many other community organizations.
At Jackson State University, community service is more than a time-honored tradition, it's a shared commitment by students, faculty and staff. Students and staff regularly donate their time and talent, around their class and work schedules, with the goal of making a positive difference at the university and in the community.  The energy and interests of this vast network of generous individuals is organized to increase the capacity of all entities at the university through service. The Alice Varnado Harden Center for Service and Community Engaged Learning is very committed to broadening a spirit of service throughout the university and the community. 
***********************************************************************************************************************************
Stay Connected with The Center for Service: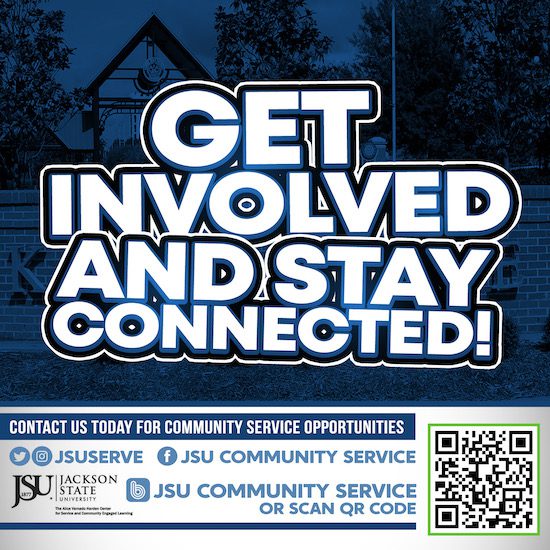 TigerPulse
Need a site approved?
Where can I complete my service requirement?
Virtual Community Service Opportunities 
Other Resources:
Fall 2020 Policy for Service Projects
Speaker/Presentation Request Form
Community Service Appeal Process
Official Community Service Guidelines
Checking My Community Service Transcript
Graduation Requirement Letter
Project Approvals for Student Orgs & Campus Departments: 
This form is for student organizations and approved campus departments, only. The purpose of the service project approval form is to obtain approval for any organization or department issuing community service hours for projects or special events. Note, our office does not provide volunteers for your project or special event; this approval process simply verifies your project has met all requirements to be promoted to students for service credit.  
Before the project: All service projects must be submitted online at least two weeks prior to anticipated project. 
After the project: Sign-in forms must be submitted within three (3) days of the final date of your service project. 
To apply click the following link
Community Service Opportunities: