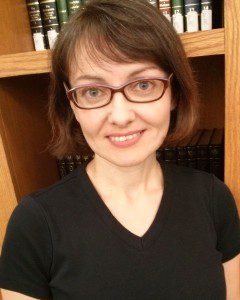 Tatiana Glushko coordinates services within the Richard Wright Center (RWC), trains graduate and peer tutors, facilitates writing workshops for faculty, staff, and students at JSU, and tutors students one-on-one.
In 2004, Glushko came to Jackson State University as an exchange ESL instructor from Russia, where she taught English as a foreign language in the Department of English Philology and Translation at Amur State University. In 2006, she entered the Master's program at JSU in English and began working as a graduate assistant and tutor in the Richard Wright Center. In the RWC, she held the position of coordinator of supplemental instruction (2009–2013) and served as interim director (Summer 2013). From 2009 to 2013, she also taught freshman composition courses in the Department of English and Modern Foreign Languages.
Glushko is a board member of the Mississippi Writing Center Association (MSWCA) and a member of the Southeastern Writing Center Association (SWCA) and International Writing Center Association (IWCA). Her research interests include writing center pedagogy and language difference in academic writing. With her colleague Kathi Griffin, Glushko has been involved in several research and writing projects: studying writing center effectiveness in developing students' rhetorical awareness, developing an Open Education Resource for freshman composition courses (also with Shanna Smith, JSU English Department), and creating a textbook on academic writing in English for non-English majors (with Daoying Liu, Nantong University, China). She has also been studying the role of listening in writing center tutorials.
Most recently, Glushko presented on conducting research in the writing center at the international conference on academic writing in Moscow, Russia and at the SWCA conference in Birmingham, AL; on developing a vision for the writing center at the MSWCA conference; and on tradition, rhetoric, and language in the composition classroom at the HBCU Symposium at Howard University, Washington, DC. She and Griffin published on HBCUs and writing programs in the Composition Studies journal and on rhetorical awareness of student writers at an HBCU in Praxis: A Writing Center Journal.
Ph.D.   Urban Higher Education, Jackson State University, 2014
M.A.    English, Jackson State University, 2009
B.A.    English, with a minor in Russian, Blagoveshchensk State Pedagogical University, 1998
Updated January 2021