Coach Robert "Bob" Braddy
April 14th, 2016 by giving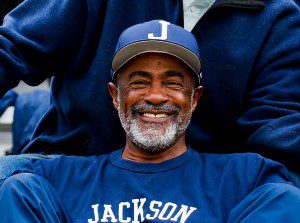 Jackson State's legendary baseball coach Robert "Bob" Braddy was recently named by the National College Baseball Hall of Fame for its 2016 Induction class.
After graduating from Jackson State, Braddy spent the next 34 years in service to his "dear old college home," as either the baseball coach or Athletics Director. During that time span he participated in and oversaw some of JSU's greatest successes.
Braddy is the winningest baseball coach in Southwestern Athletic Conference history (824 wins). Between 1973 and 2001 his teams won 12 conference championships, more than any other coach in league history, and he led the Tigers to three NCAA Tournament appearances, two NCAA play-in games and four NAIA Tournaments. He was named SWAC Coach of the Year nine times. During his 28-year coaching career, 52 of his players reached the professional ranks, producing two first round draft picks in David Clark (1983) and Earl Sanders (1986).
This year's National College Baseball Hall of Fame class includes Matt Desalvo (Marietta College), JD Drew (Florida State), Augie Garrido (San Francisco State/Cal Poly/Cal St. Fullerton/Illinois/Texas), Rick Monday (Arizona State), Tom Paciorek (University of Houston) and Tommy Thomas (Valdosta State).
For more information about the National College Baseball Hall of Fame, please visit: www.collegebaseballhall.org.