Dionne Jones Woody
May 5th, 2016 by giving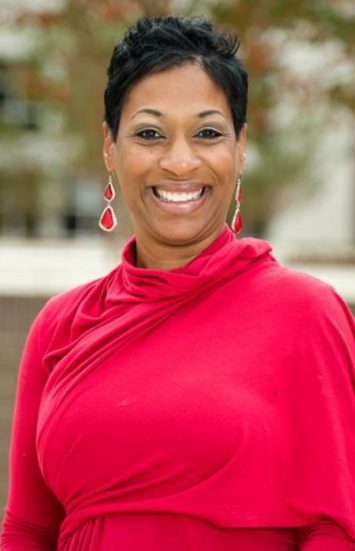 Upon walking through the large doors and entering into the corridors of Key Elementary School where Dionne Woody is the principal, you might be pleasantly surprised to hear the tune You Are My Sunshine that is being sung to the scholars and school's staff or see her tutoring a group of students her office. Mrs. Woody can be heard saying Key is the "School Where Everybody Is Somebody & AEIOU: Academic Excellence IS Our Ultimate GOAL". Surely these occurrences may initially appear to be a bit unorthodoxed, but to know her is to know that she often take an unconventional approach in serving the scholars, staff, and community of any school where she has served as administrator.
Mrs. Woody practices her motherly instincts far beyond the realm of her Ridgeland (Madison) home. She takes enormous pride in knowing all 400 scholars and their parents by name. She always endeavors to educate the whole child rather than merely focusing on strictly academics. Mrs. Woody often says….."I treat all children as though they're my own biological children". Mrs. Woody believes she is well respected by her staff, colleagues, and superiors for exhibiting a very hands-on, compassionate, and approachable demeanor with the scholars, their families, and staff members. While quite simple in words, her mantra is "we not me," has profound meaning to those who she work alongside.
Mrs. Woody's compassion and devotion to others can be traced back to her upbringing in Columbus, Mississippi. Both her parents, Henry and Linda Jones served as educators in the Columbus (MS) Public School District for a combined 65 years. In addition to following in her parents' professional footsteps, she is a contributing member of the communities in which she work and live. Mrs. Woody is a product of the Columbus Public School District and received both a Bachelor of Education and Masters of Education Leadership from Jackson State University.
Mrs. Woody is an active member of Pilgrim Rest M. B. Church and the Madison County Alumnae Chapter of Delta Sigma Theta Sorority, Incorporated, where she is involved with numerous community service oriented projects and partnerships. Mrs. Woody was named Administrator of the Year for Jackson Public Schools in February 2016, she has been featured in the "Jackson Free Press News", educational magazines, numerous times she has been featured on the news for her success in schools she has been the administrator, WJTV News Channel recently broadcast a Success Story for Key Elementary for being an integral part with scholars academically.
When she is not wearing her principal's hat or working in the community, She and her husband (James) can be very easily heard cheering for their boys (James and Jarvis) with basketball, baseball and football. Should you see two other women looking identical to Mrs. Woody, do not become alarmed; it's not an April fool's Day joke! Even though she was born on a national day of practical jokes, April 1st, she is one-third of a set of triplets. Her sisters are Dewanda Jones Nelson and Denise Jones Gregory who both live in Birmingham, AL and members of Delta Sigma Theta and also careers are in education.
Working with children is part of Mrs. Woody's daily life. She says …children are a gift! It makes her feel proud knowing she has reached a child. She is a strong advocate for children being treated fairly, academically and socially. Also, she believes in the old African Proverb: "It Takes a Village to Raise a Child".
.