Gwendolyn Caples
July 7th, 2016 by giving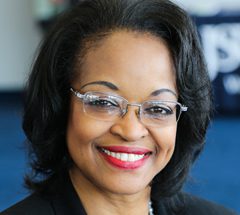 Jackson State University has named Gwendolyn Caples assistant vice president for Institutional Advancement effective June 16. She will assist Sandra Hodge, interim vice president for Institutional Advancement, with managing day-to-day operations of the division. Since 2003, Caples has worked solely in the Division of Institutional Advancement in several positions, including events coordinator, director of Alumni and Constituency Relations, and director of the JSU Welcome Center.
Prior to her employment at Jackson State, she worked as public relations director at Mississippi Public Broadcasting for 11 years. She holds a bachelor's degree in political science from JSU and a master's degree in mass communications from Mississippi College.
"I am delighted to have Ms. Caples as my assistant vice president," said Hodge. "Along with her experience in management, leadership, fundraising and public relations, she sincerely loves JSU and has knowledge of the work of the departments within the division. She will provide much needed support with managing the daily operations so I can focus on strengthening the entire unit that is vital to the success and growth of the University."
Caples will continue to manage the JSU Welcome Center and will also provide oversight to the following departments: Alumni and Constituency Relations, Development, Events and University Communications; and will work in collaboration with the division's budget manager.
"Making sure the Division of Institutional Advancement operates smoothly on a daily basis is an essential task," said Caples. "I am honored to continue my service to Jackson State within the division and in my new role as assistant vice president. I look forward to working with vice president Hodge to strengthen daily operations and increase engagement among students, faculty, staff, alumni and friends, and in alignment with her vision for the unit and the University's mission."