Coach Robert Braddy
July 7th, 2016 by giving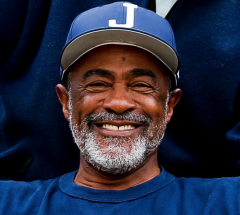 Former Jackson State head baseball coach Robert Braddy was one of seven new inductees to enter the National College Baseball Hall of Fame (NCBHOF) at its annual Night of Champions in Lubbock, Texas, on Saturday.
Braddy is the winningest baseball coach in Southwestern Athletic Conference history, compiling an 824-546 record in 28 years at JSU.
His teams advanced to the NCAA tournament three times, and he was named NAIA District Coach of the Year twice and SWAC Coach of the Year eight times. He was the first African-American to be inducted into the American Baseball Coaches Association Hall of Fame in 2003 and also was inducted into the JSU Sports Hall of Fame in 1985 and the SWAC Hall of Fame in 2005.
"I'm a country boy from Florence, Mississippi, so it's an awesome honor," Braddy said of his induction. "I coached baseball eight years at the high school level. I got a scholarship to go to Jackson State. I was eventually offered the job after eight years at the high school level. It was an awesome experience. I just can't thank Jackson State enough, and my family, who are here from all over the place. Jackson State was a blessing in disguise. It was an awesome experience for me."
Between 1973 and 2001, Braddy's teams won 12 conference championships, more than any other coach in league history. He led the Tigers to three NCAA Tournament appearances, two NCAA play-in games and four NAIA Tournaments. He was named SWAC Coach of the Year nine times. During his 28-year coaching career, 52 of his players reached the professional ranks, producing two first-round draft picks in David Clark (1983) and Earl Sanders (1986).
In 1978, his Tigers celebrated a 52-12 season, which is a SWAC and JSU record. Braddy also played baseball for the Tigers under head coach Joe Gilliam Sr. and was named an All-Conference selection in 1962, and 1963 as a pitcher.