Arlinda Fair, '11
March 29th, 2017 by giving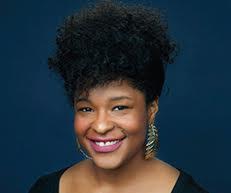 Arlinda Fair is passionate about developing educational opportunities that help students from underserved populations achieve college and career success. As a Chicago native, Arlinda understands the impact a college education can have on a student's personal and professional growth, because her life changed the day she stepped foot on Jackson State's campus.
Arlinda credits her academic and career success to the amazing faculty, staff and students of the JSU College of Business. As an Entrepreneurship and Marketing major, professors like Dr. Jean-Claude Assad, Dr. Nicholas Hill, Dr. Mary White and Dr. Kenneth Russ inspired Arlinda in the classroom, while staff like Lori Swanier and Ms. Mercidee Curry molded Arlinda's professionalism and integrity.
As an undergraduate student, Arlinda belonged to a number of campus organizations, including the JSU Concert Chorale, Alpha Lambda Delta Honors Society, SIFE (Students in Free Enterprise) and the Blue Key Honors Society. Arlinda was elected Junior Class President in 2009 and she also served as President of the Delta Pi Chapter of Delta Sigma Theta Sorority, Inc. in 2010. With a 3.8 GPA, Arlinda graduated Summa Cum Laude with a bachelor's degree in Business Administration in 2011, and returned to JSU to earn her M.B.A. in 2014.
Arlinda has accumulated a wealth of experience in higher education administration, research and policy. She currently manages graduate enrollment, marketing and international recruitment for the School of Business Administration at Marymount University in Arlington, VA. Prior to Marymount, Arlinda coordinated marketing and recruitment efforts for the U.S. Department of State English Language Programs at Georgetown University. Arlinda's career in higher education was established at Jackson State University, where she served as a Marketing Associate for University Communications, as well as a Minority Recruiter for the Department of Undergraduate Recruitment.
Arlinda's professional goals include earning a Ph.D. in education policy, as she hopes to influence change in the U.S. education system and protect the legacy of HBCU's and other minority-serving institutions.