Yolanda R. Owens 2018 Alumnus of the Year
October 19th, 2018 by alumnirelations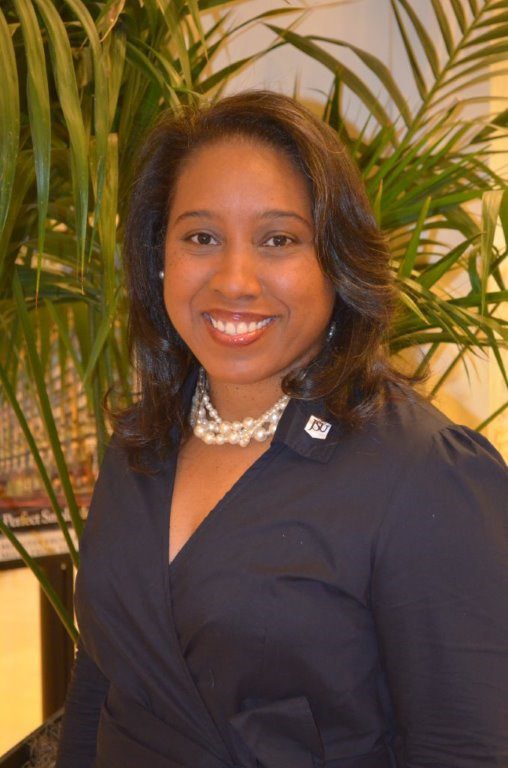 JSU alumna Yolanda R. Owens has been named the 2018 Alumnus of the Year for the Jackson State University National Alumni Association, Inc. She received the award during the association's annual Fall Council Meeting on September 22, 2018, in Jackson, MS. Having split her childhood across two states, Yolanda calls both Hattiesburg, MS and Athens, GA home. She chose Jackson State because it is her parents' alma mater and because she was the recipient of a full academic scholarship. Enrolled in the dual-degree program, Yolanda received her Bachelor of Science in Mathematics from JSU and Bachelor of Science in Civil Engineering from Kennesaw State University in Marietta, GA.
Professionally, Yolanda worked for several years as a Civil Engineer and is currently employed with Kinder Morgan as a Senior Contract Administrator for the Southeast Region. In this role, she is responsible for managing all aspects of vendor contracts for pipeline and facilities construction. A resident of Decatur, Georgia, Yolanda is a life member of JSUNAA (nationally and locally) and served as President of the Metro Atlanta Chapter from 2005-2009. Her dedication on the local level earned her the honor of Metro Atlanta Chapter Alumnus of the Year in 2006 and 2010. She has chaired several committees and also served two terms as Southeast Regional Vice President.
Yolanda took office as the 18th President of the Jackson State University National Alumni Association, Inc. (JSUNAA) on July 1, 2014, and completed her service on June 30, 2018. She was the first female elected to the role in 22 years (Melvene Coney elected in 1992) and, taking office at age 42, she was also one of the youngest to serve in the position. When asked why she ran for president of the Alumni Association, Yolanda Owens responded, "Serving as President of JSUNAA is the very least that I can do to give back to the university that gave me so much." She often speaks of arriving at Jackson State in the fall of 1989, as a shy 17-year-old who barely wanted to speak in public.
By the end of her four years at Jackson State, she had come out of her shell and had found her voice. In 2014, she decided to use that voice to give back to her dear old college home by serving as national alumni president. As President, Yolanda's vision and the platform were "ABC: Align, Bridge, Collaborate." Align the Alumni Association with the university administration. Bridge the gap between the alumni and the students. Collaborate with the community, civic and educational organizations for the advancement of JSU. Notable accomplishments and initiatives of the Owens Administration include:
 501c3 Non Profit Status approved by IRS with an effective date of January 24, 2018
 Alumni giving increased from approximately $600,000 to over $1,000,000 in four years (per data provided by JSU Division of Institutional Advancement)
 Completed Funding of $100,000 JSUNAA Scholarship Endowment and increased JSUNAA total assets by $125,000 in 4 years
 Nearly $800k in Endowments from Alumni Chapters
 Significant rebranding effort including the new JSUNAA Logo, new website & standardization of chapter banners and signage nationwide
 Increased alumni engagement & communication through social media, bi-monthly "What's Happening" emails highlighting chapter events across the country and a monthly "President's Pen"
 Increased Life membership by 160+ members
 Published 2015 alumni directory (in collaboration with Department of Alumni and Constituency Relations)
 JSUNAA served as official host of JSU Day at the Capitol 2018
 Founding member of the HBCU Alumni Coalition, established in 2014 by SWAC Alumni National Presidents
 Represented JSU at Essence Fest HBCU Alumni President's Panel in 2015
 THRIVE Young Alumni Network established as JSUNAA affinity group to increase young alumni participation
 Tigers Mentoring Network in partnership with Miss JSU 2015-2016, Charence Higgins
Yolanda's dedication to the Alumni Association and the University is unsurpassed. Whether traveling the country to support local chapters or personally connecting with thousands of alumni via social media, her level of engagement fostered an environment that encouraged the open and honest dialogue required for the continued growth of the Association. In her hands-on approach to leadership, she asked alumni to work with her, not for her. In addition to her personable demeanor, Yolanda became known for her no-nonsense approach to conducting business meetings. She set a very high standard of operations for JSUNAA and also established herself as a fearless leader who tackled many tough topics and challenges during her tenure as President.
Yolanda is an active member of Saint Philip African Methodist Episcopal Church in Atlanta where she is a member of the Richard Allen Usher Board and is trained as a Small Group Study leader for Crown Financial Ministries. With a strong sense of civic duty, she also holds a Silver Life Membership in the National Association for the Advancement of Colored People (NAACP) – DeKalb County Chapter. She is a Toastmaster and also a member of the Stone MountainLithonia Alumnae Chapter of Delta Sigma Theta Sorority, Inc. where she served on the local chapter's executive board from 2009-2015. For her work with JSUNAA, Yolanda was the 2016 recipient of the Fortitude Award, given to a member of the sorority for outstanding accomplishments outside of Delta Sigma Theta.
With a joint nomination from three previous alumnus of the year award winners (Rose Austin2003; Katherine Cage-2010; & Sharon Davis-2017), Yolanda is a true servant leader whose dedication has inspired others to commit or recommit to JSUNAA. She has a strong history of financial support and has been recognized for her contributions by the JSU Development Foundation as well as the Metro Atlanta Chapter. To demonstrate her personal allegiance to the association, she has paid local dues to several chapters in the Southeast Region. Her service and leadership have put the association on a trajectory as one of the leading HBCU Alumni Associations in the nation and Yolanda is quite deserving of the title of the 2018 JSUNAA Alumnus of the Year.