Lieutenant Colonel (LTC) Dexter Brookins
April 25th, 2019 by alumni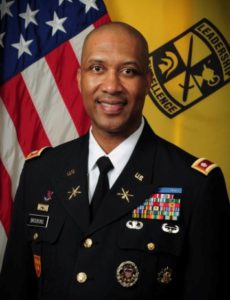 Lieutenant Colonel (LTC) Dexter Brookins is the Chair of the Department of Military Science and Professor of Military Science and Leadership at Jackson State University. The Jackson State University Army ROTC Tiger Battalion serves Central Mississippi, in order to train Cadets and Students to become future Army Officers as well as global leaders in the private sector. The program is the host Army ROTC program for Belhaven College, Delta State University, Hinds Community College Utica Campus, Millsaps College, Tougaloo College, Mississippi College, Mississippi Valley State University and University of Mississippi Medical Center's School of Nursing.
LTC Brookins served in the Mississippi National Guard, as a Soldier and Cadet, from 1992 until 1996. During his 32 years as a Soldier, he has visited more than 20 countries. He served during Operation Enduring Freedom as well in Operation Iraqi Freedom. Operation LTC Brookins has worked directly for a 1-Star General, a 3-Star General and a 4-Star General. LTC Brookins has served at the national-level in the Pentagon.
LTC Brookins also served as a White House Military Social Aide to President George W. Bush. LTC Brookins holds a Bachelor of Social Work Degree from Jackson State University, Jackson, MS and a Masters of Policy Management Degree from Georgetown University, Washington, DC.
He is currently pursuing his Doctoral Degree in Urban Higher Education at Jackson State University, Jackson, MS, expected to graduate summer 2019.
His awards include; the Bronze Star Medal, the Expert Infantryman's Badge, Basic Airborne Wings, Air Assault Wings, the Joint Staff Identification Badge, and the Army Staff Identification Badge.
LTC Brookins is an active member of the Jackson State University National Alumni Association; The Rocks, Inc.; Omega Psi Phi Fraternity, Inc.; Prince Hall Mason; VFW ##9832, and The Society of White House Military Aides.