Dionne Jones-Woody
May 3rd, 2019 by alumni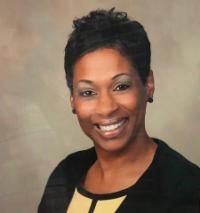 Dionne Jones-Woody is a 1994 B.S. Elementary Education and a 1997 M.S. Education Administration & Leadership graduate of Jackson State University. She has been appointed Asst. Superintendent of Elementary Schools for Jackson (MS) Public Schools effective July 1, 2019. Jones-Woody has served as the principal at Key Elementary School since 2012. Currently, Key is rated an "A" school and ranked #15 in the state of Mississippi.
Jones-Woody's career in education spans over 22 years, she has always endeavored to educate the whole child rather than merely focusing on strictly academics. Woody often says….."I treat all children as though they're my own biological children."
Jones-Woody believes she is well respected by her staff, colleagues, and superiors for exhibiting a very hands-on, compassionate, and approachable demeanor with the scholars, their families, and staff members. While quite simple in words, her mantra is "we not me," has profound meaning to those who she works alongside. Jones-Woody was named Administrator of the Year for Jackson Public Schools in February 2016, Jackson State University National Alumni Association 2016 Black Tie Award for commitment in the field of Education, 2016 Mississippi House of Representative Proclamation in the field of Education, and 2017 Women of Progress, Inc. Distinguish Award.
She has also been featured in the "Jackson Free Press News" and educational magazines. Numerous times, she has been featured on the news for her success in schools where she has been the administrator. In 2016, WJTV News Channel broadcasted a "Success Story" for Key Elementary for being an integral part with scholars academically. Jones-Woody was initiated into Delta Sigma Theta, Inc. Delta Pi Chapter at JSU. She is an active member of Pilgrim Rest M. B. Church (Madison), she serves on the Happy Fund for Needy Children, Inc. Board, Couture Cares, Inc. Board, South Central Community Action Agency, Inc. Board Member, Life Member of Jackson State University Alumni Association, Member of National Association of Elementary School Principals Association and several other organizations.
When she is not wearing her principal's hat or working in the community, she can be very easily heard cheering for her boys (James and Jarvis) with baseball, football and other extracurricular activities they are involved in. Jones-Woody follows a JSU graduate legacy from her parents Henry and Linda Jones. Should you had seen two other women looking identical to Dionne on the "yard", those were her triplet sisters everyone knew as the "Triplets". Her sisters, DeWanda Jones Nelson, Asst. Principal and Denise Jones Gregory, University Asst. Provost who both, live in Birmingham, AL.
Jones-Woody is a product of the Columbus Public School District. Jones-Woody began her teaching career at Marshall Elementary School (Jackson (MS) Public Schools) right out of college. She has worked in Atlanta (GA) Public Schools as a teacher and reading specialist, Montgomery (AL) Public Schools as a schoolwide instructional specialist and assistant principal. In Jackson (MS) Public Schools she has served as a teacher, assistant principal from 2006-2008 at Johnson Elementary and principal from 2008-2012 at Bradley Elementary School improving from low performing to successful/high performing under her leadership. After assuming leadership of Key Elementary, the school maintained a "B" rating from 2013-2017 before achieving "A" rating in 2018.
Working with children is part of Jones-Woody's daily life. She says …children are a gift! It makes her feel proud knowing she has reached a child. She is a strong advocate for children being treated fairly, academically and socially. Also, she believes in the old African Proverb: "It Takes a Village to Raise a Child".