Quintessa Hathaway, Ed.D.
June 21st, 2019 by alumni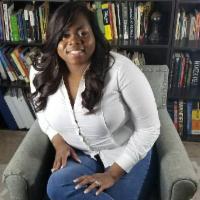 Dr. Quintessa Hathaway is native of "Music City" Nashville, Tennessee. She grew up amidst a large tight-knit family whom she describes as the definition of love and one of her greatest sources of inspiration. She is an academician, lifelong learner, and forward thinker. Those traits were instilled and reinforced very early by her father, Mr. Andrew Jackson Pride; and her maternal grandfather, Mr. Joe Miller Hathaway, Sr. A couple of her personal mantras are, "If you want to lead the people, you must first love the people. If you love the people, you will lift the people." and "Education is designed to give learners transformational revolutionary power."
The 2006 graduate of our illustrious Jackson State University with a Bachelor of Arts in Political Science knows the institution is a dynamic force in her life and laid the foundation for her later academic and professional successes. She went on to graduate from the renowned Tennessee State University with a Master of Education degree in Curriculum and Instruction; a Specialist in Education degree in Administration and Supervision; and a Doctor of Education degree in Educational Leadership. Her groundbreaking dissertation, "The Common Core State Standards Initiative And The Achievement Gap" was a national analysis of our country's educational policy. It is steeped in scholarship and has the potential to empower the American education system.
She began her public servant journey in 2006 when she ran for elected office. She sought to be a member of the 104th General Assembly in the Tennessee House of Representatives serving District 53 (parts of South Nashville and Antioch). Although she lost the election, she counted the undertaking as a victory and attain a third of the Democratic Party popular vote. Afterward, she continued to serve her community for over eleven years as a distinguished tenured educator and taught in various capacities such as secondary education in both middle and high school in urban and suburban settings, an adjunct faculty member at a metropolitan Little Rock college, alternative education, and adult education.
Currently, Dr. Quintessa Hathaway is the founder, chief executive officer, and lead consultant of Q. Hathaway & Associates, LLC, an Arkansas Department of Education approved and results-driven education consulting and professional development provider. Her organization is a woman and minority-owned professional services entity based in the greater Little Rock, Arkansas area.
Her team of consultants has over eighty years of combined experience as highly qualified educators, published authors, textbook writers, instructional coaches, STEAM-certified teachers, and administrators who bring transformative solutions and evidence-based strategies to schools and districts across the southern and midwestern United States of America. Her self-titled organization has grown rapidly and is making major strides to help schools thrive academically. Her teammates and she are on a historic mission and calling to increase student achievement by double-digit gains in the core subject areas in what she calls, "The Freedom Schools."
Her international professional blog, www.atalkwiththecommunity.com, captivates the hearts and minds of over 1,500 leading political and educational figures, think tanks, theologians, civil rights activist, national commentators, college and university presidents, and educators, professionals, and informed citizens. The platform has flourished exponentially over the past five years. It was even featured in the African American Voices Juneteenth 2018 edition for its stance taken on the Libyan slavery crisis.
Dr. Quintessa Hathaway is a published author, writer, has an active research agenda and manuscripts in the publication process. One of her bestselling and seminal works to date is titled, "A Talk With The Community: Politics, Education, And Other Social Issues." Another book is titled, "Boy Joe Down In The Country: A Sharecropping Story" a memorial literary text to honor to her grandfather, but also a living commemoration to a fading class of people. It gives a snapshot of a system that began during the Radical Reconstruction years and lasted through the 1950s and catapulted the American agrarian society into an economic machine. She wrote "Words From The Greats, Version 1.0," a trilogy series highlighting ten legendary leaders: Thurgood Marshall, James Baldwin, James Farmer, Jr., James Meredith, Fannie Lou Hamer, Diane Nash, Ella Baker, Dorothy Height, Malcolm X, and Shirley Chisholm.
She is a member of several civic and social organizations such as: National Education Association (NEA), Arkansas Education Association (AEA), National Council For The Social Studies (NCSS), National Association For The Advancement of Colored People (NAACP), National Council of Negro Women (NCNW), American Civil Liberties Union (ACLU), National Organization For Women (NOW), International Black Women's Congress (IBWC), and the League of Women's Voters (LWV). While completing undergraduate school, she was a recipient of Jackson State University's Ida B. Wells Scholastic Achievement Award, several Certificates Of Academic Achievement, a Dean's List Scholar, and served as Student Government Association Class President.
Dr. Quintessa Hathaway is a deeply spiritual and philosophical woman. She enjoys heartwarming and enthralling intellectual conversations. When she is not traveling for her consulting firm or leisure, she is home in metropolitan Little Rock cooking savory meals, reading, writing, watching C-SPAN, and public speaking. She is flirting with the possibility of reentering the political arena in 2022 but expresses she is waiting for the ancestors to be in agreeance.