Otis Gaines, II
July 8th, 2019 by alumni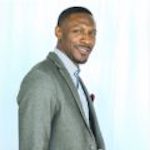 Mr. Gaines is a native of Jackson, MS. He graduated from Jackson State University in 2004 with a Bachelor of Science degree in Science & Technology. He is an advocate for education and a firm believer in "the more you know". His educational journey also led to stops at William Carey University, where he received a Master of Education in the Art of Teaching, and the University of Southern Mississippi, where he received a Specialist Degree in Educational Leadership.
Mr. Gaines began his professional career with the Jackson Public School District in 2004 as the Tech Prep teacher at Hardy Middle School. He also taught and coached basketball on the Mississippi Gulf Coast.- at Long Beach High School. While on the Coast, he had the unique opportunity to coach the Mississippi Blues, a member of the American Basketball Association. In 2011, he returned home to his alma mater and was named the head boys' basketball coach and health teacher at Provine High.
In 2019, Mr. Gaines entered the administrative arena by completing the Mississippi Alternate Path to Quality School Leadership (MAPSQSL) program. He brings over 14 years of experience as an accomplished educator/athletic professional who is dedicated to the educational success of all students.
Mr. Gaines' passion for youth and basketball opened doors for him to give back to the community. He has done charitable work with the Mo Williams Foundation basketball camp and the Mississippi Drills and Skills Academy. In 2012, he started the O.G. II Camp Evolution: Books & Basketball, where good student-athletes evolve into great leaders.
Mr. Gaines is the son of Otis Sr. and E. Louise Gaines. He is the eldest of his two siblings: Caleb and Danielle Gaines.