Vivian Brown

____________________________________________________________________________________________________________________________
Dr. Gregory A. Antoine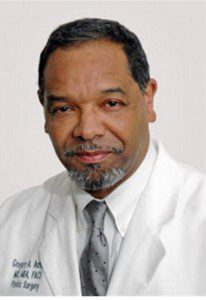 A Jackson State University alumnus has been among those providing critical medical care to victims of the deadly Boston Marathon bombings.
Dr. Gregory A. Antoine, a 1972 JSU graduate who is an expert in plastic and reconstructive surgery.
Dr. Gregory A. Antoine, chief of the Division of Plastic and Reconstructive Surgery at Boston Medical Center and at the Boston University School of Medicine, said he thought the city was under a terrorist attack after witnessing the chaos and destruction wreaked by the bombs.
"At the hospital, we got somewhere around 22 victims. I personally treated four. Most of the injuries involved the lower extremities. A large portion of them were not salvageable and many wound up with amputations," said Antoine, a 1972 graduate of JSU.
Antoine said one of the patients was the man credited with providing the FBI with key information to help identify the bombers.
"Last week was a long week. I was working 70 hours. Things have calmed down," Antoine said on Monday. "We got a large influx of patients (last week). We spent two days washing out their wounds and making decisions about whose limbs we could salvage and whose limbs we could not salvage. These were healthy young people and people who were just standing near where the bombs exploded."
The bombs killed three and wounded at least 180. The scene in the aftermath of the bombings has been described as a war zone. That is a setting of which Dr. Antoine is familiar after having served in both the Army and Navy before retiring as a decorated colonel. Antoine took care of patients during Operation Desert Storm and Operation Restore Hope, on which the film "Black Hawk Down" was based.
"I operated on all of those injured in Operation Restore Hope," Antoine said.
Antoine is the first African-American plastic surgeon to head a division of plastic and reconstructive surgery at a non-historically black medical school in the United States.
"It's important for people to know that Jackson State has graduates in all strata of our society," Antoine said. "I'm a Jackson State alum who is doing my part to contribute."
Antoine received his medical degree from the State University of New York School of Medicine and Biomedical Sciences at Buffalo. He completed his residency at Walter Reed Army Medical Center and Georgetown University Medical Center.
____________________________________________________________________________________________________________________________
Rev. Robert C. Scott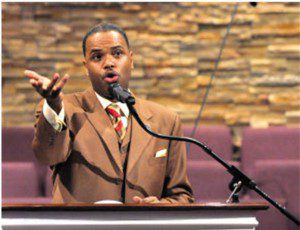 Rev. Robert C. Scott, senior pastor at Central Baptist Church, leads a recent Sunday service at the church, located at 2842 Washington Blvd.
In 1999, Rev. Robert C. Scott, senior pastor at Central Baptist Church, 2842 Washington Blvd., became the youngest person in the church's lengthy history to assume the pastoral role. This was, he said, a "divine move."
Before he accepted the invitation, Central Baptist had gone almost three years without a pastor following the death of Rev. Ronald Packnett in 1996. Packnett had served for 11 years and had been socially and politically active in St. Louis. During this transitional period, Central Baptist was led by Interim Pastor Rev. Ralph Jackson.
Rev. Scott left the position of presiding pastor at Union Baptist Church, near Lexington, N.C., to come to St. Louis. His youth – he was 29 at the time – stirred up doubts about his leadership potential within the congregation. He quickly answered those doubts.
"We have seen him blossom and grow in his capacity as pastor," said James Johnson, chairman of the deacon ministry at Central Baptist. "We've climbed some heights we've never climbed before."
Among those "heights" is the church's steady membership growth under Rev. Scott. Central Baptist is now one of the fastest-growing churches in St. Louis with nearly 2,000 members on its rolls.
Central Baptist is the area's second-oldest African-American Baptist church, founded in 1846 by both slaves and free individuals. The oldest Baptist church in the area is First African Baptist Church, now First Baptist Church, founded in 1827. On March 22, Central Baptist will celebrate its 167th anniversary.
Harriet Scott – wife of Dred Scott, a slave who petitioned for his family's freedom in a case that went to the U.S. Supreme Court and helped to spark the Civil War – was a member of Central Baptist. Former Central Baptist pastor Reverend Dr. Thomas Elliott Huntley was a classmate of Dr. Martin Luther King Jr. at Morehouse College.
One of Rev. Scott's own mentors is Rev. Dr. Wyatt T. Walker, who was Dr. King's chief of staff with the Southern Christian Leadership Conference. Rev. Scott said his mentors are often have a "social-justice consciousness" which greatly influenced his preaching style.
"You can't reach out to people and talk about Jesus without trying to do something to change their social condition," Rev. Scott said.
In June 2008, he was a coordinator and spokesperson for A Call To Oneness, which united more than 20,000 African-American men in the region. The non-violent march in North St. Louis – organized by Rev. Dr. Freddy J. Clark, pastor of Shalom Church (City of Peace) – sought to end black-on-black violence.
Over the years, Rev. Scott has been tested by unfortunate circumstances that proved to be blessings in disguise. For example, a storm one Palm Sunday stripped the church of its roof, causing major flooding. "It was literally raining in the sanctuary and educational building," he said.
He had met with church leaders about two years prior to unveil his Six Step Vision, a plan detailing extensive re-modeling to make the church "more relevant in the 21st century."
"Everything that we had outlined, as far as that vision, was brought to pass because of the storm," he said.
Through renovations, the sound system was upgraded, TV screens were added and multiple cameras are now used for live-recording purposes. The sanctuary seats more people, and a new gym floor was placed inside the educational facility. The total cost of renovations was $2.5 million.
Rev. Scott describes his congregation as "inter-generational" and tailors his preaching to appeal to a diverse audience. He also employs the help of a children's and youth minister. "I allow them when I'm preaching to send tweets and Facebook messages," he said.
Among his accomplishments, he is a silver lifetime member of the NAACP. His sermon "A Voice, A Vision and An Adventure" was published in Sound the Trumpet Again: Sermons for Empowering African American Men. He serve as co-chair for the United Negro College Fund (UNCF), St. Louis region (Church Division).
He graduated from Jackson State University with a BA in Political Science, Duke University Divinity School with a Master of Divinity and United Theological Seminary with a Doctor of Ministry.
Rev. Scott and his wife, Pier Charisse Scott, have one child, Charis Jordyn Scott, who is 3 ("going on 20," he jokes).
"He's a wonderful young minister," said Johnson, chairman of the deacon ministry, said of Rev. Scott. "And all I can see for him is up."
Worshippers are invited to attend services every Sunday at 7:45 a.m. or 11 a.m. at Central Baptist located at 2842 Washington Blvd. 314.533.0747