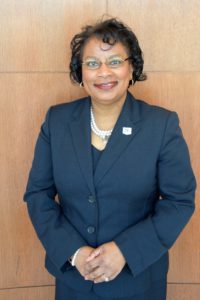 Welcome to the College of Business at Jackson State University!
Thank you for your interest in the academic programs offered by the College of Business. The College of Business Faculty and Staff are committed to providing students with the tools they need to become successful business professionals.
I am elated that you are visiting the website for the College of Business. As you review the website, you should quickly discover that the College of Business is dedicated to its mission of providing an enriched learning environment to nourish and support the aspirations of students in management education.
The College of Business provides students with opportunities for intellectual and professional development and growth. All academic programs in the College of Business are accredited by the Association to Advance Collegiate Schools of Business (AACSB). The College of Business is privileged to offer academic programs at the undergraduate and graduate levels.
The College of Business offers a cadre of undergraduate academic programs aimed at providing students with basic knowledge in business and related disciplines. These programs are designed to prepare students for advanced study in the major or related fields as well as for the interdisciplinary and global workplace. Additionally, students are afforded opportunities to develop a consciousness of the business professional's social responsibilities to the community through their engagement in community service.
Further, the College offers strong master's programs in accounting and business administration. These programs are aimed at providing students with learning opportunities that will assist them in developing intellectual qualities that are necessary for meeting multifaceted and diverse problems in the global business world. The College of Business also offers a doctoral program in business that is designed to increase the student's theoretical knowledge base in addition to other skills gained at the graduate level. Likewise, the doctoral program aims at developing outstanding scholars in the business disciplines.
If I may be of assistance to you as you review the College's website, please contact me. Additionally, please feel free to plan a visit to Jackson State University to visit the various academic departments in the College and to tour the campus.
Again, thank you for your interest in the College of Business!
Dr. Sheila C. Porterfield
Interim Dean