PROGRAM STRUCTURE:
To be eligible for participation in RISE, students must be enrolled in either the Department of Biology or Chemistry/Biochemistry.  All students in the College will benefit from seminars, workshops, and other enrichment activities sponsored by the RISE Program.  
We have developed a peer mentoring structure where lower level students are mentored by upper level students.
 ACTIVITIES: 
RISE incorporates many activities designed to assist and support students throughout their undergraduate and graduate education.  The program includes intramural and extramural research, outreach activities, workshops, seminars and conference attendance. 
Student cohorts will be formed with each consisting of a freshman, a junior and a Master's student.  The cohort will work together for two years on different aspects of the same research project under a faculty advisor.
 COHORTS: 
In year one, 12 students will be selected to fill an initial 4 cohort teams.  Each of these cohort teams will consist of 1 Freshman, 1 Junior, and 1 First year Masters' Student.  Each cohort is assigned to one mentor.  Upon successful completion of year one, the entire cohort will stay intact and continue in the second year under the direction of the same research mentor.
Year 1 to Year 2 transition in Cohort Model

In year two, four new cohort teams will be selected as in year one with 1 freshman, 1 junior and 1 first year masters' student.  This will bring a total of 24 students and 8 cohort teams as the maximum number of RISE students.  At the end of year 2, the successful completion of the program should show the following: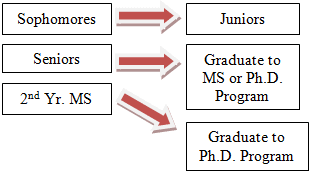 Goals & Objectives | Program Structure & Activities | Financial Aid | Fellows Application | Scholars Application | Contacts