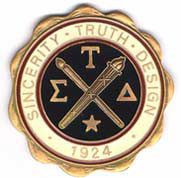 Sigma Tau Delta, the International English Honor Society, was founded in May 1924 at Dakota Wesleyan College in Mitchell, South Dakota, by Professor Judson Q. Owen. Its central purpose is to confer distinction upon outstanding students of the English language and literature in undergraduate, graduate, and professional studies. Sigma Tau Delta also recognizes the accomplishments of professional writers who have contributed to the fields of language and literature.
One of the largest members of the Association of College Honor Societies, Sigma Tau Delta has over 600 active chapters, more than 900 faculty sponsors, and inducts approximately 7,000 members annually. Our members have the opportunity to be recognized for their outstanding achievements, enrich their education, help them make career choices, and advance their careers.
The name Sigma Tau Delta comes from the Greek letters representing the first letter of each of the words that form the official motto, "Sincerity, Truth, Design": STD. The official colors of the society are cardinal and black; the official flower is the red rose.
Membership in Sigma Tau Delta is an outward recognition of personal accomplishment. It provides opportunities for those interested in English language and literature to join with like-minded persons on the local, regional, national, and international levels and to participate in and present professional work at conferences and conventions at these levels. Members receive two issues of the Newsletter with their initial fee. They also receive (one issue) and have the opportunity to contribute to the award-winning literary publication, The Rectangle, and are eligible to compete for several $1,000-$2500 scholarships and awards. There are also internship assistantship opportunities available for members.
Membership in Sigma Tau Delta is by invitation, extended through a local chapter on behalf of the international organization. Students who meet the qualifications for membership must apply through the chapter on their campus. Once a student contacts the local chapter, the sponsor will check the qualifications and recommend that student for membership.
Eligibility
Active Membership: currently enrolled students, undergraduate or graduate, who are majoring in English, and who have the requisite academic background (see below).
Associate Membership: currently enrolled students, undergraduate or graduate, and alumni, with the requisite academic background but who are not majoring or minoring in English. Associate members have all the rights and privileges of active members but may not hold office.
Academic Requirements
must have completed of at least three semesters or five quarters of college work
must have completed a minimum of two college courses in English language or literature beyond the freshman requirements
have attained a minimum of a B (3.0) average in English courses
rank in the top 35% of the class in general scholarship
be recommended for membership by English department faculty members
$47.00 total. $37 goes to pay the one-time international initiation fee, which entitles each chapter member to receive The Rectangle and the Sigma Tau Delta Newsletter for one year. Members also receive a certificate, membership card, and pin. Kappa Omicron chapter of  Jackson State University also collects a $10 due ($5 per semester). All fees must be paid prior to initiation and confers life membership in the Society.
Member initiation ceremony
Installation of officers
Promotion of literacy
Writing tutorials
Publications
Conference participation
Fundraisers
For additional information, please contact faculty sponsors:
Jackson State University
Jackson, Mississippi
Kappa Omicron
Patsy J. Daniels
601-979-1480
RaShell Smith Spears
601-979-5859