9:00 AM, Thursday, December 14, 2017
Student  Center Ballroom A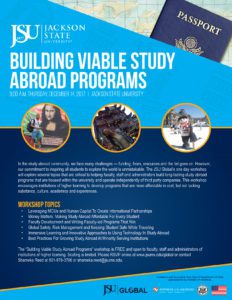 In the study abroad community, we face many challenges— funding, fears, resources and the list goes on. However, our commitment to inspiring all students to explore the world is unmistakable. The JSU Global's one day workshop will explore several topics that are critical to helping faculty, staff and administrators build long-lasting study abroad programs that are housed within the university and operate independently of third party companies. This workshop encourages institutions of higher learning to develop programs that are more affordable in cost, but not lacking substance, culture, academics and experiences.
Workshop Topics & Agenda
8 a.m.-8:45 breakfast and registration
8:45 a.m. – 9:00 a.m. Welcome from JSU Global
9:00 a.m. – 9:50 a.m.
Leveraging MOUs and Human Capital To Create International Partnerships
Presenters: Dr. Kathie Stomile-Golden, Director of International Programs
Mississippi Valley State University
Dr. Pamela D. Moore, Associate Dean for Global Engagement
University of Arkansas Pine Bluff
10 a.m- 10:50 a.m.
COIL: An Innovative Approach to Using Technology to Expand Study Abroad to Those Who Cannot Travel
Jon Rubin, Director
Coil Consult
11 a.m.- 11:50 a.m.
Best Practices For Growing Study Abroad At Minority Serving Institutions
Dr. Keshia Abraham, Director of Strategic Initiatives, Study Abroad
CIEE
12 p.m. Lunch / Open Discussion
Money Matters: Making Study Abroad Affordable For Every Student
1:00 p.m. – 1:50 p.m.
Faculty Development and Writing Faculty-led Programs That Win
Chris Deegan, Executive Director, Study Abroad
University of Illinois, Chicago
Dr. Melvenia Martin
Grambling State University
2:00 p.m. -2:50 p.m.
Global Safety, Risk Management and Keeping Student Safe While Traveling
Imperio Shanks, International Risk and Insurance Analyst
University of Texas at Dallas