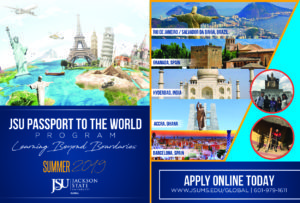 Program Description
"JSU Passport to the World" (PTTW) is a short-term- faculty-led international experience that includes organized cultural, research, and experiential learning activity. PTTW is a six credit hour course that ranges from two to four weeks abroad . It is expected that the educational and cultural experiences will have an indelible impression upon the lives of students through increased cultural awareness, change in academic performance, and increased career opportunities.
Program Details
Since the 2014 launching of Passport To The World, more than 150 students have had global experiences. PTTW happens during the summer months of June and July. The various academic programs are lead by JSU faculty. In addition to the in-country experiences, faculty can facilitate their classes in person, online or as a hybrid course. The program is open to both undergrad and graduate students. Past locations include – Madrid, Spain; Paris, France; Rio de Janeiro, Brazil; Salvador Da Bahia, Brazil; Santo Domingo, Dominican Republic; Cape Town, South Africa; and Shanghai, China. lanned destinations for the 2018 program are:
Rio de Janeiro / Salvador Da Bahia, Brazil

Accra, Ghana
Granada, Spain

Hyderabad, India

Barcelona, Spain
1. Must be a full-time student



2. Must have at least a 2.5 GPA (undergraduate), 3.0 GPA (graduate)
3. Must be in good standing with the University
*Airfare not included in program fees.
PROGRAM

CONTACT PERSON

Barcelona, Spain

June 3 – June 17, 2019

The Politics of Public Policy and the Infusion of Religiosity As A Paradigm In Public Policy Creation and Implementation

Program Fees

$1,206 (includes hotel, breakfast, in-country ground transportation, excursions, lectures, insurance and cultural activities)

Undergraduate Tuition

3 hours: $987.00

6 hours: $1974

Graduate Tuition

3 hours: $1,314

6 hours: $2628

Dr. Lolita D. Gray

Assistant Professor

Salvador da Bahia & Rio De Janerio, Brazil

Experiencing Culture Through Design

May 30 – June 13, 2019

Program Fees

$1,050 (includes hotel, breakfast, in-country ground transportation, excursions, lectures, insurance and cultural activities)

Undergraduate Tuition

3 hours: $987.00

6 hours: $1974

Graduate Tuition

3 hours: $1,314

6 hours: $2628

Dr. Kenyatta Stewart

Professor

College of Liberal Arts

Department of Graphic Design

Kenyatta.Stewart@jsums.edu

601-979-3001

Hyderabad, India Public Health— A Global Perspective

June 15 – June 27, 2019

Program Fees

$1,481.00 (includes hotel, breakfast, in-country ground transportation, excursions, lectures, insurance and cultural activities)

Undergraduate Tuition

3 hours: $987.00

6 hours: $1974

Graduate Tuition

3 hours: $1,314

6 hours: $2628

Dr. Amal Mitra, MD, DIH, MPH, DrPHProfessor / Fulbright Scholar
Department of Epidemiology & Biostatistics
School of Public Health
Jackson Medical Mall, Suite 320
Amal.k.mitra@jsums.edu
(601) 979 8788

Accra, Ghana–Sankofa: Challenging Racial Mythologies Here & Abroad

June 2- June 17, 2019

Program Fees

$1338.33 (includes hotel, breakfast, in-country ground transportation, excursions, lectures, insurance and cultural activities)

Undergraduate Tuition

3 hours: $987.00

6 hours: $1974

Graduate Tuition

3 hours: $1,314

6 hours: $2628

Dr. Byron D'Andra Orey

College of Liberal Arts

Bryron.D. Orey@jsums.edu

601-979-2737

Granada, Spain

Comprehensive &Contemporaneous Perspective in Public Health

June 6th – June 17th

Program Fees

$1,769.66 (includes hotel, breakfast, in-country ground transportation, excursions, lectures, insurance and cultural activities)

Undergraduate Tuition

3 hours: $987.00

6 hours: $1974

Graduate Tuition

3 hours: $1,314

6 hours: $2628

Dr. Nelson Ateortua De la Pena

School of Public Health

Nelson.atehortua@jsums.edu

601-979-8852