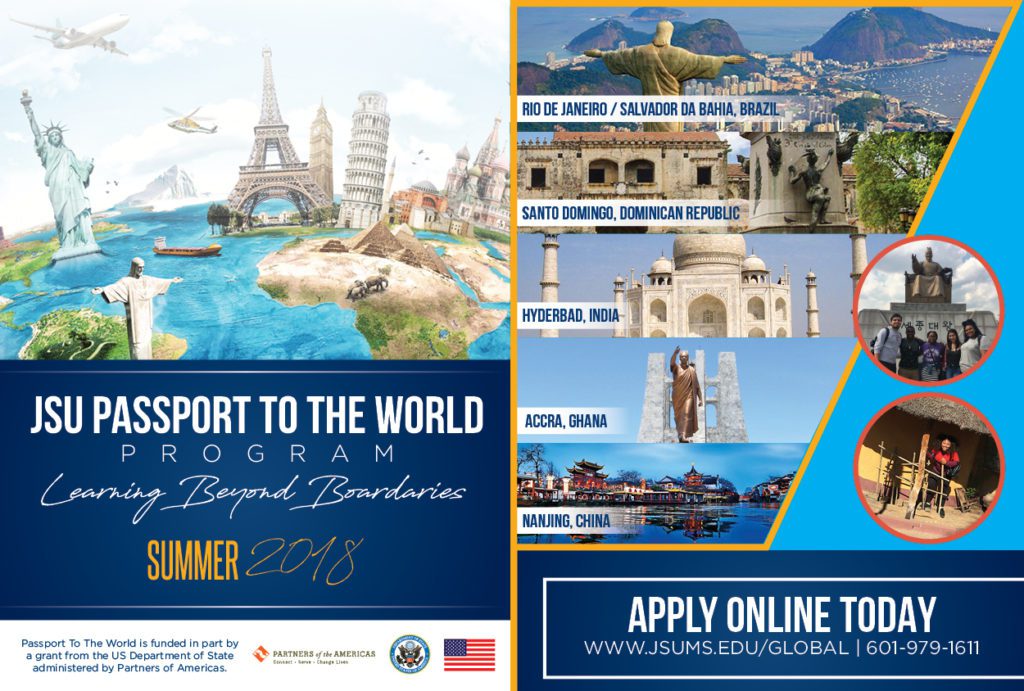 Program Description
"JSU Passport to the World" is a 4-week faculty-led international experience that includes organized cultural, research, and experiential learning activity. Students spend 2 weeks abroad and 2 weeks on campus at JSU. It is expected that the educational and cultural experiences will have an indelible impression upon the lives of students through increased cultural awareness, change in academic performance, and increased career opportunities. This program is offered through our JSU-Global division.
Program Development
The knowledge and recognition that we live in an Interdependent world without borders requires that Jackson State University create a pipeline of graduates with global competencies. During the 2013/2014 academic year 886,052 international students studied in the U.S. while only 289,408 U.S. students studied abroad representing less than 10% of students earning baccalaureate and associates degrees.
Jackson State University (JSU) has joined the Institute of International Education (IIE) in its pledge to double the number of United States students with study abroad experiences by the end of the decade. To accomplish this herculean task requires the support of employers, governments, associations, and foundations to make study abroad affordable to all students that qualify and have the desire to do so.
Several challenges have been identified for U.S. study abroad participants and programs:
Lack of diversity in ethnicity. The majority of students that study abroad do not reflect the diversity of the people that make up the United States population.

Lack of diversity of location. Most U.S. students that study abroad go to Europe.

Lack of diversity of academic majors. Most U.S. students that study abroad major in the Liberal Arts.
In addition, the literature identifies barriers to study abroad as the "Three C's": Cost, Curriculum, and Culture.
Cost – The JSU Passport to the World program was designed to provide students with a well-rounded, study abroad experience while keeping the costs to fit within the award structure for student financial aid.
Curriculum – JSU faculty will travel with students to deliver the curriculum component while CIEE will provide cultural experiences in each location. Six academic credit hours are earned for participants on the program.
Culture – Students travel with JSU faculty leaders to each location which mitigates initial fears of studying abroad alone and adds a level of comfort based on familiarity.
Program Details
Our program, JSU Passport to the World, was designed to addresses these issues. The majority of students traveling are African American. Each group travels to a different destination spanning the globe. These have included – Madrid, Spain; Paris, France; Rio de Janeiro, Brazil; Salvador Da Bahia, Brazil; Santo Domingo, Dominican Republic; Cape Town, South Africa; and Shanghai, China. Currently planned destinations for the 2018 program are:
Rio de Janeiro, Brazil

Nanjing, China

Hyderabad, India
1. Must be a full-time student



2. Must have at least a 2.5 GPA (undergraduate), 3.0 GPA (graduate) and be in good standing with the University
3. Must provide one letter of recommendation from JSU faculty or administrator – emailed to JSUpttw@jsums.edu.
*Airfare not included in program fees.
PROGRAM

CONTACT PERSON

Nanjing, China

A Comparative Study of the Environmental Hazards Impacting the Social, Political, and Economic Policies

Dr. Lolita D. Gray

Assistant Professor

College of Liberal Arts

Dollye M.E. Robinson Bldg., Room 322

601-979-2725

Undergraduate Cost: $3,403.00

Graduate Cost: $3952.00

Salvador da Bahia & Rio De Janerio, Brazil

Experiencing Culture Through Design

Dr. Kenyatta Stewart

Professor

College of Liberal Arts

Department of Graphic Design

Kenyatta.Stewart@jsums.edu

601-979-3001

Undergraduate Cost: $2,828.00

Graduate Cost: $3,422.00

Hyderabad, India

Public Health— A Global Perspective

Dr. Amal Mitra, MD, DIH, MPH, DrPHProfessor / Fulbright Scholar
Department of Epidemiology & Biostatistics
School of Public Health
Jackson Medical Mall, Suite 320
Amal.k.mitra@jsums.edu
(601) 979 8788Undergraduate Cost: $3,403.00Graduate Cost: $3952.00Click Here For More Information