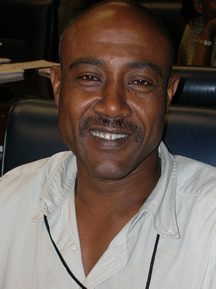 Professor
Tel: (601) 979- 1183/3923
Fax: (601) 979-6988
Email: kamal.ali@jsums.edu
Education:
M.S.E. in Electrical and Computer Engineering, West Virginia University , Morgantown WV (May 1989).
Ph.D. in Solid State Physics. Reading University , Reading U.K. (October 1981).
Dissertation:
A Neutron Small Angle Scattering Study of Ni Superalloys.
Research Interests:
Microprocessor/Embedded Systems, Neural Networks, UAV/UGV research , High frequency RF channel Characterization, The Dependence of Auditory Vigilance on Bandwidth, Heart Rate Variability, High Frequency Acoustics
Current Publications:
"Online Advising Assistant," Kamal S. Ali, ASEE 2004 Conference, Auburn , AL , March 2004.
"Classification of HRV for clinical screening of DM and CHD," Ali, K, Jacobson, M, 4th Annual Research Conference, Research Affairs of the United Arab Emirates University , April 2003.
"A Neural Networks Classification of Heart Rate Variability," Kamal Ali, Michael Jacobson , Neural, Parallel & Scientific Computations & Intelligent Sys. Design & Applications, Atlanta GA , August 2002.