Successful Doctoral Workshop for the Aspiring Scholars
November 7th, 2018 by jsudurp
What do you do when you have a lot of questions and need just as many answers? Well, one can attend a doctoral workshop sponsored by the Department of Urban and Regional Planning hosted on Tuesday, October 30, 2018 at 5:30 p.m. This event was the last in the month of activities as part of Planning Month. Both doctoral and masters students were in the audience at the 101 W. Capitol Street Building at the JSU Downtown Campus to hear what new procedures and processes are a part of the matriculation. Shalonda Carlisle, a DURP doctoral candidate, served as the facilitator for the program.
There were two panels assembled for the workshop. The first panel was comprised of key Jackson State University staff persons who are great resources in the overall completion process. First, Mrs. Darlita Ballard, university and digital archivist from the Division of Library and Information Resource spoke about the binding of the dissertation/thesis. Next, there was Dr. Kathi Griffin, director, of the Richard Wright Center, and last was Ms. Fatouma Sisay, senior program manager of the Division of Graduate Studies. Students were encouraged to be timely with their paperwork submissions and maintain communication with their advisor. Additionally, the Richard Wright Center was a great place to help choose a topic for research and participate in their Roundtable Discussions.
DURP alumni doctoral graduates comprised of the second panel discussion. Dr. Joan Blanton, AICP and Dr. Jasmine Williams-Washington are both DURP visiting assistant professors along with Dr. Charles Husband, provided first-hand information of what current doctoral students should expect as part of their personal and professional journey.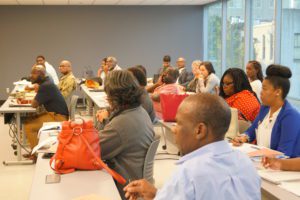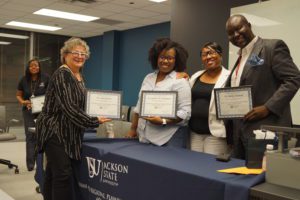 Shown left to right: Dr. Talya D. Thomas, DURP assistant professor, Dr. Joan Blanton, AICP, DURP visiting assistant professor, Dr. Jasmine Williams-Washington, DURP visiting assistant professor, Shalonda Carlisle, DURP doctoral candidate, and Dr. Charles Husband, manager, Mississippi Department of Transportation (MDOT)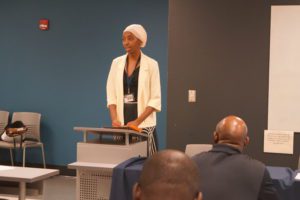 Ms. Fatouma Sisay, senior program manager, JSU Division of Graduate Studies