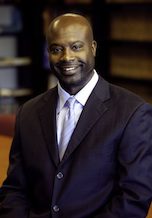 Professor of Political Science
D'Andra Orey's research is in the area of race and politics, focusing heavily on racial attitudes and legislative behavior. Prior to coming to Jackson State, he previously taught at the University of Mississippi (1999-2001) and the University of Nebraska, Lincoln (2001-2008). In 2011, Dr. Orey was recognized by President Myers as Jackson State University's Teacher of the Year and was nominated for the state-wide honor of Teacher of the Year. He also is the recipient of the 2011 Jewel Limar Prestage Mentorship Award and the 2008 Julia Cooper Teaching Award, both presented by the National Conference of Black Political Scientists. He has conducted lectures at St. Anne's College at Oxford University (Oxford, England), Emory University, Winneba University in Ghana, Africa, Yale University and Spelman College, to name a few. In 2008 he received a National Science Foundation grant to create a Political Psychology laboratory at Jackson State University. In 2009, Dr. Orey won a nation-wide competition with TESS: Time Sharing Experiments for the Social Sciences to examine the impact of such trusted sources as President Obama and former President Clinton on racial attitudes. He has published over twenty scholarly articles and book chapters and is currently working on two Book-Length Manuscripts: 1) Contemporary Racial Attitudes in Black and White; and 2) Strange Legislative Bedfellows: The Intersectionality of Race, Gender and Party in State Legislatures.
Selected Publications
"Nature, Nurture, and Ethnocentrism in the Minnesota Twin Study" (Byron D'Andra Orey and Hyung Park). Twin Research and Human Genetics. Volume 15, Number 1. 2012.
"White Support for Racial Referenda in the South" Politics & Policy (Byron D'Andra Orey, Marvin Overby, Peter Hatemi and Baodong Liu). August 2011.
"Church Attendance, Social Capital, and Black Voting Participation." Social Science Quarterly (Paul Liu, Sharon Austin and Byron D'Andra Orey) September 2009.
"Accounting for "Racism: Responses to Political Predicaments in Two States." Byron D'Andra Orey and Marvin Overby with Barbara J. Walkosz and Kimberly Walker. State Politics and Policy Quarterly, Fall 2007: 235-255.
Telephone: (601) 979-1505
E-Mail: byron.d.orey@jsums.edu
Address: P.O. Box 18420
Jackson State University
Jackson, Mississippi 39217