Public Policy and Administration Hosts the 2017 Mississippi Political Science Association Annual Conference
February 24th, 2017 by ppad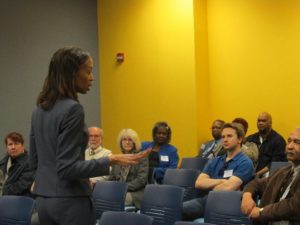 The Department of Public Policy and Administration (PPAD) hosted the 2017 Annual Conference of the Mississippi Political Science Association (MSPSA) at the Jackson State University Downtown Campus, 101 West Capitol St. on February 10th and 11th, 2017. Attending the event were political scientists, faculty, and undergraduate and graduate students from Belhaven University, Delta State University, Jackson State University, Millsaps College, Mississippi College, Mississippi Valley State University, Morehouse College, Talladega College, Texas Tech University, University of Mississippi, and University of Southern University. The theme of the Conference was "Politics, Policy and Diversity." The featured speakers for the conference were former US Secretary of Agriculture, Alphonso Michael (Mike) Espy and the Honorable Angela Cockerham of the Mississippi House of Representatives.
Secretary Espy was appointed USDA Secretary by President Bill Clinton in 1993. Prior to serving as Secretary, Mr. Espy served for seven years as a member of the US House of Representatives, becoming the first African-American member of that b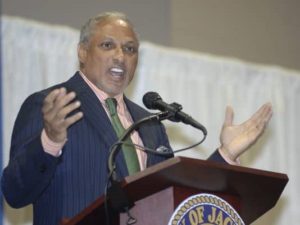 ody from the State of Mississippi, since the Reconstruction-era. He also served the State of Mississippi as an Assistant Attorney General and as Director of the Mississippi Office of Consumer Protection. In 1980, he was appointed as an Assistant Secretary of State and served as Director of the Office of Public Lands. Secretary Espy provided a spirited presentation and discussion of the role of the US Electoral College process in our democratic system of government and the future of the national Democratic Party.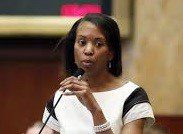 The Honorable Angela Cockerham is an attorney and represents House District 96 in the Mississippi House of Representatives which includes Adams, Amite, Pike and Wilkinson counties. Elected to the House in 2006, she is a member of 11 state legislative committees, and serves as Chairman of the Energy Committee and as Vice Chairman of the Management Committee. Representative Cockerham has been the primary sponsor of over 477 bills. A graduate of Jackson State University, Tufts University, and Loyola University, Ms. Cockerham teaches law at the Mississippi College School of Law. Representative Cockerham provided conference participants detailed information and discussion of major policy issues on the current legislative agenda of the Mississippi House of Representatives.
The two-day event was organized by Dr. Jae-Young Ko, a PPAD Associate Professor and the 2016-2017 Vice-Pre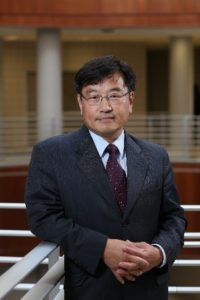 sident of MSPSA. Dr. Ko was elected as the organization's president for the 2017-2018 fiscal year. Jackson State University, the College of Public Service, and the Department of Public Policy and Administration provided the conference site and sponsored the day-one luncheon and evening reception. Dr. Anna S. Blumenthal of Morehouse College and outgoing President of the Mississippi Political Science Association said, "This was the best Mississippi Political Science Association conference ever." Mr. Alan Branson, PPAD doctoral student said, "Congratulations on the conference's success. The increased opportunities for students to hear and present their research are wonderful." According to Dr. Johnny B. Gilleylen Sr., PPAD Chairman, "Hosting the conference was a wonderful opportunity for our faculty and students to collaborate across academic disciplines and institutions outside of the University. The College of Public Service's academic units, PPAD and the Department of Urban and Regional Planning, collaborated with the College of Liberal Arts' Department of Political Science to extend the University into our external communities, and fulfill important components of our missions." Dr. Ricardo A. Brown, Dean of the College of Public Service stated, "In light of the recent historic Presidential Election, it was fortunate that JSU had the opportunity to host this annual meeting among a diverse group of faculty and students from colleges and universities that comprise the MSPSA. Congratulations to Drs. Ko and Gilleylen for their work in hosting this important conference."
With the conference theme, "Politics, Policy and Diversity," panel discussions and presentations included:
Obama-Trump: The Peaceful Transfer of Power/US Presidential Elections
Public Policy Issues for Community Development in Mississippi
Democracy and the 2016 US Presidential Election
Diversity and the Intersection of Public Policy
Southern Politics in Transition
Liberty, Equality and Race
Are We Entering into the Era of Post-Factual Politics?
Issues in Rural Communities
The President as a Political Leader in Agenda Setting
Contemporary Political Agendas
Politics and Humanities in War
PPAD doctoral student, Ms. Debra Monroe-Lax, was the winner of conference's "Student Research Paper of the Year."