"Stick Fly" Opens Thursday, Sep. 28th!
September 25th, 2017 by speech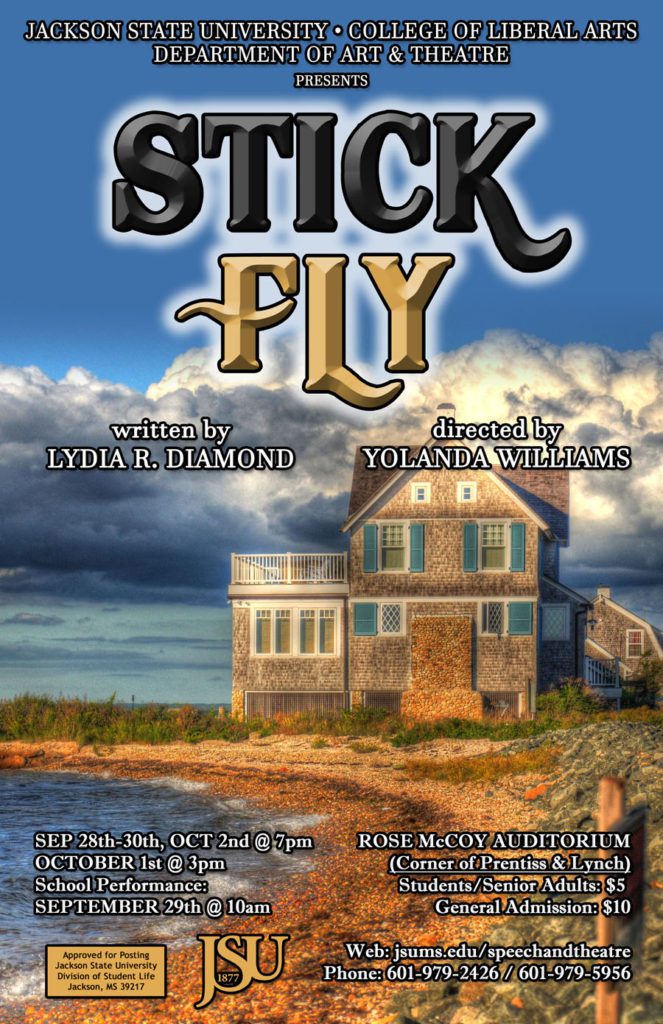 The Department of Art & Theatre at Jackson State University invites you to see Stick Fly, written by celebrated playwright Lydia Diamond and directed by Yolanda Williams.
To purchase tickets drop by our box office in the lobby of the Rose E. McCoy Auditorium on the JSU campus, Prentiss/Lynch Street, or buy your tickets online. Www.jsums.edu/art. Click on Theatre, then click on Box Office to buy tickets. Come join us for a memorable performance.
SYNOPSIS:
When the LeVay family opens its house for a weekend visit, the family ends up airing more than the drapes. The LeVay brothers have invited the women in their lives to meet their parents at their luxurious Martha's Vineyard sum-mer home. Younger brother Kent, who has struggled to find direction in his life, and has issues getting along with his father, brings his fiancée Taylor, who studies insects for her vocation. Taylor was raised in a lower-middle-class household by a single mother. Unaccustomed to privilege, she is uncomfortable in the LeVays' home, especially with Cheryl, who is filling in for her mother as the LeVays' maid.
Eldest brother Flip, a successful plastic surgeon and womanizer, brings his new girlfriend, Kimber, who is privileged, white and has spent her life appalled by her status. Tensions flair as race, class and family become prime conversation topics. When a phone call reveals a family secret, everything unravels. By the end of the weekend, lives have been turned upside-down and a family is left to reassemble the pieces.