February 17th, 2015 by speech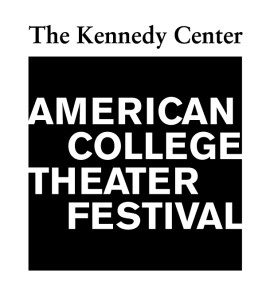 Congratulations to our KCACTF Students and Faculty for their accomplishments at this year's Kennedy Center American College Theatre Festival!
Students Candice Kinnard, Tamarcus Lott, Dylan Fleming, and Professors Darren McCroom and Prince Duren all were honored for their work. Details are below (thanks to KCACTF advisor Professor Yolanda Williams):
Candice Kinnard was awarded The Focal Press Rafael Jaen Award for Excellence in Theatrical Design & Technology for her Prop Mastery in Like Fine Wine. Her work will be presented in a digital display at the United States Institute for Theatrical Technology (USITT) 2015 conference.
Tamarcus Lott placed in the Top 8 in Stage Management. He was give high praise for his work as a Stage Manager during the Irene Ryan Competitions and the Festival as a whole.
Dylan Fleming was cast in a Ten Minute New Play which went on to win first runner up in the New Play Project category.
Professor Prince Duren received an award of excellence for his directing of "Like Fine Wine", and Professor Darren McCroom received two awards of excellence for his Set & Light Design of both "Like Fine Wine" and "Miss Evers' Boys."
Our students attending KCACTF were also able to attend several auditions, including one for "Lost Colony", for which some of our students have already received callbacks. The students were also able to attend various workshops and network with many other students and professionals in their craft.
While traveling back to Jackson, our group had the opportunity to stop and visit Selma, Alabama. Our students were able to walk the Edmund Pettus Bridge and the Selma Bridge. This was a great moment for our students to connect with the past and their history. We all took a moment to appreciate where we came from, we where are and where we are going. This trip to KCACTF was a great experience for our students and faculty. We look forward to attending next years' conference!