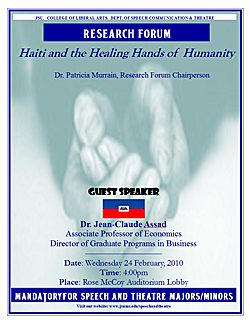 With recent events in Haiti on the minds of the entire world, we recognize an opportunity to assist our students in acquiring more knowledge about the country, its people, its triumphs and its tribulations. To that end, the Department of Speech Communication and Theatre cordially invites you to our spring Research Forum entitled, Haiti and the Healing Hands of Humanity, to be held on February 24, 2010 at 4:00 pm in the Rose E. McCoy Auditorium Foyer.
We invite you to come and listen to our featured guest speaker, Dr. Jean-Claude Assad, a native of Haiti, and student presenters from the Intercultural Communications course.
Guest Speaker
Dr. Jean-Claude Assad
Associate Professor of Economics
Director of Graduate Programs in Business
Research Forum Chairperson
Patricia Murrain, Ph.D.
Research Forum Committee Members
Mark G. Henderson, Ph.D.
Candace Brown
Nadia Bodie-Smith, Ph.D.