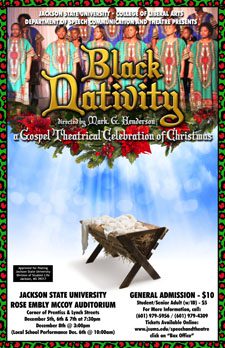 Director Mark G. Henderson
Black Nativity is an uplifting, soul-stirring, roof-raising musical celebration of the Christmas story. Written by legendary poet, playwright, and social activist Langston Hughes, Black Nativity that tells the story of Christmas through gospel song, poetry and dance. It is an uplifting experience the entire family will enjoy.
Like large family gatherings, this "count-your-blessings" evening plays out with contagious spontaneity and joyous imperfections. For a short time, everyone suspends holiday stress to become part of a warm-hearted tradition, recalling a time when holidays meant neighbors and community.
BLACK NATIVITY – Reservation Form