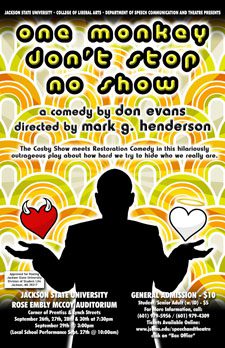 Director Mark G. Henderson
The action takes place in suburban Philadelphia, where the Reverend Avery Harrison, a Baptist preacher, clings tenaciously to his position in the local black elite. His upwardly mobile philosophy is avidly shared by his wife, Myra (whose hilarious malapropisms, however, continually betray her ghetto origins), and by his son, Felix, a strictly brought up private school product who has suddenly discovered the joys of sex, thanks to a surreptitiously studied manual and the cooperation of a local charmer known as "Li'l Bits".
Another jarring note is struck when the Reverend's countrified niece Beverly, the only daughter of his lately demised brother, arrives from the rural South with the news that she has been left in the custody of Caleb Johnson, a jive-talking, fast-living, macho type who was the partner of Beverly's father in a disreputable local nightclub.
Hilarious complications ensue as the Reverend and his wife find their passions rekindled; Felix and "Li'l Bits" nervously face the prospect that she may be in a "family way"; and Beverly (who is a lot sharper than her country background might suggest) plots her conquest of the increasingly helpless Caleb.
"The evening is total entertainment for the audience. You'll laugh continually at ideas, dialogue and situations" ~ Town and Country
"…a wildly funny and entertaining play that literally had the opening night audience howling" ~ Time-Off
"…a multifaceted gem any good black theatre could display with dazzling effect" ~ Newark Star-Ledger