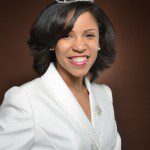 Déja Deanna Knight, Miss Jackson State University 2013-2014
To My Newest True Blue Tiger Family Members:
I would like to welcome you to Jackson State University, the BEST HBCU in the nation! As you prepare to begin this new journey in your life, please be reminded that there is a legacy here at Jackson State that we must continue to carry on. Upon your arrival, be prepared to be overwhelmed by the welcoming atmosphere and loving spirit that is engrained throughout our campus. We are already "Fired up, J-State, Fired Up!"
As Miss Jackson State University 2013-2014, I will be a leader for you. My platform this year is "Ready? Set. Go!" and with the help from the Class of 2017, my goals will be become a reality! It's time to put in the work to make a bigger difference here at Jackson State and in our community. Be ready to work hard with the student body on campus as we give back to the younger generations around JSU. We're getting set to make strides in the corporate arena through professional development and leadership training. When that is all said and done, we will be amply prepared to go out and hand the baton on to those who are coming after us. There is so much to offer at Jackson State, and we are going to maximize our resources and potential this year!
If I can ever be of assistance to you throughout your time at Jackson State, please do not hesitate to let me know. I look forward to meeting each of you, and together we are going to win "The Race to Excellence."
Thee I Love,
Déja Deanna Knight