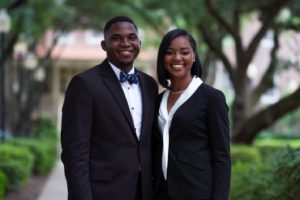 DeAngelo Riddle
Mister Jackson State University
DeAngelo Riddle, a native from Jackson, Mississippi, is the son of Constance and Melvin Riddle. The Electrical Engineering major was selected by his peers as the 1st Mister Jackson State University for the 2017-2018 academic year. While attending Jim Hill High School, he achieved several accolades, which made him more destined for success at Jackson State University.
Over the past few years, JSU has built a bridge of leadership and career opportunities that allows DeAngelo to thrive throughout his life journey. Even more, his dear old college home has taught him the value of servicing the community while demonstrating academic excellence. As an undergraduate student, DeAngelo has been challenged as a stem major candidate to maintain a 3.5 grade point average in effort to represent the university to the highest standard possible. Even more, as a future Jackson State University alum, DeAngelo's commitment to public service, fundraising, and scholastics should reflect the great impact former leaders of Jackson State University have instilled in him. Throughout his academic matriculation, he has had the distinct honor of being recognized as a National Society of Scholar, National Society of Black Engineers Scholar, President's List Scholar, Dean's List Scholar, and a member of Jackson State University's IEEE Honors Society.
During his tenure at Jackson State, he encountered adversity from dealing with the passing of his father at the age of nine to not being accepted because he didn't adhere to the "ideal image." In the beginning, he began to allow his pride to comfort him. However, a college student reminded him that it does not matter how you look or what you have but the only thing that matters is how you make people feel. In challenging his mind, he had to abandon his pride in exchange for the loving smiles of his peers, the effectiveness of his leadership and the staunch service to his community and University.
While being here at Jackson State, DeAngelo has served his dear ole college home and community in several capacities. His first step toward royalty started with being elected to the position of Mister Sophomore 2015-2016 along with his first court, Charence Higgins, Treyvon Durr, Tyinnia Jenkins Destiny Harris, Kevron  McMillan, Jesslyn Course, La'curtis Powell, and Jori Hart. This experience taught him the true meaning of service, selflessness, leadership, and love.
As the years progressed, DeAngelo  began to achieve even more by being involved in several community service projects: Operation Shoestring, Stew­pot homeless shelter, Salvation Army, Kids College at Jackson State University, City of Jackson Parks and Recreation Summer Enhancement Program, Toys for Tots, Jackson State University clothing drive, Jackson State University Christmas Toy Drive, Jackson State University Freshman week, Jackson State University Commencement Ceremony, Jackson State Mister Sophomore each one teach one community service, Jackson State University Mister Sophomore Stew­pot community service, Jackson State University Mister Sophomore Kids Kollege community service, Jackson State University Mister Sophomore Easter Egg hunt , Habitat for Humanity, and Sickle Cell Foundation .
 After college, DeAngelo plans to work for NASA as an electrical engineer.  DeAngelo later plans on opening his own school for the less fortunate because he feels that everyone deserves an opportunity to enhance their education, leadership, and service so that they can become successful and give back to their community.
Comelia Walker
Miss Jackson State University 2017-2018
Comelia L. Walker, originally from Canton, MS, is the daughter of Corinthius Walker and Felicia Carter. The pure mathematics and mathematics education major was selected by her peers as the 78th Miss Jackson State University for the 2017-2018 academic school year. She completed her primary and secondary education at Canton public schools. While attending Canton High School, she received accolades in band and track. She was a member of the Student Council, Beta Club, National Honor Society, Foundation Club, Superintendent Student Advisory Council, and Math Club. Comelia graduated from Canton High School as Salutatorian and served as Miss Freshman 2010-2011, Miss National Honor Society 2011-2012, Miss Student Government Association 2012-2013, and Miss Canton High School 2013-2014.
While at Jackson State, Comelia has served her campus and class in several capacities. Her first step towards creating a Jacksonian legacy started with acceptance in the Summer Bridge Program.  During the summer of 2014, Comelia served as the Math Tutor for College Algebra and Trigonometry. She received an accolade for being Valedictorian of her College Algebra course. During her freshman year, she served as a researcher for Progress in Integrating Technology in the Teaching and Learning of Mathematics at HBCU's Scholar under her research mentor, Dr. Roosevelt Gentry. The purpose was to support JSU to offer training workshops and follow-on activities to develop mathematics faculty expertise in the use of Mathematica as a teaching, learning and research tool in the mathematical sciences and to promote yearlong technology and undergraduate research in the mathematical sciences. During her sophomore year, she served as a researcher for EXTREEMS-QED Scholar (Expeditions in Training, Research and Education for Mathematics and Statistics through Quantitative Exploration of Data) under her research mentor, Dr. Carmen Wright. The purpose was to design efficient pedagogical pathways to utilizing big data to educate the next generation of mathematics and statistics undergraduates to confront new challenges in computational and data-enabled science and engineering. She also is a member of Zeta Phi Beta Sorority, Incorporated, the Lambda Beta Chapter, where she exemplified Scholarship, Service, Sisterhood, and Finer Womanhood.
Comelia will continue her legacy of service to her peers through her position as Miss JSU under "Project: F.A.M.I.L.Y.: Forming an Alliance while Maintaining Individualism and Leading the Youth." The focus of this platform is Forming an Alliances that will allow students to form "connect groups" with other individuals who share similar interest. Maintaining Individualism will highlight students' talent and interest through events in which students could display their talent and connect with others from artistic perspectives. Leading the Youth will involve community engagement in which Jackson State's students team with local public schools and provide mentorship and tutoring opportunities. Her awareness of the power of positive and negative influence of Family on students during their matriculation at Jackson State is what fuels her reign. She is dedicated to providing support and encouragement that students need to remain focused, steadfast, and unbreakable in the face of all adversity. She hopes to create a home away from home for students that will uphold them in every aspect: academically, mentally and physically.
Comelia aspires to become a secondary mathematics educator and later a superintendent. As an educator, she will specialize in educating students about mathematics and drive the students to passing expected statewide assessments. She plans to attend Belhaven University to obtain her Masters of Arts and Teaching and Mississippi College to obtain her Doctorate in educational Leadership. Comelia's ultimate goal is become a superintendent. She plans to be of service to the community, education field, and students on a higher capacity.  She especially wants to pursue this role to allow the parents and students to have access to a caring person and a listening ear.
Comelia Walker is exultant to serve as the 78th Miss Jackson State University, a position that is more than crowns, sashes, and a title. They say, "Anyone can be a Queen." The only difference is this Queen knows God is the only Man she seeks validation. This is what encourages her to be the believer, the inspirer, and the servant of her 'dear old college home.' She lives by the mantra, "All is conquered by labor."
Mister and Miss Senior
Corey Shaw & Jennifer Wiles
Corey Shaw
Mister Senior
Hailing from the capitol city of Mississippi, Corey D. Shaw has spent the majority of his college days exemplifying what it truly means to be tiger bred. Corey is an Elementary Education Major with a concentration in kindergarten through 3rd grade Science. Corey plans to incorporate his studies with his platform "SHARE with Shaw", which revolves around helping students become effective and positive role models for the next generation. Meanwhile, striving for unity throughout our University and ensuring that all requirements for successful student matriculation are met in a timely manner. Although he has attended Jackson State University for 3 years, Corey has been a Jacksonian all his life, from being one of Wavee Davee's original baby tigers, to being an active member in various organizations, and holding multiple positions on campus.
Jennifer Wiles
Miss Senior
Born in the city of New Orleans, Louisiana, Jennifer Wiles has spent most of her education on the honor roll and deeply endowed in the arts. Majoring in mass communication with a concentration in multimedia, Jennifer plans to incorporate her platform, "Thee Jeneration", which focuses on helping students achieve self-actualization, in all her organizations where she serves as President of Essence of a Lady Tiger, both chair of events and charter member of Sigma Alpha Iota International Music Fraternity. Her other organizations include, MADDRAMA performance Troupe, Insatiable Modeling Squad, NABJ and Outspoken Arts Collective.
Mister & Miss Junior
Darrian Jackson & Jelicia Smith
Darrian Jackson
Mister Junior
Darrian B. Jackson was born on September 15, 1996 in Flora, MS. He was raised by his mother Vicky Gowdy and his Grandmother Linnie Mae Gowdy on a two home property. Darrian Jackson is an honors junior majoring in physics with a concentration in medicine with a double minor in biology and chemistry. After graduating Darrian plans to continue the HBCU experience by attending Morehouse School of Medicine or Meharry Medical School so he may actively pursue his dreams of saving the lives of many children as a Pediatrician.  In addition to serving the University as Mister Junior, Darrian is also a dedicated member of the JSU Blue Ambassadors, where he served on the Executive Board as the 2016-2017 Historian, 2017-2018 Chaplin and continually works as a tour guide where he encourages prospective students to attend his dear ole college home. Recently, Darrian also worked diligently in the Student Government Association as sophomore class senator and served as Mister NAACP, along with being an avid participant of the JSU Young Democrats. This year Darrian is ready to put his platform into action! His platform The Wild Card: changing the game of service, will create more community service opportunities on campus to alleviate to concerns of students without transportation to off-campus service events.
Jelicia Smith
Miss Junior
Jelicia D. Smith, born January 31, 1997 in Jackson, Mississippi to Darryl and Felicia Brown, is the younger sister to, Roosevelt M. Smith, and twin to Jalen D. Smith, by two minutes & the late Jerrica M Smith.  She is the grand-daughter to proud Jackson State University alumni, who are too many to name. Jelicia is a proud industrial technology major with a concentration in emergency management technology. She hopes to one day work for the government in disaster prevention until she starts a firm of her own. Upon graduation in 2019, Jelicia plans to obtain her masters in emergency management technology and business from a member in the HBCU family of schools.
In addition to serving the University as Miss Junior, Jelicia is a devoted member to many campus wide organizations such as NAACP, MADDRAMA, EOLT, SGA, Golden Key Honor Society, and Blue Ambassadors. This year Jelicia is ready to implement her platform, Candyland in Tiger World emphasizing on sweeter community service opportunities, sweeter class moral and being an overall sweeter classmate.  Throughout her reign, Jelicia would like to not only obtain the maximum community service hours possible, but exceed the expectations placed before her. She wants to be remembered as the Queen who consistently gives of herself for the betterment of herself and others. She strives to be a positive influence on her peers, the community, and other future tigers. Jelicia strongly believes is Matthew 6:33 "But seek first his kingdom and his righteousness, and all these things will be given to you as well." Jelicia recognizes that with prayer, handwork, and diligence it will produce a triumphant academic school year.
Mister & Miss Sophomore
Jonathon Lewis & Victoria Garcia
Jonathon Lewis
Mister Sophomore
Jonathon Lewis was born on February 19, 1998 in Plano, Texas, where he was also raised, by parents Kevin and Pheona Lewis. He has a younger brother, Jayson Lewis, and is grandson to Quitman Lewis and Elizabeth Abrahm. Jonathon loves his family and works diligently to ensure that he represents them well. Jonathon is a proud sophomore civil engineering major who hopes to one day start his own construction and engineering consulting firm. After graduating in 2020, he plans to continue his educational endeavors and receive a master's in finance. Jonathon believes "every day God wakes us is a blessing" and gives thanks for all He has done and continues to do. Besides having the honor to serve the class of 2020 as class king, Jonathon is also an active member of the Honors College, National Society of Collegiate Scholars, and National Alpha Lambda Delta Honors Society. He is also a member of the History Club where he served as both business manager and Mr. History for the 2016-2017 academic year. Jonathon's plans as Mr. Sophomore are to provide community service opportunities and adequately represent the class in order to make change and progress. He truly appreciates the support from his class and hopes to exceed all expectations as their class king.
Victoria Garcia
Miss Sophomore
Victoria Garcia was born August 3, 1999 In Jackson, Mississippi to her proud parents: Femi Amure and Eliza Garcia. She is the third child of three siblings Christina Garcia, and Elizabeth Garcia. They currently reside in Pearl, Mississippi and attend New Vision Fellowship, under the leadership of Pastors Juan and Robin Jones. She is the granddaughter to Pete and the late Estella Garcia. Victoria has a very energetic, disciplined, and determined spirit. She loves her family and works hard to always make them proud.  Victoria has been very active in her community enjoying volunteering and outreach organizations helping the homeless, feeding the hungry and assisting in sheltering families and individuals. She has received the presidential outstanding award for her community service.  Victoria is a sophomore Political Science major who desires to one-day open her own law firm. After graduating in May of 2020, she plans to continue her higher education and participate in international studies. Victoria is honored to serve as Thee Almighty 2020 Class Queen, an active member of Lambda Sigma Honor Society, and member of The National Society of Collegiate Scholars. As Miss Sophomore, Victoria aims to be a positive role model and keep the sophomore class engaged in leadership, edification and motivation in a spirit of excellence.
Mister & Miss Freshman
Jaquan Powell & Sierra Lovings
Jaquan Powell
Mister Freshman
Jaquan Powell was born on August 15th, 1999 in Jackson, Mississippi, where he was also raised by his parents, Dorothea Powell and David White. He has a younger brother (David White), an older sister (Catrice Powell), and two older brothers (LaCurtis and Deonte Powell). Jaquan is the grandson to Albert and Mary Powell. Jaquan loves his family, and he works hard everyday to ensure that his family is proud of his accomplishments. Jaquan is a Graphic Design major and hopes to someday work with a major game company in simulation & animation. After graduating in 2021, he plans to start in his field with Activision, a game development company. Jaquan believes "If there is no struggle there is no progress." Besides having the honor to serve as the class king of 2021, Jaquan is also an active member of the Gentleman Academy, C.A.B. (Campus Activity Board), and SGA (Student Government Association). Jaquan's plans as Mister Freshman is to implement his platform "Building Powell-Ful People," where he will expose new opportunity to the freshman class so that we may all matriculate to the next level of success. Jaquan thanks his family, close friends, and our freshman class for making this all possible. He hopes to surpass all expectations as the class king.
Sierra Lovings
Miss Freshman
Sierra Lovings was born July 16, 1999, in Atlanta, Georgia raised by her parents who are proud JSU graduates, Juleigh Brown and Shawn Lovings. She is the younger sister to Tiffany Brown as well as the grand-daughter of the proud Patricia Brown and Carolyn Lovings. Sierra is a Biomedical Engineer major. She is a very hard working, dedicated and a God fearing young woman who loves her family and friends.
Philippians 4:13
"I can do all things through Christ who strengthens me." is her motto. After graduating in 2021, she plans to continue her educational endeavors and receive a master's in biomechanics. As Miss Freshman, Sierra strives to be a leader and provide community service opportunities for her freshman family.