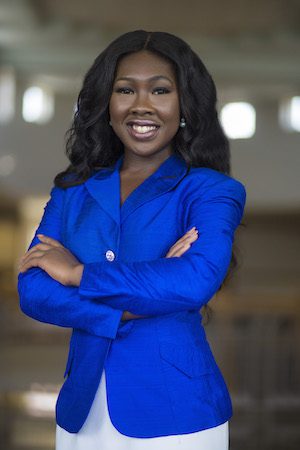 Charence Monique Higgins Miss Jackson State University 2015-2016
Charence Monique Higgins, originally from Madison, Mississippi, is the daughter of Mr. and Mrs. John and Daphne Higgins. Charence, who is an Honors dual major in Psychology and Theatre, was selected by her peers as the 76th Miss Jackson State University for the 2015-2016 academic year. Charence attended Lee Elementary School in Jackson before her family moved to Madison. For the first grade throughout her high school career she attended Madison County Schools—beginning at Madison Station Elementary School, then attending Madison Middle School, Rosa Scott School, and Madison Central High School where she graduated with a 4.0 GPA and ranked #7 out of 464 students in her graduating class. One of her proudest accomplishments during her grade school tenure is receiving a Perfect Attendance award for all 12 years of school from 1st through 12th grade.
While attending Madison Central High School, she was involved and participated in many organizations including: Reveille Show Choir, Beta Club, Government Club, Thespian Society, Drama Club, MCHS Band, Future Problem Solvers, Mississippi Children's Museum Youth Ambassador Program, Mississippi Youth Legislature, and the Student Government Association. Academically, she was awarded the President's Award for Educational Excellence and the highest average awards in English, Geometry, Spanish, Comprehensive Health, Algebra, and U.S. History. She was also recognized by the National Merit Program as a National Commended Scholar in 2011. Charence was awarded the Top Jag Award for community service and school spirit, the Young Americans' Challenge Award started by the Duke of Edinburgh, The MCHS Award for Academic Achievement, the Rosa Scott Citizenship Award, MCHS Citizenship Award, and inducted into Madison Central High School's Hall of Fame.
Upon graduation, Charence received several honors including being named one of the Top 25 Students Who Will Change the World in a magazine issue published by Portico Magazine. During her tenure at Jackson State University, Charence has been very involved on campus. She entered Tiger World as a Presidential Scholar and W.E.B Du Bois Honors student. She later became involved in the following organizations: MADDRAMA Performance Troupe, JSU Dance Ensemble, Insatiable Modelling Squad, JSU Jazz Ensemble, NAACP, Pre-Alumni Council, Student Government Association, Alpha Lambda Delta Honors Society, JSU Blue Ambassadors. She also spent time as a MARC Scholar and peer tutor. Being a queen on JSU's campus is not new to Higgins as she has previously served as Miss MADDRAMA Performance Troupe, Miss Pre-Alumni Council, Miss Black & Gold for the Delta Phi Chapter of Alpha Phi Alpha Fraternity, Inc., and Miss Black & Gold District of Mississippi.She has devoted many hours of her time to community service, both on and off-campus, through each of these prestigious organizations as well as individually.
Charence will continue her legacy of service to her peers through her position as Miss Jackson State University; she plans to help students gain success through No L.I.M.I.T.S. an acronym for No Losing Insight on My Intelligence, Talents, and Service. Its key objectives are increasing academic achievement through alumni mentorship and utilizing resources within the community to improve our educational experience; ensuring that every student has the ability and outlet to display their individual, unique talent through support and utilization of campus organizations and community outlets; and service to our university, each other and the Jackson community by reinstatement of the Queen's Campaign and engagement in community service opportunities campus-wide.
Charence's future plans include entering graduate school to receive an MFA in Expressive/ Creative Therapy and ultimately pursuing her dreams as an actress. She believes that through faith in God and selfless service, all things aspired will be made possible.
THE ROYAL COURT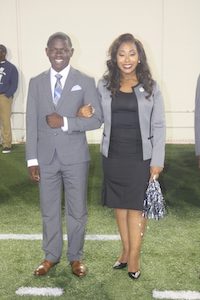 Mr. Freshman La'Curtis Powell
Criminal Justice Major
Jackson, MS
Miss Freshman Jori Symone Hart
Accounting Major
Canton, MS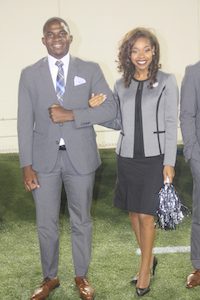 Mr. Sophomore De'Angelo D. Riddle
Electrical Engineering Major
Madison, MS
Miss Sophomore Jesslyn E. Course
Mass Communications major
Jackson, MS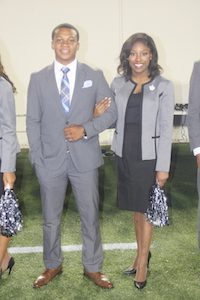 Mr. Junior Kevron Skye McMillan
Political Science
Hoover, AL
Miss Junior Destiny Jamila Harris
Biology Pre-Dentistry
Memphis, TN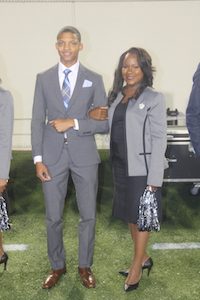 Mr. Senior Treyvian Cortez Durr
Criminal Justice
Magee, MS
Miss Senior Tyinnia T. Jenkins
Elementary Education
Chicago, IL