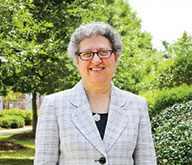 Welcome to one of the top Chemistry Program in the country that produces the 3rd in Bachelor's, 2nd in Master's, and 3rd in Doctoral degrees in Physical Sciences (mainly chemistry) awarded to African Americans in the country (Diverse Issues in Higher Education). The Program, with its 20 outstanding and diverse faculty members, offers BS, MS, and PhD degree programs. The BS degree program has been certified by the American Chemical Society since 1973 with several career options: biomedical science, environmental science, forensic science, pre-medicine, pre-dentistry, pre-pharmacy, and pre-engineering. Students trained through our programs receive excellent preparation for graduate and professional schools and careers in industry, academia, and government. In fact, 72% BS/MS graduates went on to graduate or professional schools within one year of graduation.
We strive to build the best PhD program in the country that fosters a culture and environment conducive for underrepresented minorities. We stress challenging curricula, nurturing environment, trainings in chemistry teaching, research and research publication, and proposal writing to prepare doctoral graduates to be university professors. Our faculty members publish 7 papers per faculty per year, ranking among the top chemistry departments in the country.
We offer various training programs that provide scholarships, fellowships, and internships for our students. For further information, please contact the Department office at 601-979-2171.
Congratulations to 10 New PhD and 5 MS Graduates