Department of History and Philosophy

College of Liberal Arts
---
The Department of History and Philosophy welcomes you to its home page. Here we introduce our talented and student-friendly faculty, our undergraduate and graduate degree programs, and our organizations, clubs, events, activities, and projects.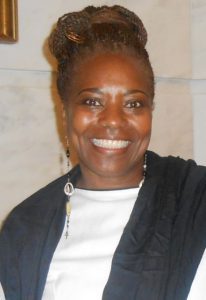 Assistant Professor
COLA 338
EDUCATION:
2010-16 Middle Tennessee State University, Murfreesboro, TN PhD, Public History–Huh-ta Fellow (2014-15)
1999 George Washington University, Washington, DC • Certificate of Completion, Distance Education & Web-based Instructional Designs
1995-97 Golden Gate University, San Francisco, CA • MBA, Marketing/International Management • MS, Telecommunications Management
1992-93 University Berkeley, Extension, Berkeley, CA • Advertising
1989-91 San Francisco State University, San Francisco, CA • BS, Media (radio & television) Communications AWARDS /
ACCOMPLISHMENTS:
The Mississippi Trailblazers Award, BancorpSouth Conference Center, Tupelo, 4/27/19.
2018 Summer Research Grant—The Lessons of the Gullah Geechee: Making a Way Out of No Way, Mississippi Valley State University, 6/18-7/18.
Diversity Educator of the Year, Institute of Higher Learning, State of Mississippi, 2017
NAACP, Certificate of Accomplishment, Moorhead, MS, 11/16
BOSS Lady: Breaking the Glass Ceiling Award, Grammy Museum, Cleveland, MS, 10/16
Historic Preservation Award, AKA Sorority, Mound Bayou, MS, 2/22/15
Middle Tennessee State University — Huhta Fellow, 2014
Community Service Tribute: Black History Month Spotlight, New Hope Missionary Baptist Church, Indianola, MS, 2/9/14
Studio 53, Community Award, St Louis, MO, 2013
Youth Outreach and Cultural Learning Award, NAACP Freedom Fund Banquet, 4/12
U.S. Congressional Honor for commitment to preserving the rich history and heritage of the Mississippi Delta, by Congressman Bennie G Thompson, October 23,2012
Mississippi Governor Haley Barbour selected Fellow, Delta Regional Authority, Delta Leadership Institute, 2008
Delta Blues Most Dedicated Award, MS Blues Reunion Festival, Belzoni, MS, 11/11
Participant, George Melendez Wright, New Orleans Conference, 2011
Host, Delta Renaissance, Cultural Arts Talk Show, WABG-TV, 2009-current
Host, Delta Scene, Public Affairs Talk Show, WXVT-TV, Greenville, MS, 2007-09
Delta Regional Authority: Delta Leadership Institute, Fellow, '08-09
MC/Announcer, Indianola Christmas Parade, Indianola, MS
First African American Woman to sit on the Economic Development Foundation, Board of Directors, in Choctaw County Mississippi, USA, 2004-2007
Diaspora (USA/Canada/South America/Caribbean/West Indies) Rep., Pan African Film & Video Festival, Ouagadougou, (FESPAC0)-Paul Robeson Award, 2003-09
Entrepreneur of the Year: African Bridge, Inc, 2004
Black Filmmaker's Hall of Fame—Best Producer Award, 1993
Telecommunications Education Trust–Jack P. Eckley, Graduate Scholarship, 1995
TeleCommunications Association (TCA) Fellowship, 1994
Republique de Cote d'Ivoirc, Ville dAbidjan—Les Palmes dtIonneur de la City, issued by Mel Theodore EG, Maire de Cocody, 1993
Independent Producer of the Year, Black Filmmakers Hall of Fame, 1993
American Women Radio &TV (AWRT), Outstanding Media Student Award, 1987
READY TO JOIN?
For more information, please contact us at (601) 979-2191.  We look forward to meeting with you and seeing how our program can help you achieve your goals.