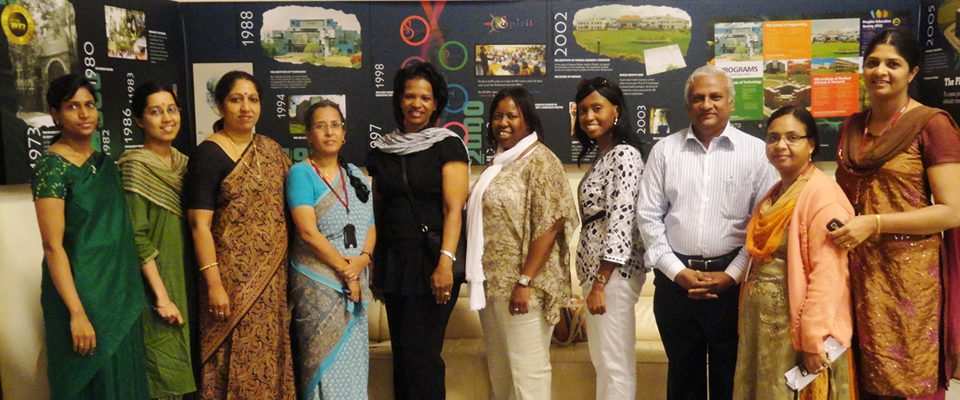 The JSU ADVANCE Summer Writing Retreat (SWR) component is a 10-week program designed to provide faculty with the opportunity to focus on writing high quality scholarly products, such as articles, books/book chapters, grant proposals, and conference presentations. The SWR includes two weeks in-residence (week 1 and week 10) and 8-weeks on independent scholarly writing, which is supplemented with online peer accountability. During the in-residence portions of the retreat, the scholars engage in one-on-one coaching sessions, scholarly productivity and career-life balance workshops.
Purpose
The Summer Writing Retreat was design as a means of supporting the research career of STEM and SBS female faculty by providing a circle of faculty who focus on completing either a refereed paper or proposal during the summer. The overall goal is to redefine the role of female faculty in STEM-SBS by strengthening their research and writing knowledge. The component can be used to support all pre-tenure faculty, as part of the university's promotion/tenure review process.
Audience
The participants for the Summer Writing Retreat from 2011 – 2015 included STEM and SBS faculty women of color from the various disciplines: Biology, Chemistry, Civil Engineering, Computer Science, Mathematics, Political Science, Psychology, Sociology, and Technology.
DESIGN
Goals:
• Redefine the role of female faculty in STEM and SBS by providing them with dedicated time, space, and support for scholarly writing and productivity.
• Support the promotion and tenure needs of female faculty.
Objectives:
• Produce a high-quality journal article, book chapter, or grant proposal
• Cultivate a habit of daily writing
• Create an intellectual support circle for scholarly writing
• Strengthen knowledge about key elements of scholarly writing
• Cultivate a psychology of success about writing and scholarly productivity
Activities:
• Hosted five 10-week Summer Writing Retreats from 2011-2015

– Pre-retreat Online Writing and Reading Assignments
– In-residence Writing Retreat featuring one-on-one coaching, peer accountability, and community building
– Post-retreat Online Accountability

• Academic Year Follow-up and Updates on Publication and Funding Status
• Collected and Analyzed Pre and Post Retreat Survey and Interview Data
• Designed an Online Summer Writing Retreat Supplement
EVALUATION
Deliverables:
From 2011 – 2015 there were approximately 100 deliverables by the JSU ADVANCE Summer Writing Retreat participants.
Professional Presentations and Peer-Reviewed Proceedings:
Of the numerous conference presentation abstracts submitted, 25 were accepted: 13 (national or regional professional conference presentations), 6 – peer reviewed presentations/articles published in conference proceedings, 5 – international presentations delivered either face-to-face or using video conferencing technology.
Peer Reviewed Journal Articles:
During the five year SWR period, the women faculty of JSU submitted 35 scholarly articles to professional journals in their respective fields. With the support of external coaches, peer-review, and timely responses to requests for revisions and resubmissions, 21 of the articles submitted for consideration were accepted for publication. The SWR intervention provided the framework of 60% of submitted articles to be accepted for publication in STEM and SBS focused technical journals and STEM teaching and learning journals.
Externally and Internally Funded Grants:
Although the focus of the SWR was initially focused of providing support for developing high quality peer-reviewed journal articles, as the scholarly community grew stronger, the participants began to work toward the submission of both articles and grant proposals. The SWR intervention supported the development of 20 – grant proposals to external funding agencies with women of color serving as principal investigator or co-principal investigator. Of the twenty proposals developed, 5 – were selected for funding. Grant awards ranged from $5,000 up to $299,998. The five-year total was $894,795 in external awards received and a 25% funding rate for STEM and SBS women scholars—many of whom were first time grantees. External Coaches sometimes participated in the JSU Retreat in order to plan for adaptation of the writing retreat and to submit their own products. One such product was the North Carolina A&T University ADVANCE proposal, which was subsequently funded. This increased the number of HBCUs with ADVANCE IT grants.
Books and Book Chapters:
In addition to the articles, grants, and conference presentations, the SWR was the incubator space for scholars in the Social and Behavioral Sciences who used the dedicated time for writing to produce book chapters and books. A few examples of the scholarly work produced by these faculty include the following: a book titled Pregnancy Discrimination and the American Worker by Michelle Deardorff and James G. Dahl (2015); Black and Latino Families in America (book preface and introduction); "The Racial Contract: The Case of Ferguson, Missouri" (book chapter). These scholarly products call attention to issues of race and gender which in very clear ways help to point the way forward in understanding strategies for broadening participation and equity in society as a whole.
Other Outcomes
Academy for Research and Scholarly Engagement
Inaugurated in Fall 2012, the Academy for Research and Scholarly Engagement, designed to expand the institutional impact of JSU ADVANCE (particularly the Summer Writing Retreat) helped faculty leverage their scholarly expertise and skills into external funding for their research agendas. At its core was a series of year-long dynamic workshops that guide faculty through the steps of the grant proposal development process. Those workshops were supplemented by engagement with program officers, including travel to funding agencies and foundations as well as coaching by senior JSU faculty with established records of grantsmanship.
NSF PLAN-IHE: Expanding the Network for STEM Scholars through the Advance Women of Color Summer Writing Retreat
Many individuals and institutions sought to participate in the JSU Summer Writing or develop their own Summer Writing Retreat. The NSF PLAN-IHE program provided an excellent opportunity. The JSU ADVANCE team established connections with six other minority serving institutions: University of Texas-Pan America, Tougaloo College, Tennessee State University, Winston-Salem State University, University of the Virgin Islands, and Norfolk State University and submitted an adaptation proposal. The PLAN-IHE project shares the JSU ADVANCE Summer Writing Retreat model with STEM and SBS faculty at these 6 other institutions. Similar success has been achieved with this network of Minority Serving Institutions.
NSF Innovation Corps for Learning
The hybrid curriculum developed for the Summer Writing Retreat served as a core component of the JSU ADVANCE I-Corps L team project. The JSU ADVANCE leadership team submitted a proposal to commercialize the Summer Writing Retreat and was invited to participate in the San Francisco Cohort of the NSF Innovation Corps Learning Teams Program from January 7 – February 28, 2015. The team also worked with the College of Business to submit a winning proposal to establish the JSU I-Corps Site.
Saturday Writing Retreats
In an effort to further institutionalize the Summer Writing Retreat, Saturday Writing Retreats were initiated and co-sponsored with the Center for University Scholars, and held at the Gallery One Art gallery near campus and coffee shops in the City of Jackson. The half-day sessions included mini-lessons on writing productivity followed by time for scholars to work independently on writing projects or receive feedback from facilitators or peers. These Saturday Writing Retreats provided a low-cost solution for establishing a Community of Scholars focused on their scholarly writing.
LESSONS LEARNED
• Recruiting a diverse pool of SWR applicants (female faculty at various faculty ranks) is essential to building an environment that is conducive to peer coaching and mentoring.
• Pre-retreat engagement—completion of data collection and analysis, for instance—is pivotal in making the most of the dedicated in-residence time for writing.
• Post-retreat accountability is key to ongoing writing productivity.
• Fostering community among women decreases feelings of isolation and increases collaborative research/publishing productivity.
• Integrating technology adds value and creates efficiency in the reporting process.
• Allowing departmental leaders to attend the closing retreat presentations gives the STEM-SBS women faculty unique opportunities to showcase their research and scholarship to their department chairs and deans.
• The multi-disciplinary connections made during the in-residence retreat are dynamic opportunities for organic academic-year writing and research groups to emerge.