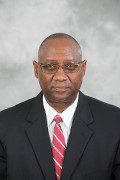 Dr. Michael Magruder ('77, BME) is a native of Jackson, Mississippi. He received a Master of Music degree in Clarinet performance from Louisiana State University in 1979 and the Doctorate from the University of Mississippi in 2001.
Dr. Magruder began his teaching career as the band director of Sadie V. Thompson Jr. High School in Natchez, Mississippi. He was also the Director of Bands at Texas College in Tyler, Texas. For ten years, Dr. Magruder performed his duties as the Band Director of L.B. Landry Junior Senior High School in New Orleans, LA. He also served as an Assistant Professor of Music/Associate Director of Bands at Jackson State University from 1993-2004.
Dr. Magruder performed with the Mississippi Symphony Orchestra, the Mississippi Wind Symphony and many small ensembles. He now performs with the Piedmont Wind Symphony in Winston-Salem, NC. An accomplished clarinetist, Dr. Magruder enjoys the art of making music.
Dr. Magruder assumed the duties of Director of Bands at Winston-Salem State University in the fall of 2004. A competent arranger, conductor, educator, performer, rehearsal technician and band master, Dr. Magruder has served as a clinician, and adjudicator throughout the country. In addition, Dr. Magruder assumed the position of Interim Chair of the Department of Fine Arts effective July 2011. He is now the Chair of the Department of Music effective August 2013.
Since his arrival at Winston-Salem State University, the "Red Sea of Sound" Marching Band has received numerous awards and countless recognition for outstanding performances. The band has also performed with noted artist such as Donald Lawrence and Gerald Albright.
In addition, the "Red Sea of Sound" performed at the prestigious Honda Battle of the Bands in January of 2008, 2011, 2012, 2013, 2014 and 2017. As a result of these performances, the band earned over $100,000.00 in scholarships for its members over a ten year period.
Dr. Magruder is a member of various organizations including: (1) Intercollegiate Music Association, (IMA) Treasurer, (2) Board of Directors -HBCU National Band Directors Consortium (HBCU-NBDC), (3) Kappa Kappa Psi National Honorary Band Fraternity, (4) Tau Beta Sigma National Honorary Band Sorority, and (5) the Psi Phi Chapter of Omega Psi Phi Fraternity, Inc. Dr. Magruder will observe his 45th year as a member of Omega Psi Phi Fraternity in 2019.
Dr. Magruder is married to Stephanie H. Magruder, a native of New Orleans, Louisiana. They are members of Mt. Pleasant MBC in W-S, NC. Dr. Magruder and his wife are the proud parents of three daughters, Brittany, Rachel, and Arielle, all graduates of Winston-Salem State University. Dr. Magruder also has a son Michael (wife Kendra). They have two daughters (Montoria, a graduate of Mid-Western State University in Wichita Falls, TX and Mikaila Tripp). A recent addition to the family is "Tre" our 9 month old grandson.