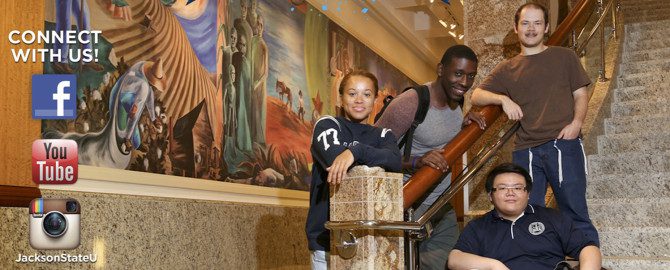 Tiger Commitment Challenge
March 12th, 2014 by admin
Tiger Commitment Challenge Winners Announced
Congratulations to each of the winners!!
Division 1A: Piney Woods School
Division 2A: Williams-Sullivan High School
Division 3A: Crystal Springs High School
Division 4A: Amanda Elzy High School
Division 5A: Robert M. Callaway High School
Division 6A: Jim Hill High School
Each of the winners received a sponsorship for their Senior Class Picnic.
Tiger Commitment Challenge
Jackson State University is gearing up for the 2014 Tiger Commitment Challenge starting March12- April 4. JSU is asking all participating high schools to complete their applications to JSU for the chance to win a sponsorship for a senior class picnic. Applying to JSU takes three easy steps.
1. Submit an online application by clicking the "Apply" link on the homepage.
2. Request your high school to send an official transcript to Undergraduate Admissions.
3. Request official ACT or SAT scores be sent to Undergraduate Admissions.We suggest these scores come directly from ACT or SAT. JSU's ACT College Code is 2204, and the SAT College Code is 1341.
Winning high schools will be announced April 11. Students are also encouraged to post 10-second videos to Instagram after completing their JSU application for an additional prize. In the video, students must state their name, high school and say "I just applied to JSU" while tagging @JacksonStateU and using the hashtag, #TigerCommitmentChallenge. The five most-liked videos from students at winning high schools will receive an exclusive prize. Videos and updates will be posted on the university's Facebook, Twitter and Instagram pages.