The Alice Varnado Harden Center for Service and Community Engaged Learning at Jackson State University, (the Harden Center), promotes all students toward improving the human condition through civic engagement. Through the Alice Varnado Harden Center for Service and Community Engaged Learning, the university is able to continue to expand its role in cultivating and sustaining stronger communities. Your service in the community of a few hours a week will make a difference to people and the society. The immersion in another culture deepens your understanding of our society in a way that goes beyond your preconceived orientation. Serving in the community helps students learn what challenges communities face and see how their work furthers the communitys' goals. It also helps build valuable relationships with the people whom you serve. You can make a difference by supporting and contributing to meet a need in the community that affects the lives of the elderly, homeless, people with disabilities, schools, childcare centers and many other community organizations.
At Jackson State University, community service is more than a time-honored tradition, it's a shared commitment by students, faculty and staff. Students and staff regularly donate their time and talent with the goal of making a positive difference at the university and in the community. The energy and interests of this vast network of generous individuals is organized to increase the capacity of all entities at the university through service. The Alice Varnado Harden Center for Service and Community Engaged Learning is very committed to broadening a spirit of service throughout the university and the community.
UPCOMING EVENTS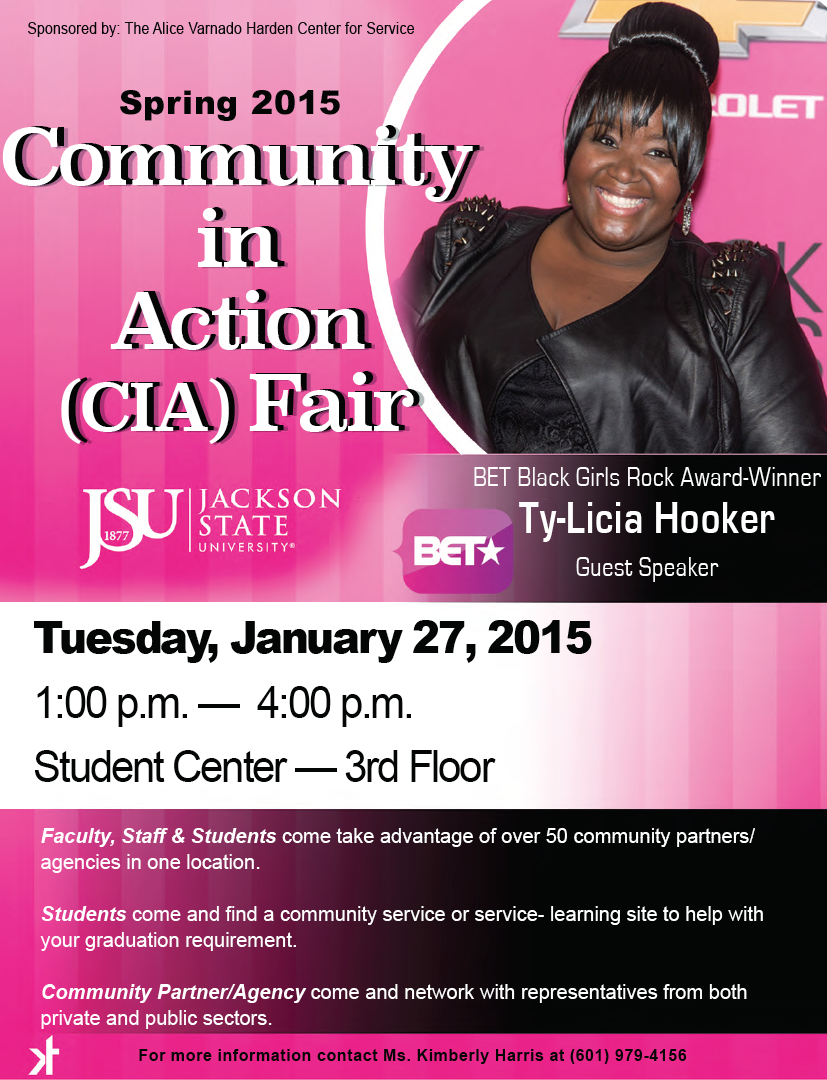 On-Campus Community Service Projects:
Ongoing On-Campus Opportunities
Volunteers Needed: Jackson State University, Division of Auxiliary Enterprises currently seeking volunteers for student advisory committee. Weekly meetings (TBD); Reddix Building, 3rd floor, Room #326; All interested persons, please contact Sharon Griffin via email: sharon.d.griffin@jsums.edu
For more information regarding community service projects contact, Ms. Eltease Moore, Coordinator of Community Service, Reddix Hall, Office 128; Phone: 601-979-1762 or email eltease.moore@jsums.edu
Off-Campus Community Service Events/Opportunities:
Holiday Volunteer Recruitment! Have some free time in the new year and want to make a difference?? Please check out the excellent volunteer opportunities we have available at Methodist Rehabilitation Center's (MRC) Gift Shop and at Methodist Specialty Care Center (MSCC). If you know of anyone who would like the opportunity to volunteer at our main campus or at the long term care facility, please ask them to contact me…There are many opportunities to make a difference in the lives of the patients at MRC and the residents at MSCC…we have volunteer opportunities available for ages 17years of age and up. Make your new year's resolution to VOLUNTEER! If interested contact, Robby Scucchi, CDVS, Methodist Specialty Care Center, 601.420.7769
Ongoing Off-Campus Opportunities:
PUT YOUR EDUCATION IN ACTION! Help serve as a tutor for the PEARSON Foundation After-School Tutoring Program or serve as a GED Tutor. There is a 90-minute time commitment once a week. Tutoring dates/times: Tuesdays & Wednesdays 3:00 p.m. – 6:30 p.m.; GED dates/times: Tuesdays 6:00 p.m. – 8:00 p.m. (Soon to add Mondays 6:00 p.m. – 8:00 p.m.) Email PEARSON39208@gmail.com or call 601.939.7517
The YMCA Metro office is looking for a volunteer that would come to their office located at 826 North Street, Jackson, MS, on every Thursday or Friday for a couple of hours to file and/or scan. If interested contact, Paula Boulanger at 601-326-4703 or email her at pboulanger@metroymcams.org.
Also, the Clinton YMCA need a volunteer to scan or file for the childcare director. If interested contact, Kiersten Seward at 601-924-5812 or email her at kseward@metroymcams.org
Big Brothers Big Sisters of MS, a non-profit organization, is seeking volunteers who will dedicate an hour a week to making a difference in the lives of children between the ages of 5 – 15 in the metro area. The Metro Area Program office is located in the Saks' Fifth Avenue building at 3455 Highway 80 West, Jackson, MS, 39209. Please contact, Cheryl Walker, Metro Area Program Specialist at 601-213-6651 or email cwalker@bbbsms.org
Non-Profit Agency Seeks Volunteers to tutor students grades 1st-10th (math, reading & language arts/English); Monday – Friday; 10:00 a.m. – 6:00 p.m. ; For more information on tutoring or other volunteering opportunities, call 601-362-6736 or email genesisandlight@att.net
Note: Students are responsible for contacting the agency of their choice to register for the community service event.
Student Resources:
Holiday Break/Fall Intersession Community Service Form
Missing Community Service Hours Form
Checking My Community Service Transcript
Spring 2015 Agency Partner List
Project Approval Resources:
Community Service Project Approval Form