The Alice Varnado Harden Center for Service and Community Engaged Learning at Jackson State University, (the Harden Center), promotes all students toward improving the human condition through civic engagement. Through the Alice Varnado Harden Center for Service and Community Engaged Learning, the university is able to continue to expand its role in cultivating and sustaining stronger communities. Your service in the community of a few hours a week will make a difference to people and the society. The immersion in another culture deepens your understanding of our society in a way that goes beyond your preconceived orientation. Serving in the community helps students learn what challenges communities face and see how their work furthers the communitys' goals. It also helps build valuable relationships with the people whom you serve. You can make a difference by supporting and contributing to meet a need in the community that affects the lives of the elderly, homeless, people with disabilities, schools, childcare centers and many other community organizations.
At Jackson State University, community service is more than a time-honored tradition, it's a shared commitment by students, faculty and staff. Students and staff regularly donate their time and talent with the goal of making a positive difference at the university and in the community. The energy and interests of this vast network of generous individuals is organized to increase the capacity of all entities at the university through service. The Alice Varnado Harden Center for Service and Community Engaged Learning is very committed to broadening a spirit of service throughout the university and the community.
Volunteer of the year selected at Methodist Specialty Care Center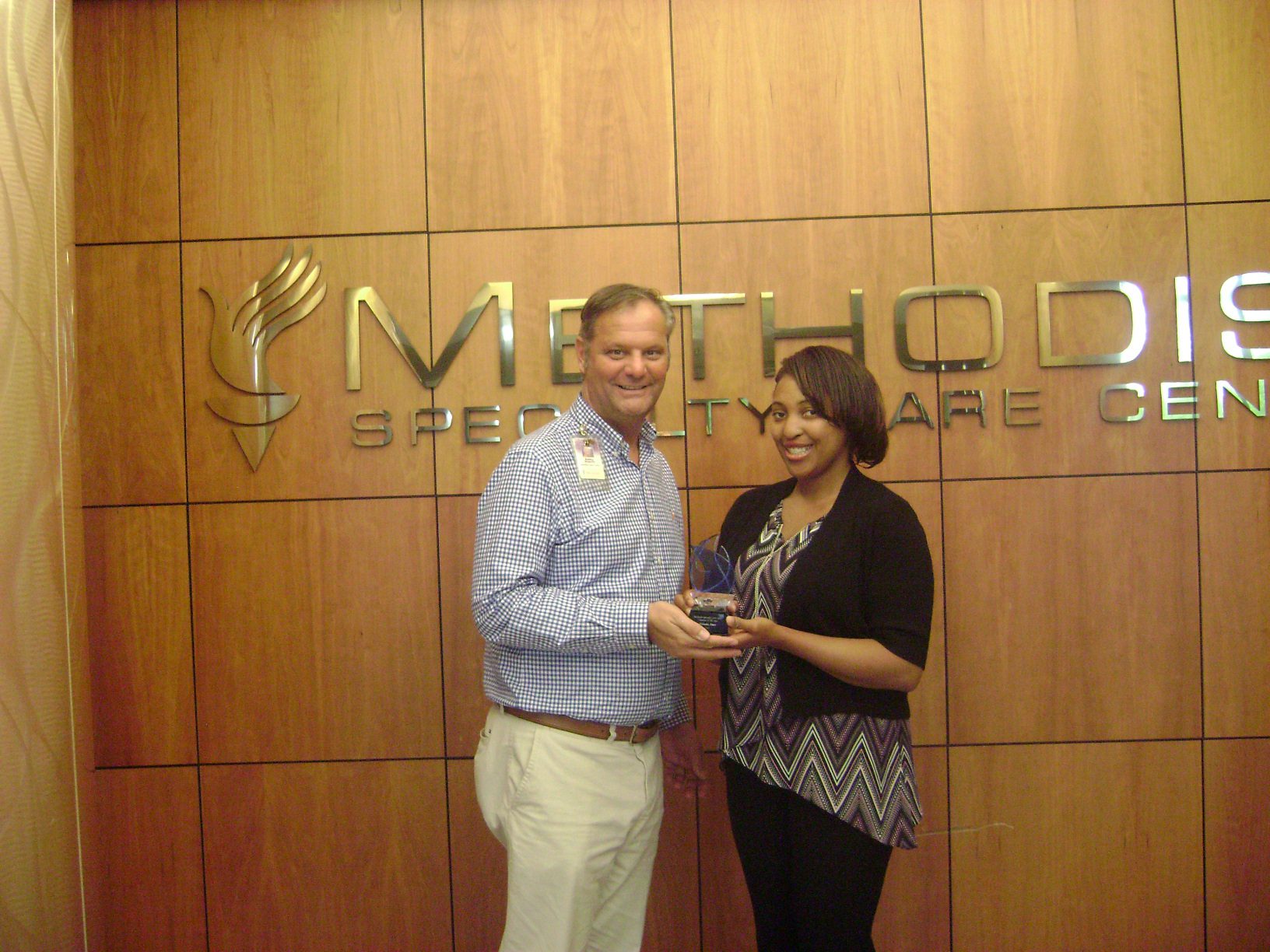 The Volunteer of the Year Award recipient began the venture as part of a class project with Jackson State University and Methodist Specialty Care Center. She has been dedicated to assisting our residents with many aspects of their lives with our residents and has gained the trust of every resident in the facility. She has assisted us with several resident events and has been an inspiration to us all. The recipient of the Volunteer of the Year Award stepped up early last year to a call when there was additional assistance needed in our busy gift shop at Methodist Rehabilitation Center. While maintaining her own class schedule, her own family schedule and working, Natasha Amos has been a jewel in the crown to have volunteer with us, says, Robby Scucchi, Director of Volunteer Services at Methodist Rehabilitation Center." In addition, she has volunteered in our seating clinic, O & P clinic, and has left the staff, guests and visitors wanting her to come back, but I am a little stingy- I want her here at Specialty Care," says Scucchi. Erma Bombeck has been quoted as saying, "Volunteers are the only human beings on the face of the earth who reflect this nation's compassion, unselfish caring, patience, and just plain loving one another" and this statement is true for the Methodist Specialty Care Center Volunteer of the Year, Natasha Amos.
Robby Scucchi, CDVS Director, Volunteer Services
Methodist Rehabilitation Center 601.364.3474
Methodist Specialty Care Center 601.420.7769
UPCOMING COMMUNITY SERVICE OPPORTUNITIES/EVENTS:
Off-Campus Community Service Events/Opportunities:
Volunteers Needed for Summer Camp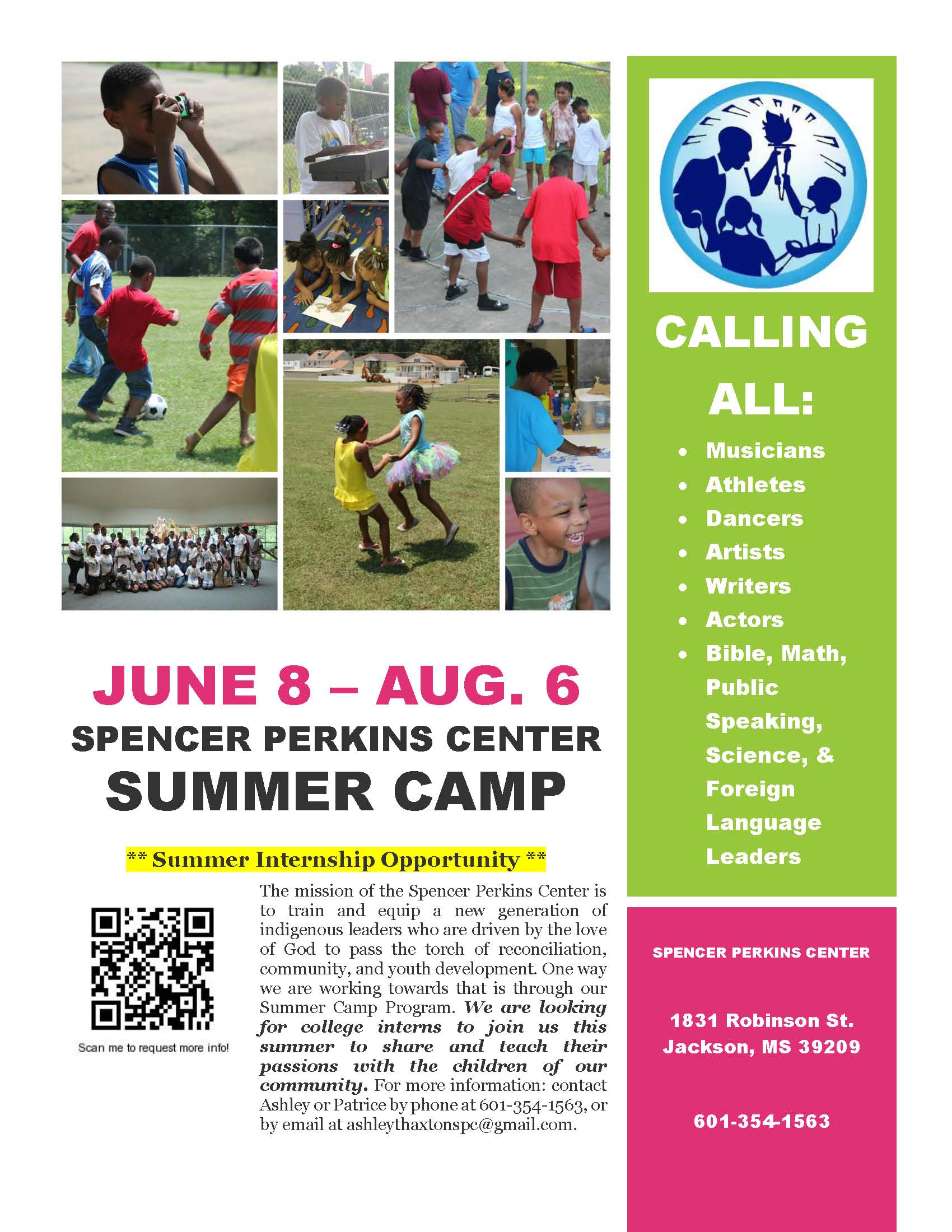 Summer Volunteers Needed! Collate Education for MS, Inc. need volunteers for their summer "Math and Science Enrichment Program". The program will take place June 1- June 31, 2015. Anyone interested in volunteering, contact, Dr. Thompson at (601) 953-9917 or at child.adultcare@comcast.net.
The PEARSON Foundation is seeking volunteers for the summer. Volunteers will assist K5 – 4th grade students with Reading, Math, Science, etc. Assistance is needed with recreation and sports as well. The Summer Institute is scheduled for June 15- July 24, 2015, Monday, Tuesday, Wednesday & Thursday, from 9:00 a.m. to 3:00 p.m. Tutors may volunteer for 2 or more hours. If interested, email: PEARSON39208@gmail.com or call (601)939-7517
Spencer Perkins Center - Summer Camp - June 8 – August 6, 2015 - The Spencer Perkins Center is looking for college interns to join them this summer to share and teach the children of the community. For more information: contact Ashley or Patrice by phone at 601-354-1563, or by email at ashleythaxtonspc@gmail.com.
Ongoing Off-Campus Opportunities:
Youth Solutions Adolescent Development Center needs volunteers:
Ongoing Projects:
PROJECT 1: Youth Solutions After School Program; NUMBER OF STUDENTS NEEDED: 6; WORK NEEDED: Tutoring elementary & middle school youth; TIMES NEEDED: Mon.-Thur. 3pm – 5pm; INFORMATION: Must complete a volunteer application/background check Jackson location (information given to approved volunteers) Must volunteer at least 1 hr a week and on time
PROJECT 2: The Youth Solutions "THINK TANK"; NUMBER OF STUDENTS NEEDED: 3; WORK NEEDED: Tutoring elementary-high school students in Math, Science, English, & Reading; TIMES NEEDED: First Tuesdays (once a month) 6pm-8pm; INFORMATION: Must complete a volunteer applicationLocation: Jackson Medical Mall (information given to approved volunteers) Must volunteer at least 1.5 hrs a month
PROJECT 3: Ground Zero Ministries The "RAVE" community event; NUMBER OF STUDENTS NEEDED: 3; WORK NEEDED: Project management (business students preferred); TIMES NEEDED: TBA: Friday / Planning meetings; INFORMATION: Must complete a volunteer application Must volunteer at least 1 hr a week,must have a computer & some meetings via conference call
Applicants may obtain a Volunteer Application by calling 601.829.0323, or by visiting website www.youthsolutions-ads.com. Each applicant will be called for a brief interview conducted at the Jackson Medical Mall, suite 731-107.Juan K. Wilson; 601.829.0323 Office; 877.330.3503 Toll Free; 877.330.1036 Fax
Volunteers Needed at The Mississippi Museum of Art: Their spring exhibition will be starting on January 31, 2015, and they are hoping to get some awesome new volunteers to help out in the Visitor Services department as well as the Education Department. More specifically they are looking for volunteers to man their Welcome Desk and greet guests as they enter the building and help them become acclimated with the museum.They are also interested in getting volunteers for their Gallery Host program. The museum is open Tuesday – Saturday, 10:00 a.m. to 5:00 p.m. and Sunday, 12:00 p.m.to 5:00 p.m. They are especially interested in individuals who would be able to volunteer Tuesday – Friday, as they are short-handed on those days. Schedules and hours are flexible and they conduct onsite training to help familiarize and teach their volunteers more about the museum and its exhibitions. A copy of their Volunteer Information Sheet as well as the Volunteer Application can be found on their website at http://www.msmuseumart.org/index.php/support/page/volunteer or you may contact Emily Summerlin, Visitor and Membership Services Coordinator at (601) 960-1515.
Jackson Downtown YMCA is in need of volunteers in their Wellness Center as well as in their Daycare and with their Summer Camp. To volunteer contact, Rhonda Shidner, at (601) 948-3090.
The YMCA Metro office is looking for a volunteer that would come to their office located at 826 North Street, Jackson, MS, on every Thursday or Friday for a couple of hours to file and/or scan. If interested contact, Paula Boulanger at 601-326-4703 or email her at pboulanger@metroymcams.org.
Also, the Clinton YMCA need a volunteer to scan or file for the childcare director. If interested contact, Kiersten Seward at 601-924-5812 or email her at kseward@metroymcams.org
Big Brothers Big Sisters of MS, a non-profit organization, is seeking volunteers who will dedicate an hour a week to making a difference in the lives of children between the ages of 5 – 15 in the metro area. The Metro Area Program office is located in the Saks' Fifth Avenue building at 3455 Highway 80 West, Jackson, MS, 39209. Please contact, Cheryl Walker, Metro Area Program Specialist at 601-213-6651 or email cwalker@bbbsms.org
Non-Profit Agency Seeks Volunteers to tutor students grades 1st-10th (math, reading & language arts/English); Monday – Friday; 10:00 a.m. – 6:00 p.m. ; For more information on tutoring or other volunteering opportunities at Genesis and Light call 601-362-6736 or email genesisandlight@att.net
Note: Students are responsible for contacting the agency of their choice to register for the community service event.
Student Resources:
2015 Summer Session Community Service Form
Checking My Community Service Transcript
Spring 2015 Agency Partner List
Project Approval Resources:
Community Service Project Approval Form