The Alice Varnado Harden Center for Service and Community Engaged Learning at Jackson State University, (the Harden Center), promotes all students toward improving the human condition through civic engagement. Through the Alice Varnado Harden Center for Service and Community Engaged Learning, the university is able to continue to expand its role in cultivating and sustaining stronger communities. Your service in the community of a few hours a week will make a difference to people and the society. The immersion in another culture deepens your understanding of our society in a way that goes beyond your preconceived orientation. Serving in the community helps students learn what challenges communities face and see how their work furthers the communitys' goals. It also helps build valuable relationships with the people whom you serve. You can make a difference by supporting and contributing to meet a need in the community that affects the lives of the elderly, homeless, people with disabilities, schools, childcare centers and many other community organizations.
At Jackson State University, community service is more than a time-honored tradition, it's a shared commitment by students, faculty and staff. Students and staff regularly donate their time and talent with the goal of making a positive difference at the university and in the community. The energy and interests of this vast network of generous individuals is organized to increase the capacity of all entities at the university through service. The Alice Varnado Harden Center for Service and Community Engaged Learning is very committed to broadening a spirit of service throughout the university and the community.
SERVICE OPPORTUNITIES: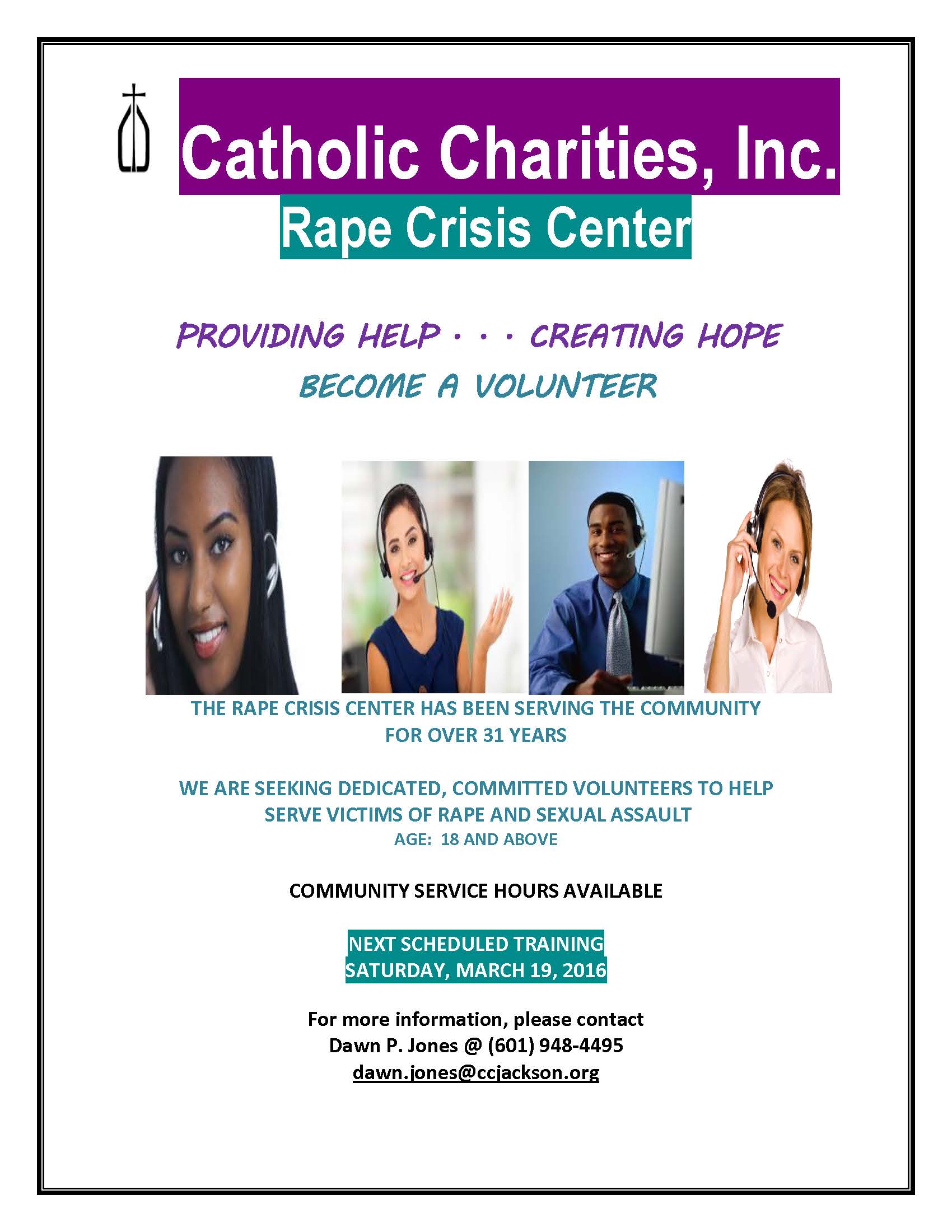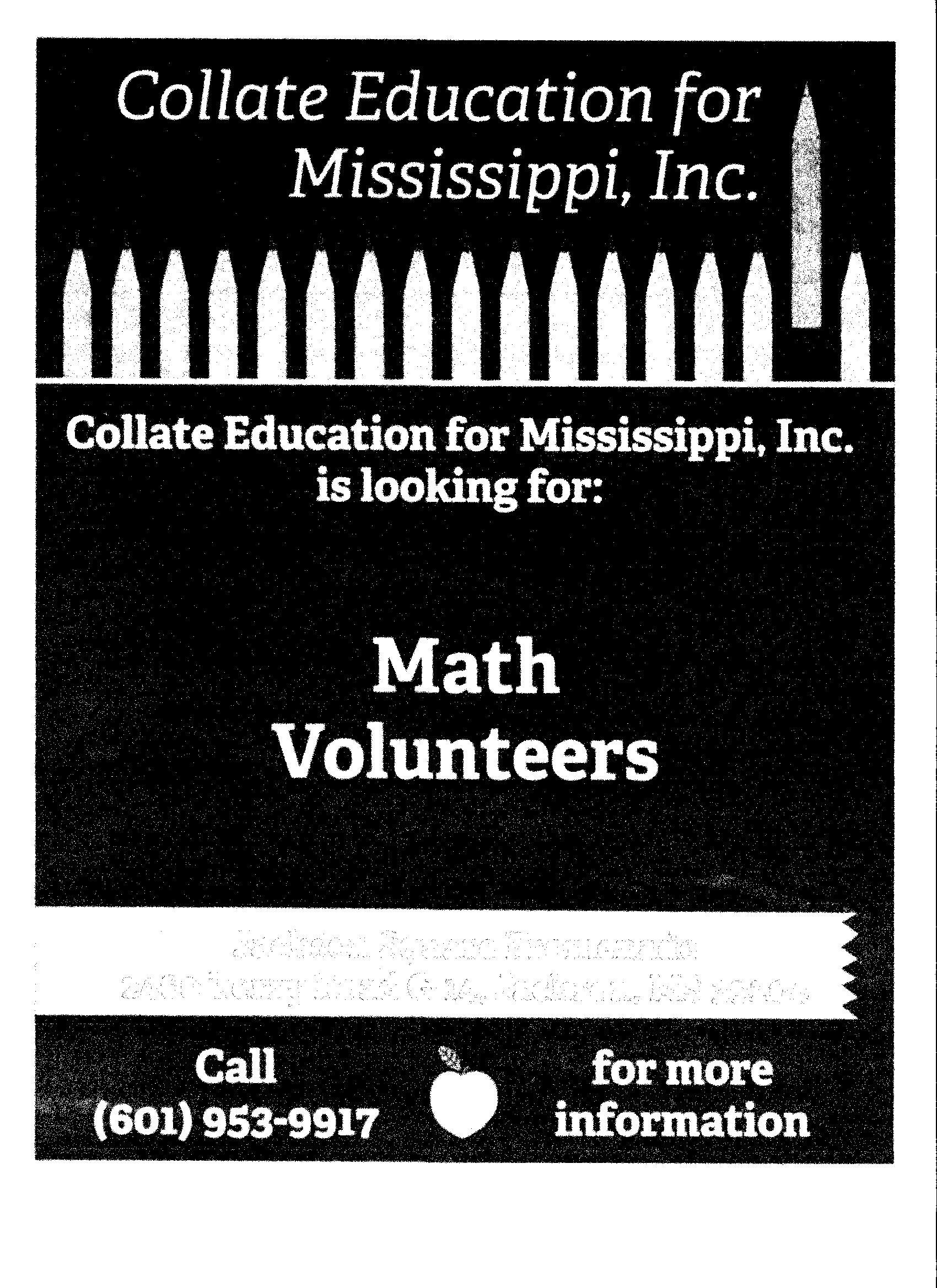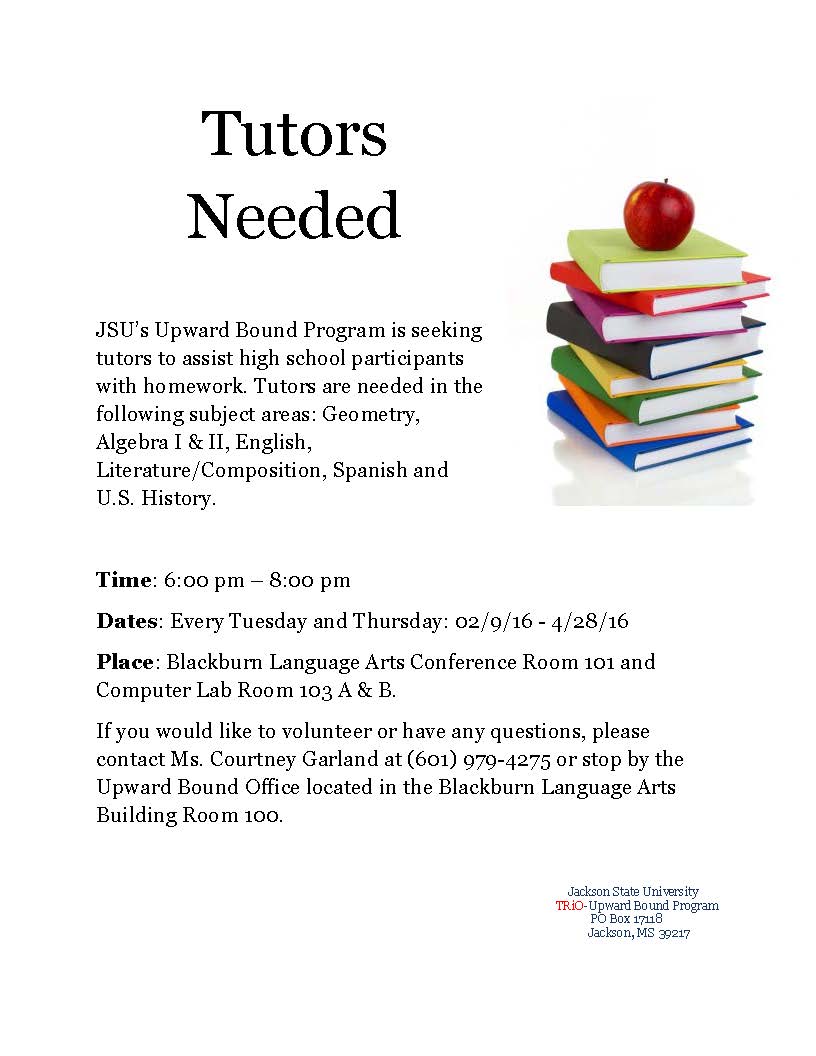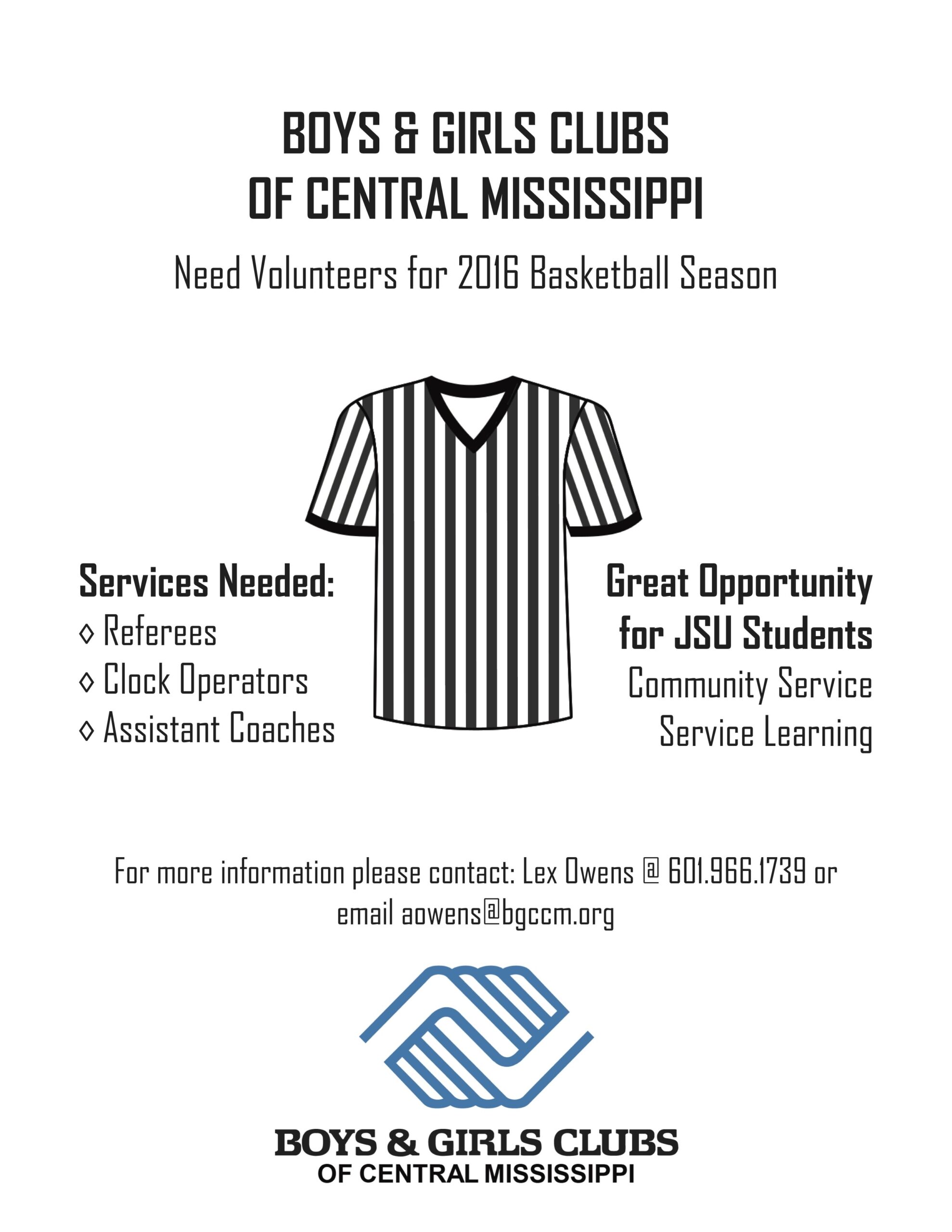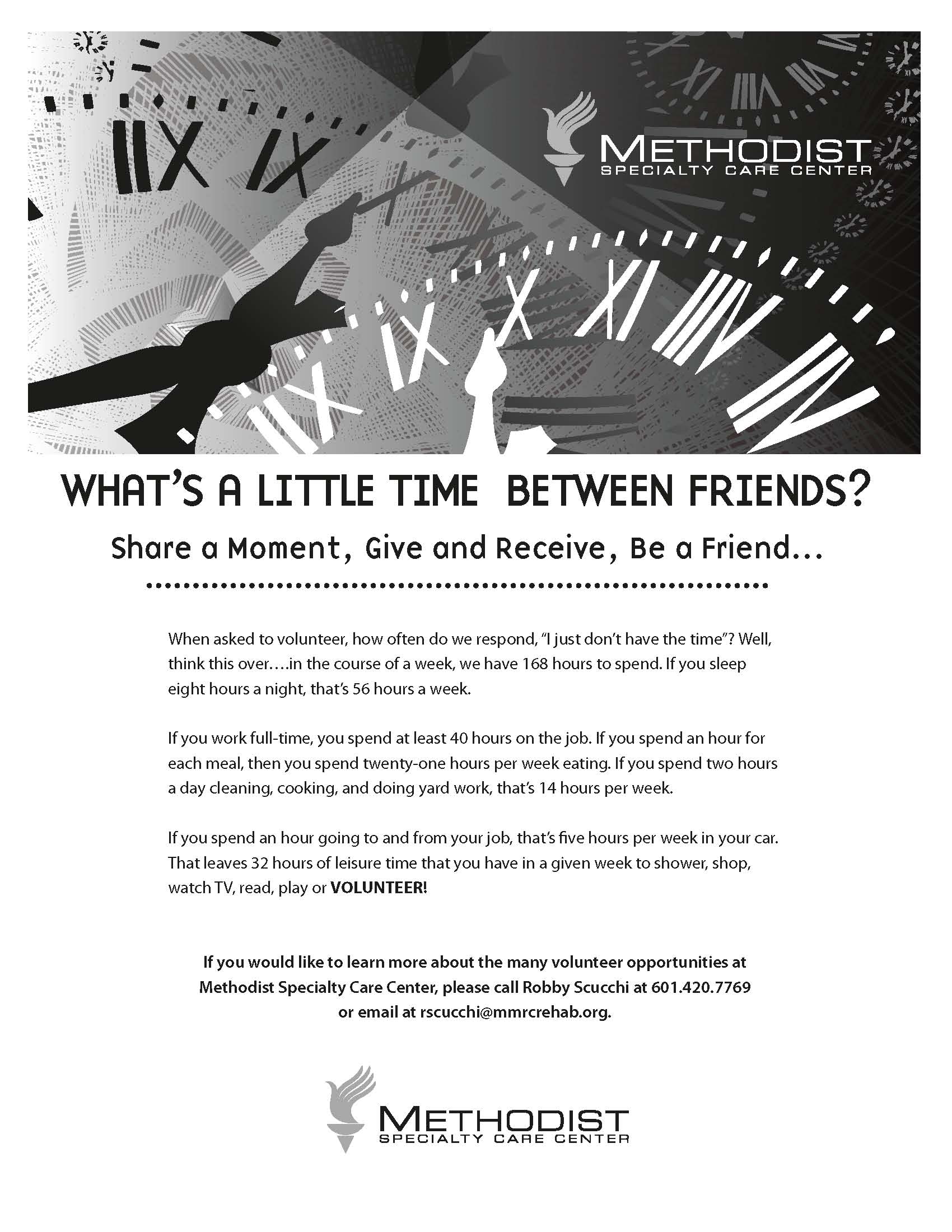 Service Opportunities with Crossroads Film Society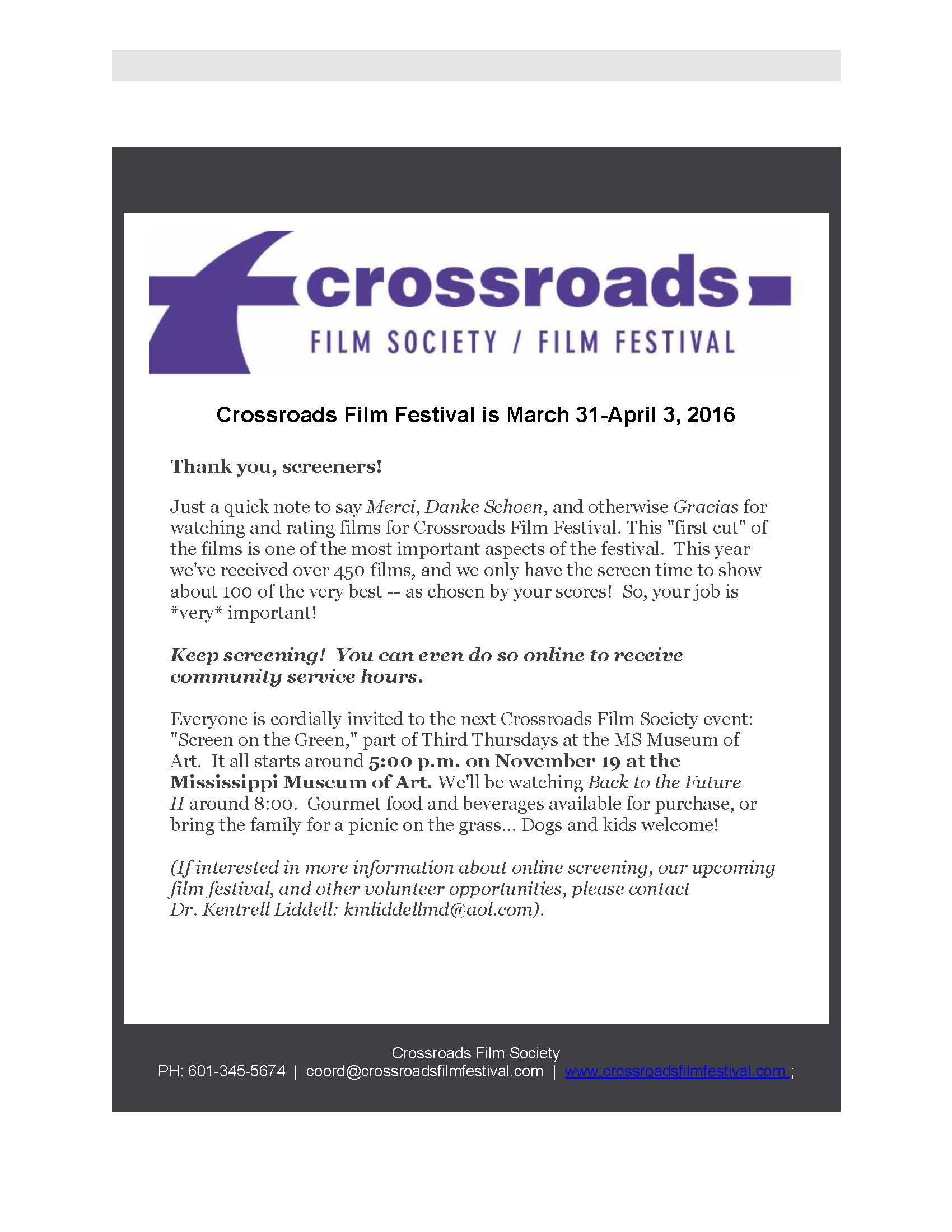 The University of MS Medical Center Seeks Volunteers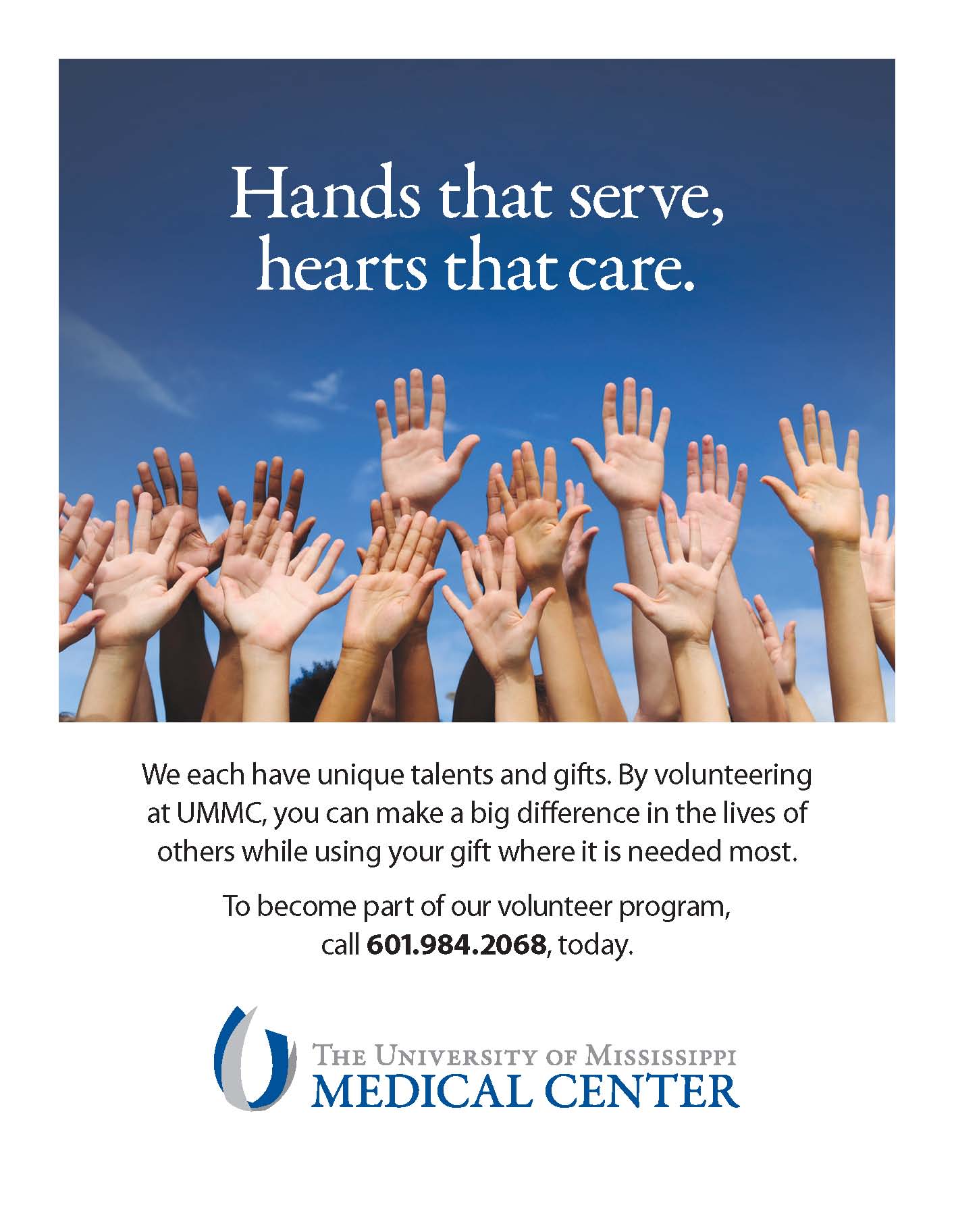 Ongoing On-Campus Opportunities:
Volunteers needed at Jackson State University's Interdisciplinary Alcohol & Drug Studies Center
Volunteers Needed Immediately
Time: 8:00 a.m. – 5:00 p.m.
Location: College of Liberal Arts Building; Suite #314; Room 304
Contact Melinda G. Todd at 601-979-2217 if interested
Volunteers Needed:
Jackson State University's Department of Housing and Residence Life
Services Needed: Monday – Friday
Time: 8:00 a.m. – 5:00 p.m.
Location: Campbell College Suites

Ongoing Off-Campus Opportunities:
Community Service Opportunities available at Jackson State University's Continuting Education Learning Center
Service Needed: Monday – Thursday
Time: 8:00 a.m. – 7:00 p.m.
Location: 1325 Hattiesburg St.; Jackson, MS
Contact Tamara Herron at 601-979-2642 if interested
Bates Elementary School is looking for volunteers
Services Needed: Monday – Friday
Time: 8:00 a.m. – 2:00 p.m.
Location: 3180 McDowell Road Ext.; Jackson, MS 39204
Contact Joice E Johnson at (601) 346 -1416 if interested
Service opportunities available at MS Homebuyer Education Center
Location: 350 W. Woodrow Wilson; Ste. #3480
Contact Jeanette Bland at 601-366-9141 if interested
Pioneer Ministries, Inc. Need Male Volunteers
Male Students needed for Assistance with after school boys mentoring program
When: Mondays, October thru December 7, 2015
Time: 4pm – 6pm
Number Needed: 4
Job Description: Assistance in guiding boys through educational and physical activities
Contact Name: Ronald Bingham, Exec. DirectorContact No.: 601-278-5071 or 601-939-3659
MENTORS NEEDED: The Spencer Perkins Center TALKS Mentoring Program – located at Pecan Park Elementary, mentors will meet with an assigned group of students for one hour per week to share wisdom with them through a curriculum called "Talks my Mother/Father Never had with Me."
TUTORS NEEDED:The Spencer Perkins Center After-School Program – located at 1831 Robinson St. Jackson, MS. Tutors help students with their homework, sports, crafts, character building, and games from 2:30 – 5:30 p.m. Monday – Friday.
If interested or have further questions, please contact Ashley Chisholm; ashleythaxtonspc@gmail.com or 601-354-1563. An online application is also available at http://www.spencerperkinscenter.org/
Youth Solutions Adolescent Development Center needs volunteers:
Ongoing Projects:
PROJECT 1: Youth Solutions After School Program; NUMBER OF STUDENTS NEEDED: 6; WORK NEEDED: Tutoring elementary & middle school youth; TIMES NEEDED: Mon.-Thur. 3pm – 5pm; INFORMATION: Must complete a volunteer application/background check Jackson location (information given to approved volunteers) Must volunteer at least 1 hr a week and on time
PROJECT 2: The Youth Solutions "THINK TANK"; NUMBER OF STUDENTS NEEDED: 3; WORK NEEDED: Tutoring elementary-high school students in Math, Science, English, & Reading; TIMES NEEDED: First Tuesdays (once a month) 6pm-8pm; INFORMATION: Must complete a volunteer applicationLocation: Jackson Medical Mall (information given to approved volunteers) Must volunteer at least 1.5 hrs a month
PROJECT 3: Ground Zero Ministries The "RAVE" community event; NUMBER OF STUDENTS NEEDED: 3; WORK NEEDED: Project management (business students preferred); TIMES NEEDED: TBA: Friday / Planning meetings; INFORMATION: Must complete a volunteer application Must volunteer at least 1 hr a week,must have a computer & some meetings via conference call
Applicants may obtain a Volunteer Application by calling 601.829.0323, or by visiting website www.youthsolutions-ads.com. Each applicant will be called for a brief interview conducted at the Jackson Medical Mall, suite 731-107.Juan K. Wilson; 601.829.0323 Office; 877.330.3503 Toll Free; 877.330.1036 Fax
Volunteers Needed at The Mississippi Museum of Art: Their spring exhibition will be starting on January 31, 2015, and they are hoping to get some awesome new volunteers to help out in the Visitor Services department as well as the Education Department. More specifically they are looking for volunteers to man their Welcome Desk and greet guests as they enter the building and help them become acclimated with the museum.They are also interested in getting volunteers for their Gallery Host program. The museum is open Tuesday – Saturday, 10:00 a.m. to 5:00 p.m. and Sunday, 12:00 p.m.to 5:00 p.m. They are especially interested in individuals who would be able to volunteer Tuesday – Friday, as they are short-handed on those days. Schedules and hours are flexible and they conduct onsite training to help familiarize and teach their volunteers more about the museum and its exhibitions. A copy of their Volunteer Information Sheet as well as the Volunteer Application can be found on their website at http://www.msmuseumart.org/index.php/support/page/volunteer or you may contact Emily Summerlin, Visitor and Membership Services Coordinator at (601) 960-1515.
Jackson Downtown YMCA is in need of volunteers in their Wellness Center as well as in their Daycare and with their Summer Camp. To volunteer contact, Rhonda Shidner, at (601) 948-3090.
The YMCA Metro office is looking for a volunteer that would come to their office located at 826 North Street, Jackson, MS, on every Thursday or Friday for a couple of hours to file and/or scan. If interested contact, Paula Boulanger at 601-326-4703 or email her at pboulanger@metroymcams.org.
Also, the Clinton YMCA need a volunteer to scan or file for the childcare director. If interested contact, Kiersten Seward at 601-924-5812 or email her at kseward@metroymcams.org
Big Brothers Big Sisters of MS, a non-profit organization, is seeking volunteers who will dedicate an hour a week to making a difference in the lives of children between the ages of 5 – 15 in the metro area. The Metro Area Program office is located in the Saks' Fifth Avenue building at 3455 Highway 80 West, Jackson, MS, 39209. Please contact, Cheryl Walker, Metro Area Program Specialist at 601-213-6651 or email cwalker@bbbsms.org
Non-Profit Agency Seeks Volunteers to tutor students grades 1st-10th (math, reading & language arts/English); Monday – Friday; 10:00 a.m. – 6:00 p.m. ; For more information on tutoring or other volunteering opportunities at Genesis and Light call 601-362-6736 or email genesisandlight@att.net
Note: Students are responsible for contacting the agency of their choice to register for the community service event.
Student Resources:
Spring 2016 Community Service Form
Checking My Community Service Transcript
Spring 2016 Agency Partner List
Community Service Project Approval Resources:
Before the project: All service projects must be submitted online at least two weeks before the date of the anticipated project. After the project: Sign-in forms must be submitted to The Harden Center, located in Suite 110, in Reddix Hall, within three (3) days of the final date of your service project. Please use the below sign-in sheet for each approved project. For questions regarding this process, please email Ms. Moore at eltease.moore@jsums.edu.
Online Community Service Project Approval Form
JSU Community Service Project Approval Sign-In Sheet