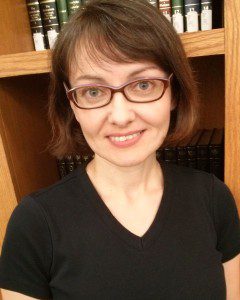 Tatiana Glushko coordinates services within the Richard Wright Center (RWC), assists with training graduate and peer tutors, facilitates writing workshops for faculty, staff, and students at JSU, and tutors students one-on-one.
In 2004, Glushko came to Jackson State University as an exchange ESL instructor from Russia, where she taught English as a foreign language in the Department of English Philology and Translation at Amur State University. In 2006, she entered the Master's program at JSU in English and began working as a graduate assistant and tutor in the Richard Wright Center. In the RWC, she held the position of coordinator of supplemental instruction (2009–2013) and served as interim director (Summer 2013). From 2009 to 2013, she also taught Composition I and II in the Department of English and Modern Foreign Languages.
Glushko is currently on the board of the Mississippi Writing Center Association (MSWCA) and is a member of the International Writing Center Association (IWCA). Her research interests focus on writing center pedagogy and on language difference in academic writing. In 2016, she presented on finding points of connection between writing centers in Russia and the U.S. at the international conference in Moscow, Russia, on translingual practices in the writing center at the Conference on Liberal Arts at JSU, and on civil discourse in the writing center, with Dr. Kathi Griffin (RWC Director), at the Conference on College Composition and Communication in Houston, TX. Most recently she and Griffin published on HBCUs and writing programs in the Composition Studies journal. 
Ph.D.   Urban Higher Education, Jackson State University, 2014
M.A.    English, Jackson State University, 2009
B.A.    English, with a minor in Russian, Blagoveshchensk State Pedagogical University, 1998