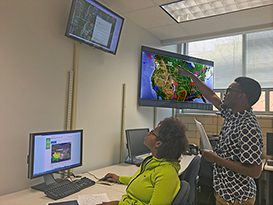 The JSU Atmospheric Science / Meteorology Program consists of several significant components including basic curricula, academic support, research, and outreach. When integrated together these components provide a supportive framework for the preparation of minority atmospheric scientists. Programmatic emphases include a strong commitment to student learning and professional preparation, increasing the number of African American atmospheric scientists, increasing the number of African American graduate students in atmospheric science, and an expansion of research and development with regard to basic and applied research, computer-related training strategies, and outreach and cooperative efforts.
The Bachelor of Science in Meteorology program has in its primary objective to prepare students for careers in meteorology and to prepare students for graduate study in meteorology or in related fields. Our program also teach students from other disciplines about basic characteristics and phenomena of the atmosphere.
The B.S. in Meteorology is the only degree program in Meteorology in Mississippi and in its neighboring states.
To view a listing of the undergraduate-level courses offered, click here
Click here to view the course curriculum for the B.S. in Meteorology.