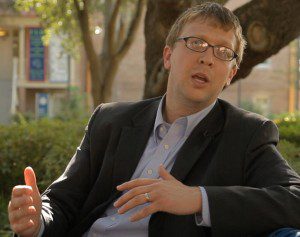 Assistant Professor; Director, Margaret Walker Center for the Study of the African-American Experience
601.979.3935
robert.luckett@jsums.edu
Ph.D., History, University of Georgia (2009)
B.A., Political Science, Yale University (1999)
Robby Luckett received his PhD from the University of Georgia with a focus on civil rights movement history in 2009. At Georgia and now at Jackson State, he has taught his own courses on modern American history, the civil rights movement, the African-American experience, and archives and records management.
Research Interests
Robby's dissertation addressed segregationist strategies for offsetting the advances of the civil rights movement and is currently under consideration as a manuscript with the University Press of Mississippi. Along with presentations at numerous academic conferences, his work has appeared in several publications, including an article on Annie Devine and the Madison County movement in the Journal of Mississippi History as well as a chapter on the movement in Albany, Georgia, in a collection of essays entitled The Human Tradition in the Civil Rights Movement. He also has a chapter in a new book on The Civil Rights Movement in Mississippi about James Silver, former Ole Miss historian and author of the classic Mississippi: The Closed Society. He currently has two other book projects underway: a collection of essays Remembering Margaret Walker to be published for Walker's centennial year in 2015, and an electronic book on the connections between Medgar Evers and Margaret Walker who lived and worked on the same two streets in Jackson, Mississippi.
A native Mississippian, Robby returned home to accept the positions of Assistant Professor of History and Director of the Margaret Walker Center for the Study of the African-American Experience at Jackson State University. His wife, Serenity Luckett, is the Principal at Brown Elementary in Jackson Public Schools. They have four children: Rhett, Eva, Silas, and Hazel.