Anonymous Donor Gives to the MSN Foundation in Support of JSU School of Social Work Scholarships

(Pictured L-R) Terrence Spann, MSN Board Member, Mac Epps, MSW Scholarship Recipient, and Dr. Mary Nelums, Foundation President.

The Mary S. Nelums (MSN) Foundation was founded and established by graduates from the premier class of 1995 in the name of Mary S. Nelums, a retired social work faculty. The foundation's mission is to provide scholarships to master-level social work students enrolled at Jackson State University (JSU).
Dr. Nelums, President of the Foundation stated, "Social Work is a profession of service. In the words of Marian Wright Edelman, 'service is the rent we pay for living.' Thus, the foundation's mission is to assist and develop a committed group of social workers who share this value…, and the students who receive this scholarship will be dedicated to working tireless toward resolving the serious and debilitating social problems that plague individuals, families and communities."
On January 27, 2009, the Foundation awarded its first $1,000 scholarship to a JSU Master of Social Work student at its annual gala. Since that time, the foundation has held a gala each year and awarded over $13,000 in financial scholarships to master-level social work students. Board leaders were ecstatic to receive an anonymous donation, in support of the foundation's mission, that will allow them to award a $1200 scholarship to a deserving MSW student for the Spring semester 2016. Nelums said, "The foundation is grateful to receive the anonymous donation that will now provide funds to a student in need."
Dr. Shonda Lawrence quoted, "'It's not how much we give but how much love we put into giving.' ― Mother Teresa. Dr. Nelums' commitment to the School of Social Work is both inspiring and humbling. Her unwavering support over the years is truly a testament of her love for JSU and the School of Social Work. To know that a deserving student will be able to continue his/her education that may not have been able to without the MSN Foundation scholarship is indeed exciting."
In addition to awarding over $13,000 to eight master-level social work students, other successes of the foundation include: facilitating opportunities for young males in middle school to "shadow" giants who are social workers, lawyers, and a judge; and providing school supplies, homework assistance, and confidential group discussion for seven 8th grade students enrolled at a local middle school.
In August 2015, the Foundation expanded its mission and activities to include the adoption of a Jackson Public School District's 3rd grade class. Activities the foundation provides consist of financial and enrichment support that develop positive social, emotional, and critical thinking skills. The Foundation will follow and support these students until they complete college or choose a career path.
Dean Ricardo A. Brown, College of Public Service stated, "The School of Social Work has experienced record enrollment growth over the past several years, most notably in the MSW program. The recent loss of Ayers support for our program emphasizes the importance of the MSN Foundation in assisting us to continue the legacy of providing well-trained professionals in service to our community. Collectively, we thank this generous and anonymous donor for this gift."
MSW Students Attend Alabama/Mississippi Social Work Education Conference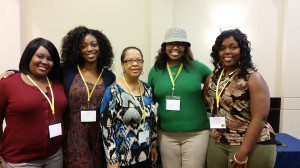 MSW students attended the 44th Alabama/Mississippi Social Work Education Conference that was held October 29-30, 2015 in Hattiesburg, MS. Pictured L-R, MSW Students: Shamicka Cannon and Raven Reese, Dr. Eunice Harris, and MSW Students:Tishawn Thames and Ashanti Dampier. The students learned valuable social work education information and enjoyed the networking opportunities the conference afforded them.
Courtney Roberson, MSW Student Recipient of Social Work Leadership in Healthcare Scholarship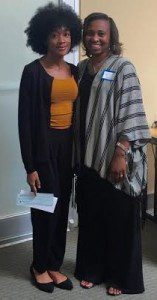 Courtney Roberson (left), MSW student, received the graduate student scholarship at the 44th Annual Mississippi Society for Social Work Leadership in Healthcare Conference at the University of Mississippi Medical Center Conference Center. Ms Roberson is interested in working in the healthcare field and plans to use the $500.00 scholarship to assist with as she matriculates in the graduate program. Ms. Lisa Caddle (Mississippi Society for Social Work Leadership in Healthcare) is pictured on the right.
Mission of the School of Social Work
The School of Social Work provides educational opportunities for a diverse group of students to earn degrees at the baccalaureate, master's, and doctoral levels. Students learn the knowledge, skills, values, and ethics of the profession of social work in a supportive academic environment. The School produces graduates who apply their knowledge and skills to improve the Urban quality of life in Mississippi, the nation, and the world. Through their work, graduates empower vulnerable individuals, families, groups, organizations, and communities. Graduates are expected to demonstrate serious concern for economic, political, and social justice through practice, continuing education, and research.
Academic Programs



The School offers three programs: Bachelor of Social Work, Master of Social Work, and Ph.D. in Social Work.
Bachelor of Social Work
Master of Social Work
Ph.D. Program in Social Work
Accreditation/Affiliation



The Bachelor of Social Work and Master of Social Work Programs are accredited by the Council on Social Work Education (CSWE).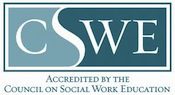 The Ph.D. in Social Work Program is affiliated with the Group for the Advancement of Doctoral Education (GADE).

Research/Training
The School also houses two research and training institutes.
Southern Institute for Mental Health Advocacy, Research and Training (SMHART)
Mississippi Child Welfare Institute