Inspiring Change…
Building Communities…
Making a Difference!
13th Annual Mississippi Child Welfare Institute Conference
Mrs. Scarlett Lewis lost her son, Jesse, during the Sandy Hook Elementary School shooting rampage in Newtown, CT in December 2012. She will be the closing luncheon speaker at the 13th Annual Mississippi Child Welfare Institute Conference hosted by the Jackson State University College of Public Service's School of Social Work on February 11-13, 2015 at the Marriott Hotel – Downtown Jackson.
The purpose of conference is to "engage interested persons in dialogue on best and promising practices in the field of child welfare," said Dr. Theresia Ratliff, conference co-chair and director of Field Education in the School of Social Work.
For additional information, please call 601.432.6818 or 601.432.6828.

Mission of the School of Social Work
The School of Social Work provides educational opportunities for a diverse group of students to earn degrees at the baccalaureate, master's, and doctoral levels. Students learn the knowledge, skills, values, and ethics of the profession of social work in a supportive academic environment. The School produces graduates who apply their knowledge and skills to improve the Urban quality of life in Mississippi, the nation, and the world. Through their work, graduates empower vulnerable individuals, families, groups, organizations, and communities. Graduates are expected to demonstrate serious concern for economic, political, and social justice through practice, continuing education, and research.
Academic Programs



The School offers three programs: Bachelor of Social Work, Master of Social Work, and Ph.D. in Social Work.
Bachelor of Social Work
Master of Social Work
Ph.D. Program in Social Work
Accreditation/Affiliation



The Bachelor of Social Work and Master of Social Work Programs are accredited by the Council on Social Work Education (CSWE).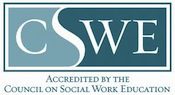 The Ph.D. in Social Work Program is affiliated with the Group for the Advancement of Doctoral Education (GADE).

Research/Training
The School also houses two research and training institutes.
Southern Institute for Mental Health Advocacy, Research and Training (SMHART)
Mississippi Child Welfare Institute