Inspiring Change…
Building Communities…
Making a Difference!

Alumni Highlight
Amerah Shabazz-Bridges, "05 BSW Alum, received the 2015 Women of Achievement Courage Award on March 22nd in Memphis, TN. Women of Achievement, Inc., is a diverse coalition of community groups and individuals that celebrate and document women's contributions to community change.
Amerah is a childhood sexual abuse survivor and long-time advocate for child victims of sexual abuse. She was a remarkable student who graduated at the age of 67. Shabazz-Bridges said she pursued her bachelor's degree because, "I sought to bring to fruition the deep desire to earn a college degree before I leave this earth and I accomplished it with the guidance and support the faculty offered me on many occasions."
For the past several years, Amerah has become a compelling voice for childhood sexual abuse. She served on the Mississippi Coalition Against Sexual Assault and was a community educator for the Jackson Rape Crisis Center (Jackson, MS). As a result of her initiative and dedication, Shabazz-Bridges has received a number of many awards and certificates including volunteer of the year for the Washington, D.C. Rape Crisis Center and J.C. Penney's Golden Rule Award.
Mission of the School of Social Work
The School of Social Work provides educational opportunities for a diverse group of students to earn degrees at the baccalaureate, master's, and doctoral levels. Students learn the knowledge, skills, values, and ethics of the profession of social work in a supportive academic environment. The School produces graduates who apply their knowledge and skills to improve the Urban quality of life in Mississippi, the nation, and the world. Through their work, graduates empower vulnerable individuals, families, groups, organizations, and communities. Graduates are expected to demonstrate serious concern for economic, political, and social justice through practice, continuing education, and research.
Academic Programs



The School offers three programs: Bachelor of Social Work, Master of Social Work, and Ph.D. in Social Work.
Bachelor of Social Work
Master of Social Work
Ph.D. Program in Social Work
Accreditation/Affiliation



The Bachelor of Social Work and Master of Social Work Programs are accredited by the Council on Social Work Education (CSWE).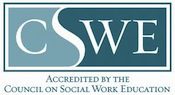 The Ph.D. in Social Work Program is affiliated with the Group for the Advancement of Doctoral Education (GADE).

Research/Training
The School also houses two research and training institutes.
Southern Institute for Mental Health Advocacy, Research and Training (SMHART)
Mississippi Child Welfare Institute