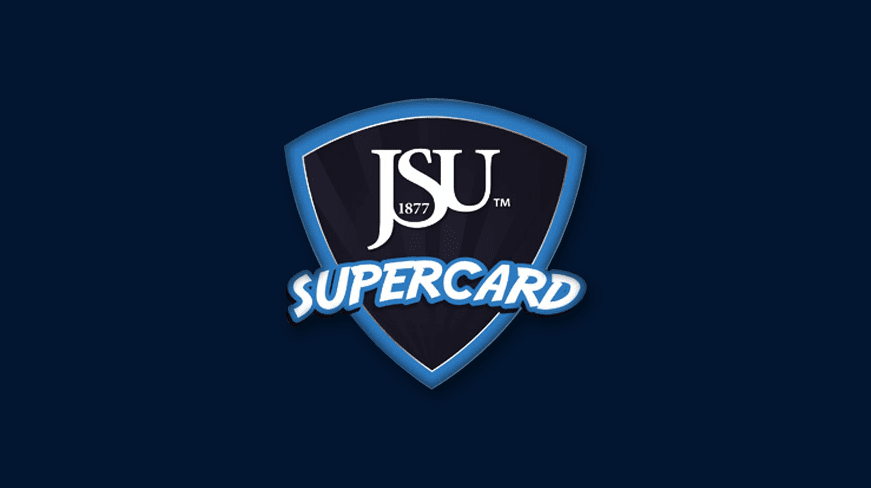 Want to learn more about the JSU Supercard? We have answered some questions in our Frequently Asked Questions section below that should help! If you would like additional information, please do not hesitate to contact us (information provided below).
Q. How to become a JSU Supercard Merchant?
A. Contact or visit the Department of Contractual Services on the 3rd floor of the Jacob L. Reddix Hall, Room 321 or call 601-979-1065 and request a Supercard Overview Letter.
Application. Interested merchants may also visit http://supercard.jsums.edu
Q. How are merchants informed of the application status?
A. The University will notify the merchant within ten (10) business days from the date the  application is received in the Department of Contractual Services.
Q. Are interested merchants guaranteed acceptance into Supercard Merchant Program?
A. No. Interested merchants are welcome to apply; however, it does not guarantee acceptance  into Supercard Merchant Program.
Q. How do merchants receive fund settlements from JSU™ Supercard transactions, and how often?
A. Through the newly adopted Off-Campus Advantage network, merchants receive electronic  fund settlements daily, less commission and processing fees.
Q. How are merchants selected to accept the JSU™ Supercard?
A. In most cases, establishments are considered on an "as needed" and "desired basis" for any  particular goods and services offered by merchant.
Q. When are new merchants accepted into the JSU™ Supercard Program?
A. New off-campus merchants are accepted into the program at the beginning of the Fall & Spring semester. Interested merchants are welcome to apply at anytime. Applications are reviewed upon receipt and based on that review, a correspondence is mailed to the interested merchant.
Q. I would like to recommend a merchant to the JSU Supercard?
A. The Department of Contractual Services welcomes any comments, suggestions, and recommendations for new merchants.
Q. I would like to activate my card account and deposit funds?
A. Faculty, staff and students are welcome to apply for a card account by visiting and making application in Jacob L. Reddix Hall, Room 321. Individuals can deposit funds into their Supercard account by visiting the Office of Financial Services on the 2nd Floor of the B.F. Roberts building at the cashier's station. Limited restrictions apply to employees who are employed less than six (6) months.
Q. Where should I go to obtain a summary of my account balance, transactions, etc?
A. Step-by-Step Guide to Access JSU GET
To ensure the privacy and safety of card account information, account balances are not given over the telephone. 
Q. Can I deposit funds into my Supercard account online?
A. Students are allowed to transfer Federal Financial Aid funds onto their card account. The students establish access through the Personal Access to Web Services (P.A.W.S) and follow the instructions.
Q. Who is responsible for charges not authorized by the cardholder?
A. The cardholder is responsible for all charges unless the cardholder can provide documented evidence that the card has been reported stolen or missed at time of the transactions. It is the sole responsibility of the cardholder to ensure their JSU Supercard is secured at all times. In addition, it is the sole responsibility of the cardholder to report suspicious card activity to Campus Police immediately at 601-979-2580.
Q. How to care for the JSU Identification/Supercard?
A.
Protect card from physical abuse.
Carry Supercard in a protective cover such as a wallet.
Do not use Supercard as a tool or punch holes in it.
Do not give Supercard to someone else to use.
Do not try to alter the Supercard. 
Do not place Supercard on stereos, microwaves or next to other credit cards.
Avoid running Supercard through a washer or dryer.
Lost Supercard should be reported to the following:
Campus Safety Monday-Friday from 8am -5pm and/or to Campus Police, Monday-Friday from 8am to 5pm or by calling 601-979-2580.
Jackson State University faculty, staff and
students can now use GET to manage
their JSU Supercard accounts. Find out more about the GET application by clicking "Learn More" below.