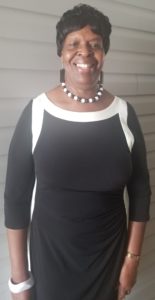 Delores Gibbs Rankin was born in Jefferson County, Mississippi, where she attended both elementary and high school. She has two degrees from Jackson State University: a Bachelor of Arts degree in Sociology (1969); and a Masters in Sociology (1980).
Rankin started working as an Eligibility Worker with the State Department of Public Welfare in 1970. Five years later, she was appointed to Social Worker until 1980. Effective July 1, 1980, she was appointed the first African-American County Director for the Jefferson County Welfare Department. She faithfully kept this position until she retired in August 2010.
During her forty years of employment, Rankin was affiliated with numerous community organizations, including the Jefferson County Chamber of Commerce, Jefferson County Extension Services Advisory Council, Jefferson County School District Federal Programs Advisory Committee, AJFC Community Action Board of Directors, Chairperson of Jefferson County Daycare Center, Medgar Evers Home Health Advisory Board and Chapter I Parent Advisory Council.
Rankin's dedication and professional work ethic over the years also afforded her the opportunity to work with other organizations: FHA Agricultural Council, Headstart Policy Council, Jefferson County Vo-Tech Advisory Board, Mental Health Advisory Council, Vice President of State Employees Association of Mississippi, County and Regional Directors Association, Interagency Council for Jefferson County, Southwest Development and Planning District, Jefferson Comprehensive Health Center Advisory Council, Jefferson County Economic Development County and Home Extension Services Advisory Council.
Rankin is a devoted member of Mount Pleasant United Methodist Church in Fayette, Mississippi. Her church affiliations include Usher Board President, Finance Committee Chairperson, Senior Choir Treasurer, Sunday School Treasurer, United Methodist Women Treasurer, Building Fund Committee Secretary, and Adult Sunday School Teacher.
She has four children and eight grandchildren, and in her spare time, she likes to travel, shop, help others, spend time with family, and indulge in fishing. Rankin considers it an honor to have served in various positions within the Department of Human Services because by putting God first and having a great dedicated staff, she was able to assist many individuals in need.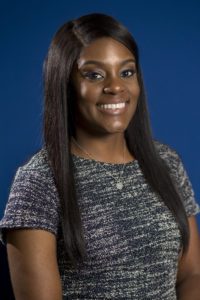 Britani Danielle Johnson is a third generation Jacksonian earning both of her degrees from the institution in 2009 and 2015. Johnson has a bachelor of science degree in Mass Communication and a master's degree in Public Policy and Administration.
She was recently appointed as the community relations coordinator for the Buffalo Bills, a National Football League (NFL) team in Buffalo, New York. In her role, Johnson is responsible for organizing and implementing community initiatives, as well as actively engaging in the Buffalo community to assess needs and opportunities that lead to productive ways for the organization to become community partners.
Prior to working for the Bills, she worked as the manager of ticket operations for the Atlanta Legends, an American Football League in Georgia. Johnson also worked as the assistant director of Ticket Sales and Operations at Jackson State University.
Johnson is a native of Garland, a suburb of Dallas, Texas. She is a member of Delta Sigma Theta Sorority, Incorporated and the Jackson State University National Alumni Association.
She truly enjoys helping others and it is her hope to inspire and mentor young women attending her favorite HBCU-Jackson State University. In doing so, she specifically would like to mentor female students pursuing a career in sports. Johnson's desire to help young ladies in this area correlates to her favorite quote, "When you've worked hard, and done well, and walked through that doorway of opportunity, you do not slam it shut behind you. You reach back, and you give other folks the same chances that helped you succeed." –Michelle Obama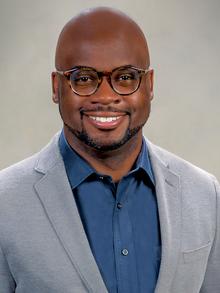 Adam Powell is originally from Montgomery, Alabama and is the son of a state trooper and social worker. He is a proud 2005 graduate of Jackson State University where he received a bachelor's degree in Mass Communications, and he also holds a master's degree in Social Work from the University of Texas at Arlington. Inspired by the hard work, perseverance, and dedication of his parents, Powell has committed his life to fulfilling the needs of others, specifically in the field of education.
In September 2019, Powell began serving as President & CEO of Communities in Schools (CIS) in the Dallas, TX. Prior to joining CIS Dallas, he served as the Vice President of College Possible, a national college access and success organization. In that role, he was responsible for performance in fundraising, program delivery, staff management and development, site board development, and community relations across all sites, including Seattle, Portland, Minnesota, Chicago, Philadelphia, Milwaukee, and Omaha.
Before joining College Possible, Powell served as leader of several education organizations in a variety of capacities, including Director of Strategic Planning, Chief Operating Officer, and Executive Director. Working with Dallas mayors such as Mike Rawlings and Tom Leppert, he was instrumental in designing and implementing the Mayor's Intern Fellows Program, now one of the largest high school intern programs in the country. In 2017, Powell, in conjunction with Mayor Rawlings, founded the Mayor's Cup, a public debate partnership between the City of Dallas and Dallas Urban Debaters focused on some of society's most divisive issues.
Along with his professional responsibilities, Powell has been active in several community organizations, including the Southern Dallas P-16 Council, the Mayor's Star Council, the North Dallas Chamber of Commerce's Education Committee and the National College Access Network. He has spoken to groups across the country on behalf of the United Negro College Fund, as well as other colleges, universities, and non-profits. In 2011, he was selected to Dallas Furniture Bank's "40 under 40" club, honoring individuals under the age of 40 making a positive impact in the Dallas Community. Powell resides in Dallas, TX and is the proud father of his 8-year-old son, Carson Powell.

JSUNAA – Become a Member

The JSU National Alumni Association needs your support! Although we are a large family, and growing every day, our association would like to increase its overall membership. JOIN NOW