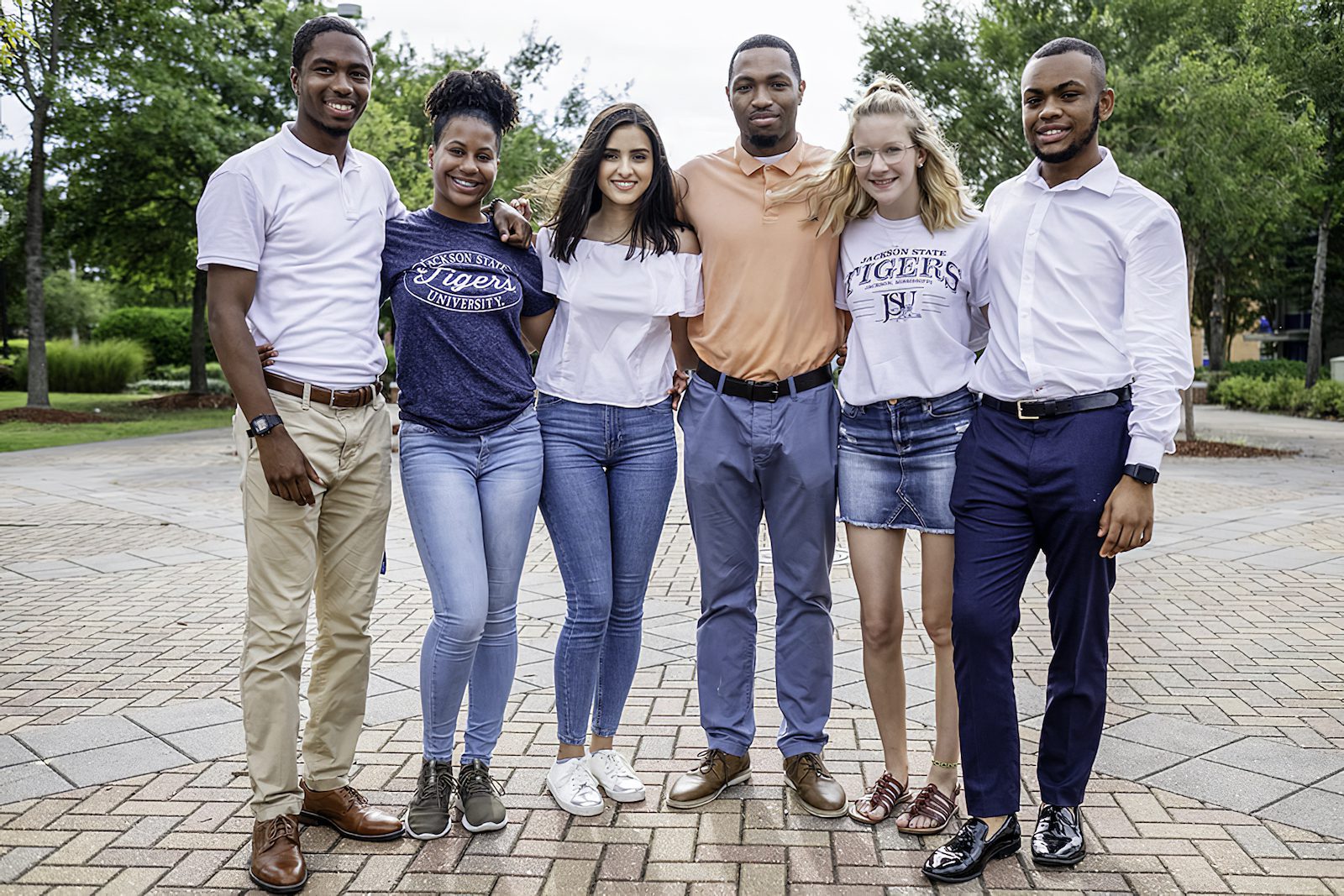 Jackson State University® is an environment that inspires you to grow, learn, and reach beyond the ordinary. This is a "home away from home" where every student can find their place. Our team in Undergraduate Admissions and Recruitment is committed to assisting prospective students and their families through the acceptance and enrollment process by providing essential information to help students successfully transition into the university. This webpage will provide you with the necessary information to guide your educational goals.
Jackson State University is test optional for the 2022-2023 and 2023-2024 academic years
A special non-degree student is one who is not pursuing a degree program. Admission may be granted provided the student is not less than 21 years of age and has a high school diploma or its equivalent.
The special non-degree student is subject to all University regulations governing registration, attendance, and academic standing. The student may not register for more than 12.0 semester hours during a semester and 6.0 semester hours during a summer term. Credit earned in non-degree status is recorded on the student's permanent academic record.
To transition from non-degree-seeking to degree-seeking status, students must satisfactorily complete twelve (12) hours with a "C" or better average in the general education core. Once admitted to a degree program, a maximum of eighteen (18) semester hours credit earned as a non-degree seeking student may be applied toward a baccalaureate degree, if approved by the dean of the college or school from which the degree is sought.
Students seeking admission to a degree program must submit a formal application indicating the desired major. Credits may be applied to a degree program when the student satisfactorily meets entrance requirements established by the University and approved by the Dean of the School in which the student wishes to major. The student is subject to dismissal if the minimum grade point average is not earned while in this status.
Step 1: Visit Our Campus
Are you ready to visit our beautiful Jackson, MS campus? Join us for a tour and explore life at Jackson State. Your visit will consist of a brief orientation session and a 1½ hour walking tour. Tours are conducted by recruitment office staff and student ambassadors. During our tour, prospective students and visitors learn about undergraduate admission requirements, degree options, housing, student life and the legacy of the university. You'll get a glimpse of some notable campus buildings including our Student Center, Residential Facilities, Recreation Center and Library.
To schedule a campus visit, please click here (https://www.jsums.edu/recruitment/).
Step 2: Get Admitted to JSU
Applying to Jackson State University takes 2 easy steps:
Submit an online application at www.jsums.edu by clicking the "Apply" link on the homepage.
Make arrangements to meet with your admissions counselor to complete and sign the Non-Degree Seeking Student Consent form.
Please allow 4 – 6 weeks from the receipt of all required documents for an admission decision.
Non-Degree Seeking Student Consent Form
Step 3: Send Immunization Record
SEND IMMUNIZATION RECORD TO THE HEALTH CENTER
All students born after December 1956 who plan to attend classes on one of our campuses must submit proof of immunization compliance for measles, mumps, and rubella (on-line students excepted). A copy of your Immunization record (or your state's immunization compliance form) can be submitted directly to the Health Center in one of the following ways:
FAX: 601-979-9228
EMAIL: healthservices@jsums.edu, (if more convenient for you).
For more detailed information on JSU's health screening requirements, including for international students, exemptions and the Health Center's mailing address, visit the Health Center's web page at www.jsums.edu/healthservices
The contact number for the JSU Health Center is 601-979-2260
Step 4: Register for Classes
Whether you are taking a class online or on campus, please schedule a meeting with an academic advisor. If you will be enrolled in an online program, please contact JSUOnline at 601-979-0779. If you are taking classes on campus, please contact the University Academic Advisement Center at 601-979-1250.
Step 5: Complete Registration or Set up a Payment Plan Copy
"Completing Registration" is the phrase used to describe the Business Office acknowledgement or verification of how fees are to be paid for the current semester. Once this information is "officially communicated" to the Business Office, we will "accept" the charges and payments for the current semester which in turn protects the student's classes from being purged.
There are two ways to "officially communicate" with the Office of Financial Services
1. The first and most popular way is via the Automatic Registration Complete process. Once a student has selected his or her classes (along with housing and meal plan), the system will review all eligible accepted financial aid and if the remaining balance is less than $200, the students' registration will be completed automatically.
2. The second way to "officially communicate" is to enroll in the online payment plan. The payment plan is based on the balance due being divided into four (4) installments. The initial installment plus $100 (the deferment fee) is required to complete registration. The remaining three (3) installments are due in 30-day increments. Late fees of $70 begins on the 1st day of class.
Students can verify their status by signing into their JSU PAWS account and following the steps below
1. Select the "Student" tab.
2. Select "Registration"
3. Select "Fall Registration Service"
4. Select "Check Registration Status"
5. If registration is complete a congratulatory message will be displayed.
6. If not, a message will display instructing you to your next required step.
Step 6 – Get your Student Identification
To enhance the safety and security of the campus community, faculty, staff and students are required to obtain a University issued photo ID card. The University mandates that all faculty, staff, and students display his/her ID card visibly at all times while on campus. First-year students are able to obtain their ID after registration is complete (Step 8).
Priority Deadlines: Traditional Students
Fall semester – August 24th 
Spring semester – January 11th 
First summer session – May 27th 
Second summer session – June 27th 
Deadlines: JSUOnline Students
Spring – 1st 8 Weeks – January 7th
Spring – 2nd 8 Weeks – March 4th
Summer –  May 15th
Fall – 1st 8 Weeks – August 20th
Fall – 2nd 8 Weeks – October 11th