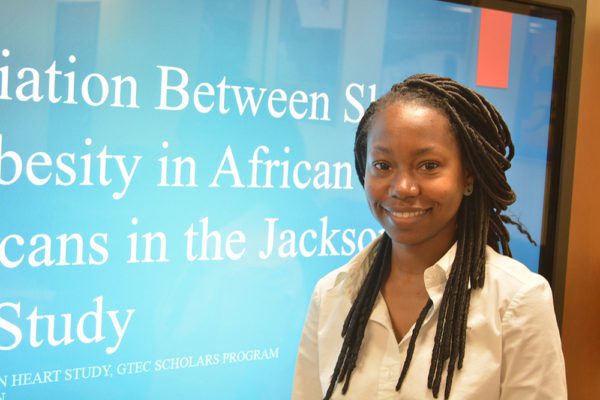 The Jackson Heart Study Graduate Training and Education Center

The Jackson Heart Study (JHS) Graduate Training and Education Center (GTEC) is dedicated to increasing the capacity of graduate Public Health and Liberal Arts students from Jackson State University and medical, nursing, and pharmacology students from University of Mississippi Medical Center to develop "the science and art of preventing disease, prolonging life, and promoting health". This is done through the Daniel Hale Williams Scholar program that provides a certificate enrichment curriculum that occurs concurrently with the students' regular academic program. GTEC aspires to improve the science and practice of keeping the public safe and healthy by empowering graduate students to enhance their ability to improve community health as they matriculate through the program with the potential to assume careers in public health or related fields.
Reducing the gap in public health expertise operating in underserved communities, improving health care delivery, and eliminating or reducing health disparities are important goals of the GTEC experience. GTEC believes that this can be achieved by recruiting public health professionals to take advantage of the training and resources available from the DHW scholar program. Scholars can upgrade their capacity in academic sessions that cover topics such as epidemiology and basic public health skills, and information relevant to public health practitioners.

Daniel Hale Williams Scholars Program



Through the Daniel Hale Williams Scholar program, scholars are able to expand their public health skills from the training they receive in cardiovascular epidemiology, biostatistics, and social epidemiology. An added advantage of the DHW Scholar program is that the scholars get an opportunity to do research using the JHS data sets and are able to interact with researchers and investigators who are familiar with the JHS data and JHS research. They are also afforded opportunities to interact with renowned scientists from institutions around the country and have the opportunity to participate in research, presentations, and publications.