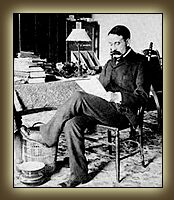 The JHS GTEC Scholars Program is named after Dr. Daniel Hale Williams (1858-1931) who was:
The first African American cardiologist who performed the first successful open-heart surgery
Founded the first interracial hospital, Provident Hospital and Training School
Created two hospital-based training programs for nursing
Co-founded the National Medical Association
The first African American physician admitted to the American College of Surgeons
Dr. Williams's work and advocacy for African Americans presence in medicine is honored by educational institutions worldwide
His accomplishments span across all four graduate disciplines selected for our GTEC, and will serve as an inspiring model for all of our scholars.
Brief History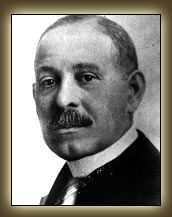 Dr. Daniel Hale Williams has an inspiring story.  He was born in Hollidaysburg, Pennsylvania on January 18, 1856.  Daniel was the eldest son of eight children.  Around the age of 10 his father died of tuberculosis. The family moved to Baltimore, Maryland to live with relatives. Daniel became a shoemaker's apprentice. He disliked the work and returned to his family barbering business. Ultimately Daniel decided to pursue his education. He worked as an apprentice with Dr. Henry Palmer, who was considered a highly accomplished surgeon.  Daniel graduated with an M.D. degree in 1883 at Chicago Medical College.  Dr. Williams practiced medicine in Chicago at a time when there were only three other black physicians in Chicago (providentfoundation.org). He also worked with the Equal Rights League, a black civil rights organization active during the Reconstruction era.
Considered a thoughtful and skilled surgeon, Dr. Williams' practice grew as he treated both black and white patients. In 1889, he was appointed to the Illinois State Board of Health (now known as the Illinois Department of Public Health), and worked with medical standards and hospital rules (providentfoundation.org). Dr. Williams practiced during an era when racism and discrimination prohibited African Americans from being admitted to hospitals and denied black doctors employment on hospital staff. To counteract this practice, Dr. Williams founded the Provident Hospital and Training School for Nurses, now called Provident Hospital of Cook County in Chicago. This emerged as the first hospital in the country with a nursing and intern program that hired African Americans.  This hospital had the distinction of being the first medical facility to have an interracial staff.
In 1893, Dr. Williams became the first surgeon to performed open-heart surgery on a human.  Dr. Williams perform the nation's first open-heart surgery at the Provident hospital in the summer of 1893. The operation was done without X-rays, antibiotics, surgical prep-work, or tools of modern surgery.  Dr. Williams' skills placed him and Provident Hospital at the fore-front of one of Chicago's medical milestones. His patient, James Cornish, survived.  He was discharged 51 days after his remarkable surgery (http://www.cookcountyhhs.org). He was considered a pioneering heart surgeon during a time when technological discoveries were revolutionizing the practice of medicine. In 1894, Dr. Williams moved to Washington, DC, where as Chief Surgeon of the Freedmen's Hospital, he continued his assault on health disparities by encouraging the employment of a multiracial staff and promoting the advancement of surgical procedures. In 1895, he co-founded the National Medical Association, a professional organization for black medical practitioners. This organization was instituted as an alternative to the all-white American Medical Association that did not extend membership to black doctors.
When Dr. Williams left the Freedmen's Hospital in 1898, he returned to Provident. He later moved to Cook County Hospital and then to the larger St Luke's. He worked at Meharry Medical College for about 20 years, beginning in 1899, and in 1913, he became a charter member of the American College of Surgeons. Dr. Daniel Hale Williams expereinced a stroke and died five years later in 1931.
View Provident Hospital pictures
To learn more: http://www.encyclopedia.com/topic/Daniel_Hale_Williams.aspx
Sources:
https://cookcountyhealth.org/locations/provident-hospital-of-cook-county/
https://www.biography.com/scientist/daniel-hale-williams
https://www.biography.com/scientist/daniel-hale-williams#awesm=~oBIKWee8eY1rBh
http://provfound.org/index.php/history/history-dr-daniel-hale-williams