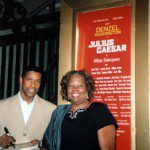 Visiting Scholars, Practitioners and Executives:
The EPhD Program provides an integration of faculty expertise from academic, executive and practitioner perspectives. Current faculty will facilitate primarily the teaching of the modules throughout the academic program of study. However, other nationally known and prominent scholars will lecture and present on topics of present and future relevance to urban settings. The combination of the faculty, within the context of trans-disciplinary subject matter, provides a unique educational experience for the students.
Visiting scholars and executives may be invited from other institutions.
Sample Extracurricular Activities:
Hampton University
Steppingstones to Leadership
Gospel at Colonus
Mind, Body and Spirit
Jake Ayers Annual Debate
Cultural Diversity
Mississippi Delta Field Trip
Action Research Tour
Pace University
Linking Technology with Higher Education
New York City
Julius Caesar on Broadway
Urban Education Conference
Research Presentations
Abroad Collaboration with University Of Southern Mississippi
Abbey Program Pontelevoy, France
Ana G. Mendez University System
San Juan, Puerto Rico
Universidad Internacional (UNINTER)
Cuernavaca Morelos, Mexico
University of Toronto 
Toronto, Canada
University of British Columbia
Vancouver, Canada
University of the West Indies
Port of Spain, Trindad and Tobago