Department of History and Philosophy

College of Liberal Arts
---
The Department of History and Philosophy welcomes you to its home page. Here we introduce our talented and student-friendly faculty, our undergraduate and graduate degree programs, and our organizations, clubs, events, activities, and projects.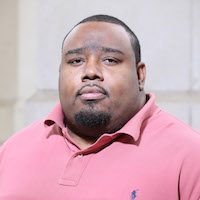 Title: Instructor/Adviser
Email: shannon.s.thames@jsums.edu
Phone: 601-979-2503
Location: LIB # 34
DEGREES: 
M.A.,   Jackson State University, History, 2008
B.A.,    Jackson State University, History, 2007
RESEARCH INTERESTS: 
Servant Leadership in Higher Education
Black Serviceman in Higher Education, 1945-1970
The Emergence of a Dual School Education System in Mississippi; The Social and Political Impact of WWII on the African American Community
20th Century United States Social History.
COURSES TAUGHT: 
HIST 101
HIST 111
HIST 112
HIST 102
HIST 201
HIST 202
HIST 440
PROFESSIONAL MEMBERSHIPS: 
American Historical Association
Phi Alpha Theta
RECENT PUBLICATIONS AND/OR CREATIVE WORKS:
Dissertation (in progress): Perceptions of Servant Leadership
among HBCU leaders
READY TO JOIN?
For more information, please contact us at (601) 979-2191.  We look forward to meeting with you and seeing how our program can help you achieve your goals.